by Sarana Riggs, Grand Canyon Manager
Franklin Martin grew up in the Bodaway-Gap Chapter of the Navajo Nation, near the Grand Canyon and the Little Colorado River. For generations, his family has run cattle on these dusty lands. Before the drought set in, Martin remembers greener pastures, fatter livestock, and an abundance of wildlife. He'd eat pears off the yucca plants and dig up sweet onions, with the constant hum of insects buzzing overhead.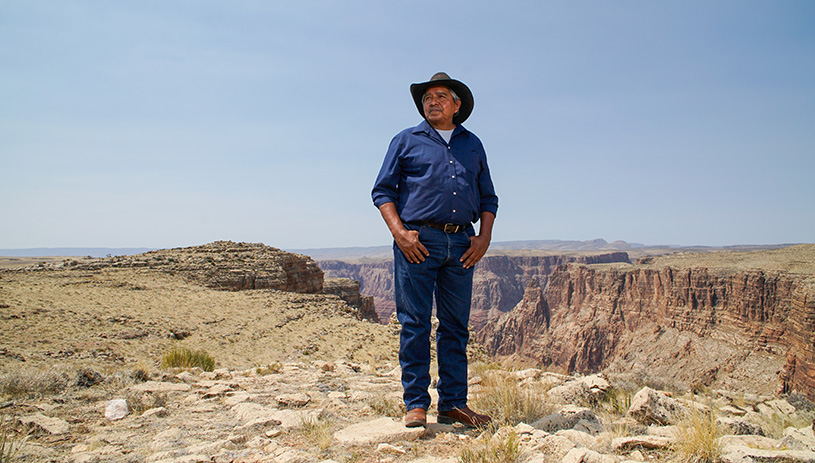 Franklin Martin near the start of the Salt Trail. DEIDRA PEACHES.
Now, it's quiet. Martin doesn't see the prairie dogs, snakes, and lizards he recalls from his youth. The grasses and juniper trees have yellowed. Bony elk stand along the rim of the canyon, able to smell the water but unable to reach it thousands of feet below sheer cliffs.
This place, Bodaway, Martin says, pronounced "Dibáá' Hóyéé" in the Navajo language, means "water scarce."
"That's the way it is out here. We have water, but getting to it is hard."
Following the Salt Trail to the Little Colorado River
---
The Little Colorado River carves a deep gorge as it nears the confluence with the Colorado River. According to Martin and his Navajo teachings, you're only allowed to hike down to the Little Colorado River for certain reasons.
"It picks you. If somebody just wants to go down there, it may not be their time. But in a spiritual way, it will lead them, and they can go down there."
When Martin was a kid, his brother and cousin started having the same dream — that they were wanted somewhere, needed, and that people were waiting for them. They asked Martin's dad if they could hike down the Salt Trail to the Little Colorado River, where they had been told they emerged from a long time ago. Martin's dad agreed and took his brother and cousin down the next day.
Martin's first trip down the Salt Trail came later on, at the insistence of his mother that her other children be introduced to the sacred places.
"It's a long hike. By the time you get there, your knees are hurting. You're thirsty. You think about the holiness, because that's where you're going." Martin says. "It's a sacred and holy place. You listen. You do not shout. You hear the winds talking to you. It's like a temple."
Martin, his brothers, and dad hiked down, collected salt, and returned to the rim that evening.
"We were younger those days," Martin chuckles.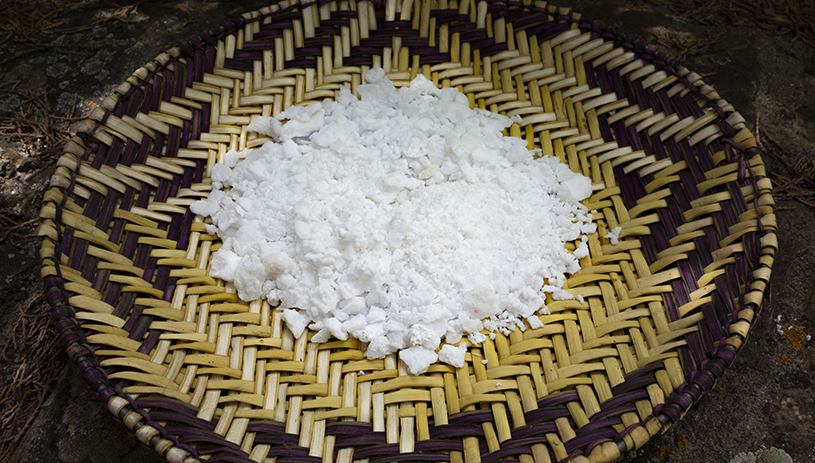 Salt from the Little Colorado River.
According to Martin, Navajos have been going down there for salt for a long time. The salt they collect is used in ceremonies for a baby's first laugh, puberty, and marriage. They also use salt for preparing buckskins that will be used in ceremonies.
"My dad told me you only take what you need. When you try to take more, you have difficulties."
In recent years, the Salt Trail has seen an increase in non-Native hikers seeking adventure along the Little Colorado River's brilliant turquoise waters. But Martin is concerned with the way the Little Colorado River is being treated.
"People just wander around wherever they want. You find trash, waste, and graffiti," he says. "This is our temple. The Colorado River is our temple. The mountain is our temple. The water is sacred to us."
Martin points to the many other tribes with cultural connections to the Little Colorado River and confluence area as even more of a reason to protect it.
"A lot of tribes have come through here — Navajos, Hopis, Zunis, Hualapais, Havasupais. Paiutes. They still do their ceremonial blessings. They still collect salt too. And they do the water offerings. Every tribe respects water, the land, Mother Earth, the sky, the sun, the moon."
He emphasizes his point, "You go to somebody's backyard, you treat it with respect."