by Jessica Stago, Native American Business Incubator Network Manager
---
Note: NABIN member Edward Chato-Seaton tragically passed away in 2018. A passionate, intelligent, and entrepreneurial member of our community, Edward is dearly missed. A Go Fund Me campaign in his memory has been set up by his family here.
---
Edward Chato-Seaton was looking for parts for his 1976 Chevy Nova, so the 27-year-old self-taught computer programmer turned to Craigslist. But there was no Craigslist marketplace for the community of Kayenta, on the western Navajo Nation, near Monument Valley, where Chato-Seaton lives.
He eventually tracked down an engine for his Nova in Gallup, New Mexico, but the experience got him thinking: why wasn't there an online marketplace for the Navajo Nation so that he could find what he needed closer to home?
That question led Chato-Seaton, who built his first PC from parts at 19 after perfecting his technique watching YouTube videos, to found and develop Rezlist.org, which launched this summer. The website allows Navajo Nation residents to post new or used items for sale, advertise services, job openings, and events, and share public information free of charge.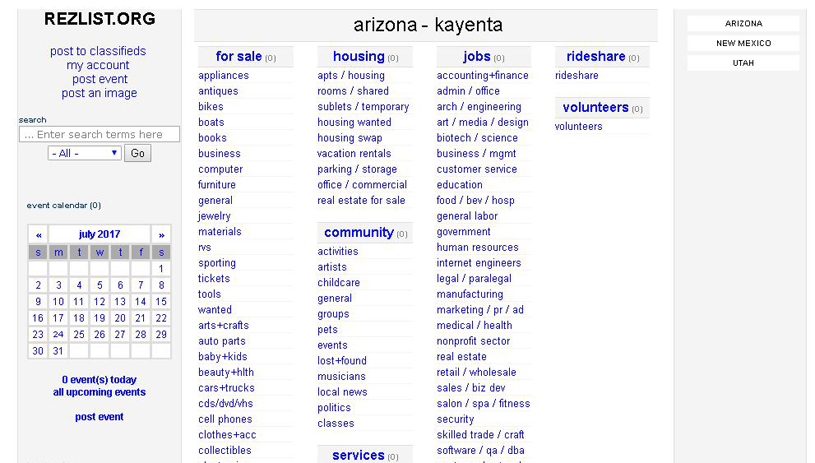 "A lot of people use Facebook when they have items to sell," Chato-Seaton explained. "But that's not a safe way to conduct business online because your Facebook profile can reveal personal information. The Rezlist platform allows sellers to protect their private information and remain somewhat anonymous."
Inspired by Craigslist
The 27,000-square-mile Navajo Nation is roughly the size of West Virginia and extends across portions of three states: Arizona, New Mexico, and Utah. Inspired by Craigslist and similarly organized, Rezlist includes marketplaces for all 110 Navajo Nation chapters, making it easy to find items for sale locally, from car parts to traditional silver and turquoise jewelry. With capital and traditional financing hard to come by and a dearth of brick and mortar business locations, Rezlist provides a space for people to do business with no overhead, making it easier to buy, sell, and trade without the cost of traveling to flea markets and other conventional venues.
"A lot of money flows through places like Flagstaff, Gallup, Farmington, places off the reservation where people go to shop," Chato-Seaton observed. He hopes Rezlist will make it easier for Navajo Nation residents to support and connect with each other and keep more of their dollars and expertise in reservation communities.
Chato-Seaton knew that internet connectivity would be an issue on the rural Navajo Nation, so he designed Rezlist to be usable on a 3G network, which allows people to use the site on their mobile phones. "I designed it to be barebones," Chato-Seaton explained. "When I'm on the road, with only 3G, I bring it up and it loads in under a minute."
Hitting the road
This fall, Chato-Seaton was a finalist in the inaugural 2017 Innovation Challenge, a competition hosted by the Native American Business Incubator Network (NABIN) and Catapult Design, Inc. designed to foster new business ideas that would benefit reservation communities. Although he didn't win, he still earned a year of business counseling and support services from NABIN to help him develop branding and marketing materials as well as a business plan. As part of that package, a Navajo artist recently designed and painted a custom sign with Rezlist's logo.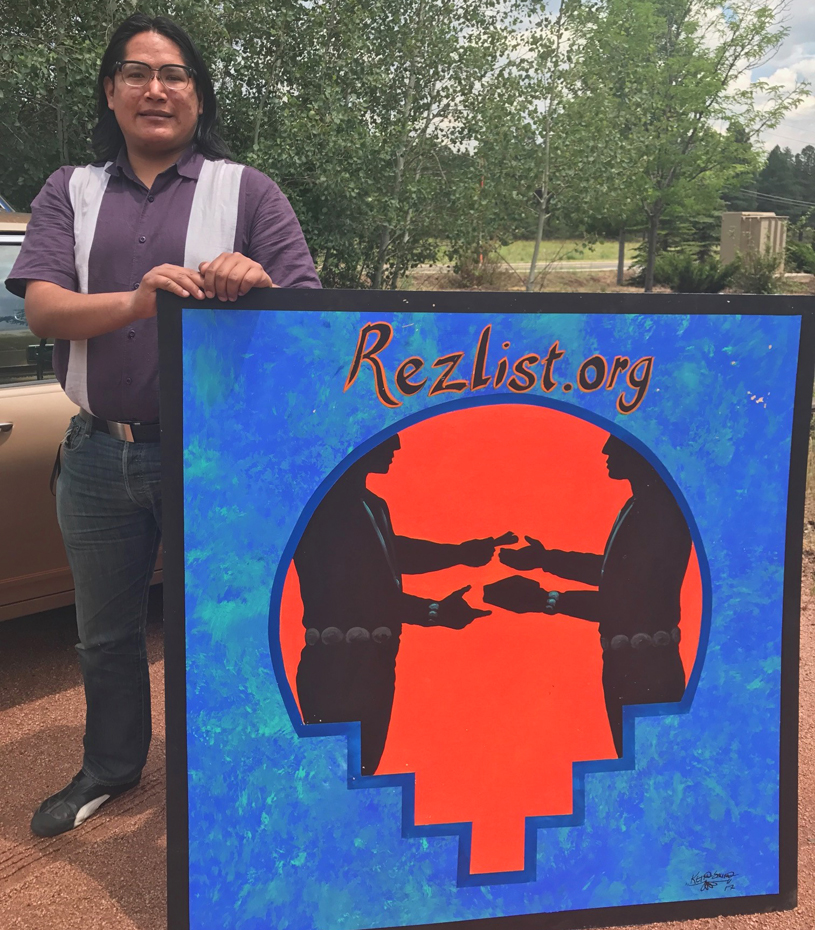 In August, Chato-Seaton will be using the sign on a tour of Navajo Nation flea markets to spread the word about Rezlist. He plans to visit markets in Kayenta, Chinle, Tuba City, Window Rock, Shiprock, and Gallup, using free coffee to entice visitors into his booth and persuade them to consider a new type of marketplace. For now, Rezlist is a one-man show. "I still have to get a New Mexico food-handler's license to serve coffee in the flea market in Gallup," Chato-Seaton laughed. With time, he hopes the business will expand and allow him to employ others.
In the meantime, Chato-Seaton spends his days in Kayenta, keeping Rezlist up and running smoothly. His mother still uses the original PC he built at 19 in her family law practice. He had to switch out the graphics board recently, but other than that it's still working fine. If Rezlist catches on, next time, Chato-Seaton may not have to go very far to find spare parts for it.
Learn more about the 2017 Innovation Challenge: