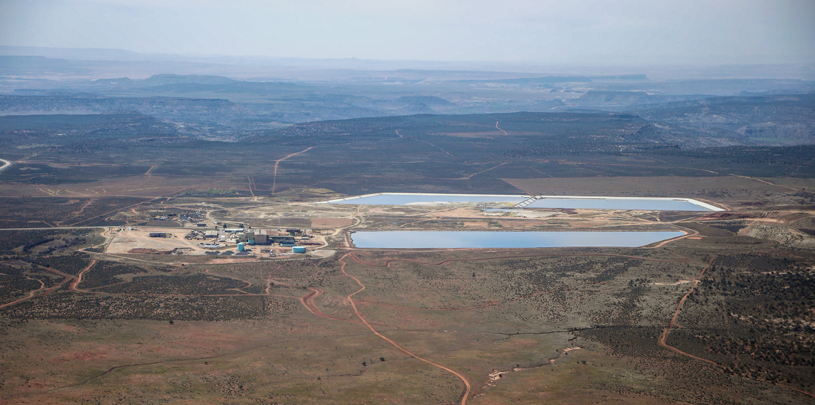 The White Mesa Mill. Photo by Dom Smith, Ecoflight

by Anne Mariah Tapp, Energy Director
When we take a hard look at uranium mining proposals in the arid West, the calculus is clear.
We cannot risk our water resources, the lifeblood of the Colorado Plateau, to extract uranium.
In his recent article, "Hot Water," which appears in OnEarth, an independent journal published by the Natural Resources Defense Council, Brian Palmer drives this point home.
"We may have to tell our grandchildren that we risked the one resource we knew they would desperately need, all so we could extract one we could have easily lived without."

–Brian Palmer
In-Situ Leaching: An Unwelcome Newcomer to the Colorado Plateau
"Hot Water" focuses on a newer type of uranium mining technology, in-situ leaching, that the uranium industry is trying to introduce in New Mexico. The target? Low-grade "roll front" uranium deposits – uranium deposits 10 to 30 feet in height that are located deep underground and only extractable by chemical processes. To extract this uranium, the company drills numerous injection wells over the deposit, injects a solution at high pressure that dissolves the uranium, and then pumps the uranium-laden solution to the surface.
The big problem here is water. Peer-reviewed studies on this mining technique all indicate that leaching uranium out of rocks contaminates the surrounding groundwater for decades. This is not the future we want for our Colorado Plateau communities whose very survival depends on available drinking groundwater.
The Colorado Plateau's Future is Renewable, Not Radioactive
Although uranium advocates tout nuclear power as a solution to climate change, when we look closely at what most states need to do to take advantage of the Obama Administration's Clean Power Plan's incentives, it would be cheaper and safer to invest in renewable and energy efficient technologies such as solar and wind. Ramping up nuclear power production is simply too expensive—that's why we see so few financiers investing in new nuclear power plants in the United States.
And, best of all, putting our future in renewables protects the arid West's most precious resource – our water.
*This blog entry was updated on 10/5/2016.