by Ashley Davidson, Communications Manager
"I'm going to give them a flier," Adrian Manygoats says, pulling off at a roadside frybread stand outside Window Rock, Arizona, capital of the Navajo Nation. Mutton smokes on the grill, in the shade of a tent; a cardboard sign advertises a Navajo taco and a Coke for $4.50 in black permanent marker. Manygoats grabs a pamphlet and hops out of the car.
She chats with the proprietors for a few minutes, and returns smiling.
"They'll try to make it." She beams, though she's been up since dawn, loading heavy white-washed signboards into the backseat, along with tables, chairs, paints, and other art supplies.
As the coordinator for the Native American Business Incubator Network, based in Flagstaff, Arizona, Manygoats is on her way to Gallup, New Mexico to set up one of the incubator's most successful and popular offerings: a free sign-making workshop that brings professional Native artists and marketing consultants together with entrepreneurs to help them brand and elevate their businesses.
"For customers to buy your products, they have to find you first," Manygoats says.
The two artists—Winslow-based Navajo artist Randy Barton and Hopi/Laguna painter Joe Stacy, who lives in Albuquerque, are meeting her in Gallup. They will each paint signs for five entrepreneurs during the three-hour workshop. The slots usually fill up fast, but today there are still a few spaces left. Before getting back in the car, Manygoats crosses the road and talks to the owner of a rival taco stand, set up in a dusty lot beside an impromptu yard sale.
The sign-making workshops are part of the incubator's grassroots effort to support, mentor, and offer technical assistance to Native entrepreneurs and encourage sustainable economic growth on tribal lands. It's a much-needed leg up, as Native entrepreneurs often face bureaucratic red tape and challenges such as lack of start-up capital and commercial space that can make starting a business feel overwhelming.
Good signage is a first step to getting customers in the door, but it's also a way to help entrepreneurs begin to think of their business as a business—something many are shy about doing—and to think strategically about how to market and grow.
Sign-making workshops, held at farmers' markets, fairs, and small business and entrepreneurship conferences like Change Labs, have produced signs for start-ups from jewelry makers to farms to recycling centers. Today's venue is the ArtsCrawl in downtown Gallup.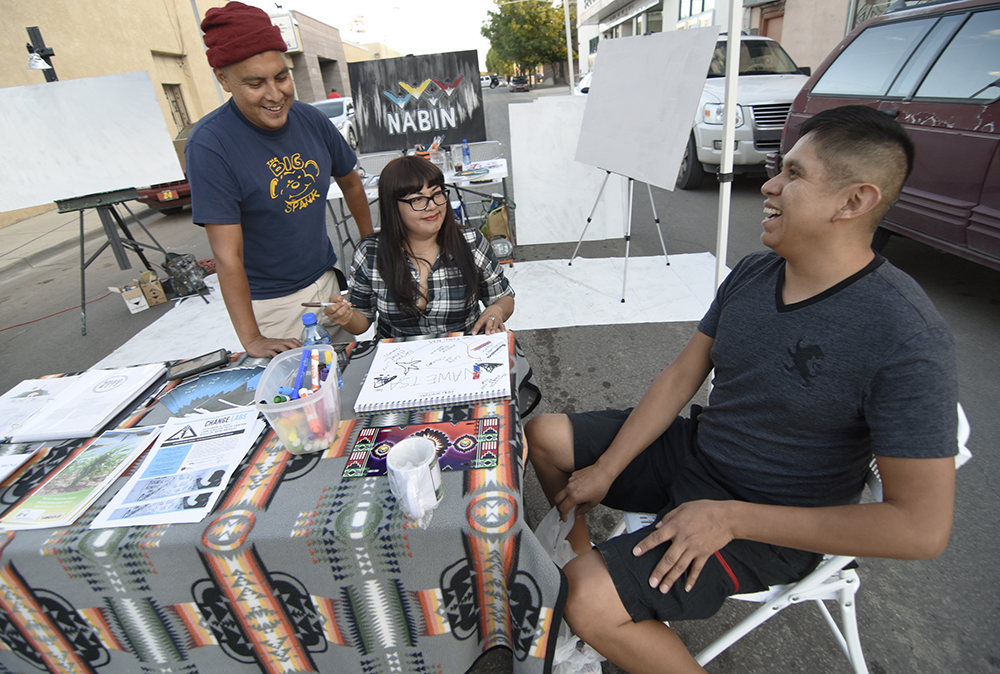 Adrian Manygoats (center) talks through branding with entrepreneur Chris Edaakie (right).
Manygoats unloads the car and the artists help raise a large tent and set up easels. DJ JLoveLeigh sets up nearby, and the first entrepreneur—Chris Edaakie, owner of Zuni design company Natwetsa, Inc—arrives. Manygoats, who started out as the incubator's marketing coordinator, puts on her marketing hat, sitting down with Edaakie to sketch out branding. Then artist Joe Stacy takes over. At the next easel, Randy Barton gets started on a sign for Foundations of Freedom Performing Arts Studio. The team works until after dark, as curious passersby look on, and entrepreneurs wait for their signs to dry before posing for pictures.
Two weeks later, Manygoats is back in Gallup, at the New Mexico University campus, on a hill above town, setting up another sign-making workshop. This time, it's for entrepreneurs attending the 2nd Annual Change Labs, which brings entrepreneurs from across tribal lands together along with experts from MIT Media Labs, Samsung, Etsy, and elsewhere, for a day of workshops, mentorship, and networking.
"These sign-making workshops are a creative marketing strategy that delivers real-time results. People walk away with a beautiful original sign along with the validation of their dream and ambition as business owners," Manygoats says.