by Roger Clark, Grand Canyon Director
The Grand Canyon Trust released a national poll today showing strong support for the creation of a Greater Grand Canyon Heritage National Monument.
Key results include:
More than nine in 10 voters in the United States see the Grand Canyon as a national treasure that needs to be protected for all Americans.
More than four in five support the establishment of the Greater Grand Canyon Heritage National Monument to accomplish that goal.
A majority of voters say they are more likely to vote for a presidential candidate who backs the monument.
Even after an exchange of pro and con arguments, the monument still receives overwhelming public support.
View a slideshow of the poll results ›
Today's national, bipartisan poll is consistent with a recent poll that found 80 percent of Arizona voters favor the new monument.
Arizonans have long recognized the important role that the Grand Canyon plays in the state's economy. A 2012 poll found that nine in 10 Arizona voters agreed that public lands such as national parks, forests, monuments, and wildlife areas are "an essential part" of the state's economy and quality of life.
Today's poll shows that voters‒not just in Arizona, but across the country‒value the Grand Canyon. It is a place of unparalleled beauty, biological diversity, and of deep cultural value to native people. It is treasured by citizens across the nation and from around the world.
What will the national monument protect?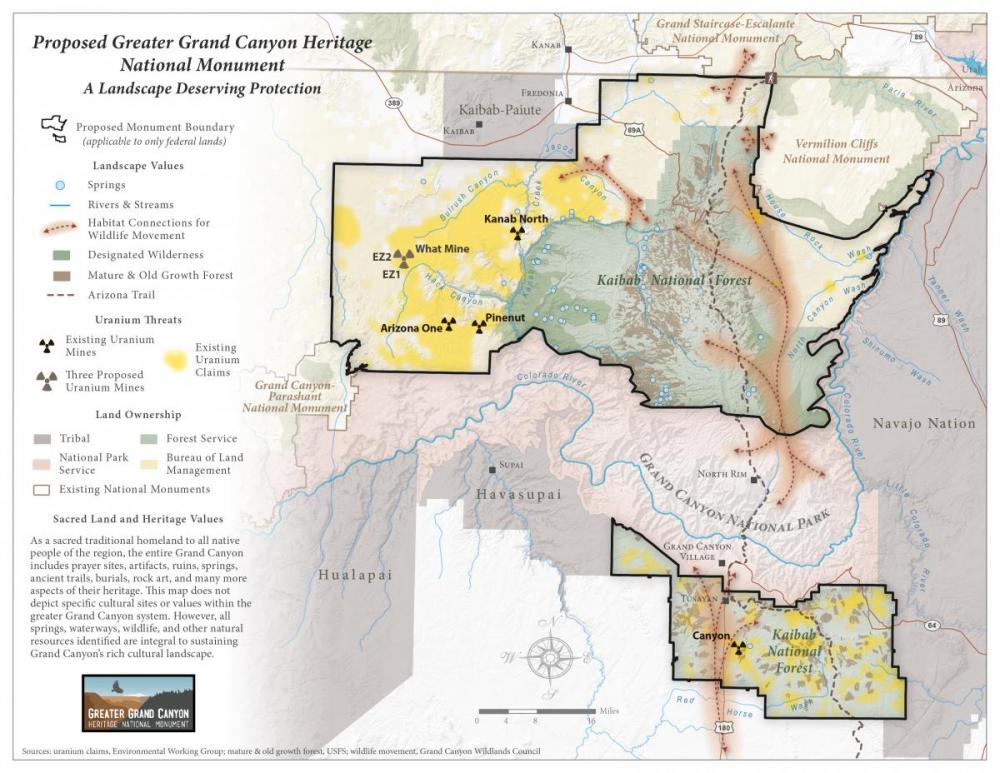 In October 2015, Havasupai, Hopi, Navajo, and Hualapai leaders, local business interests, and conservationists joined Arizona Congressman Raúl Grijalva in proposing a new national monument to permanently protect the Grand Canyon from uranium mining. The monument would also better conserve Native American cultural sites, recognize the aboriginal homeland of the Grand Canyon's native peoples, and honor their contribution to the canyon's rich natural and cultural heritage.
While there has been quite a bit of misinformation about a monument, the facts underlying monument designation and management are clear.
What do we risk losing?
The September 2016 issue of National Geographic takes a close look at how activity on the rims and surrounding lands—from uranium mining to outsized tourist attractions—affects the world below in "Are We Losing the Grand Canyon." As former Grand Canyon National Park Superintendent Dave Uberuaga puts it:
We work really hard in every way we can to preserve and protect the integrity of this place…to make sure that some of these major developments don't occur.... We have to...make sure that the withdrawal of uranium mine lands around the park stays in place forever.
That's why voters across the nation support better protection of the entire Grand Canyon by designating the Greater Grand Canyon Heritage National Monument.
Please join U.S. and Arizona voters in urging President Obama to better protect the entire Grand Canyon, including its precious waters and rich cultural heritage, by proclaiming the Greater Grand Canyon Heritage National Monument.