by Lisa Winters, Communications Manager
Arches National Park, located just outside Moab, Utah, is the gateway to Utah's famed slickrock country. The park is full of spectacular rock formations, including bridges, windows, towers, fins, and over 2,000 — you guessed it — arches.
So, what do you need to know before you go?
1. Obtain a timed entry ticket
The National Park Service has implemented a pilot park entry reservation system in response to long entrance lines, congested parking lots, and crowded trails. From April 1 through October 31, 2023, you'll need a timed entry ticket to enter the park. Go to recreation.gov to obtain this $2 ticket up to three months in advance of your visit. Bring your ticket and park pass (or entrance fee) with you to enter the park during your designated time. If you don't have a reservation, you can always enter the park before 7 a.m. or after 4 p.m.
2. Pack your hiking boots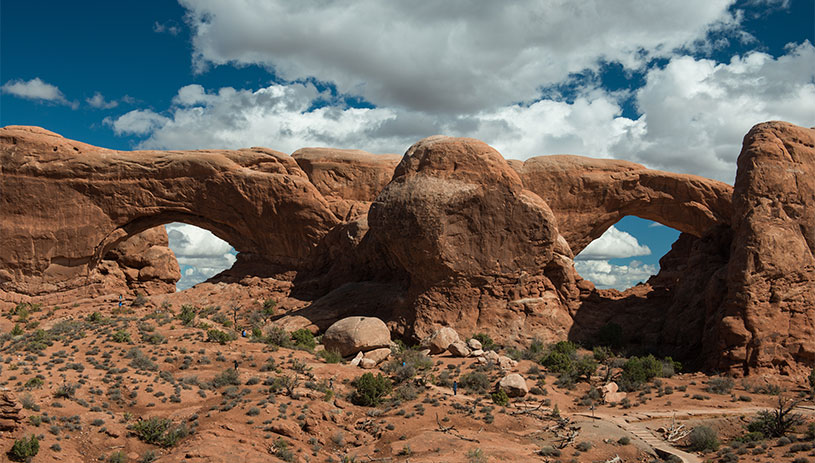 North and South windows. CHRIS WONDERLY, NATIONAL PARK SERVICE
It's easy to drive through Arches National Park and see the sights from your car. But if you stop to stretch your legs and experience the sandstone monoliths on foot, you won't be disappointed. A few favorite hikes:
Easy: Double Arch. Hop out of the car at Double Arch for a short and sandy 0.6-mile roundtrip stroll to the base of two large, connected sandstone arches. And if you're eager for more, you can also hike a 1-mile loop to North and South windows from the same parking lot.
Moderate: Sand Dune and Broken Arch Trail. This 2.9-mile loop weaves along sandstone fins and squeezes through narrow slots to reach three arches.
Strenuous: Devil's Garden Trail. Scramble over, around, and along towering rock fins on this 7.2-mile trail. There are eight arches along the route, most located off short spur trails.
Experience Arches National Park on foot ›
3. Don't miss Delicate Arch
Delicate Arch — a sweeping red rock arch that frames the snowy La Sal Mountains in the distance — is easily recognizable from Utah's license plate. Be sure to take in the iconic view during your visit. From the park entrance, it takes about 30 minutes to drive to the trailhead. If you aren't up for the 3.2-mile moderate hike, there's a roadside viewpoint about a mile past the trailhead parking lot.
Hike the Delicate Arch Trail ›
4. Check the weather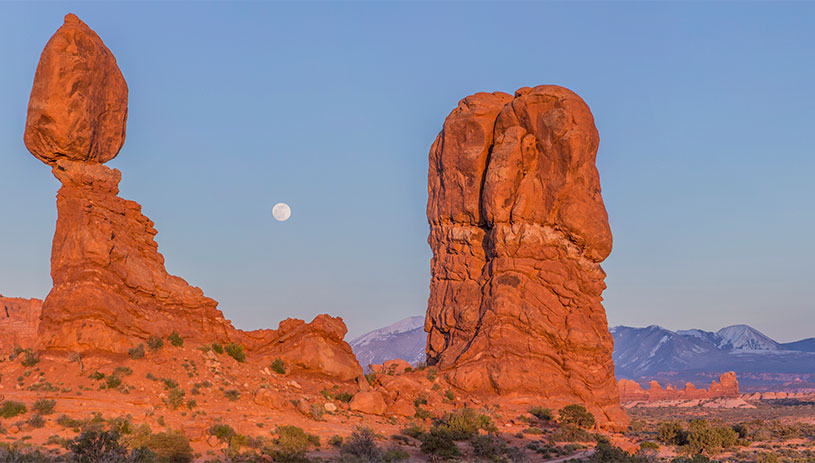 Balance Rock. KAIT THOMAS, NATIONAL PARK SERVICE
Friendly reminder — the desert can be a warm place. The most popular time to visit Arches is in the spring (March – May) and fall (September – October) when temperatures are mild. During the summer, temperatures often exceed 100 degrees, and there is little shade. Beat the heat by recreating early or late in the day, and always drink plenty of water and eat salty snacks. Sunscreen, a hat, and sunglasses are must-haves, no matter the season.
Late summer is known as monsoon season in the Southwest. Rainstorms appear frequently in the afternoons and can be powerful. Lightening, flash floods, and slippery rocks are potential hazards.
---
There are no restaurants or lodges in Arches National Park — but there are excellent picnic areas. Bring your own food to Panorama Point or Devils Garden for lunch with a view.
---
5. Check the ranger-led program schedule
Consider attending a guided walk or evening program to learn more about the spectacular rock formations and high desert landscape of southeastern Utah. Programs typically occur daily in the spring through fall. Evening programs are located at the Devils Garden Campground. Check the visitor center upon arrival for current information.
Remember: Arches National Park is visited by over a million people each year, so don't forget to pack your patience. Plan ahead, and have a rockin' good time.