by Tim Peterson, Utah Wildlands Director
Sundays in Utah are usually quiet. Many businesses close, and families spend the day attending church, enjoying the great outdoors, or communing over a family dinner. Not Sunday, September 17. The day opened with a report from the Salt Lake Tribune detailing the state of Utah's proposed boundaries for Bears Ears (spoiler alert: state officials want to shrink the monument by 90 percent), and closed with the Washington Post reporting on a leaked copy of Interior Secretary Ryan Zinke's draft final report on his "review" of 27 national monuments. In it, Zinke recommends shrinking several national monuments, including Bears Ears and Grand Staircase-Escalante.
The results are shocking. Never before has an American presidential administration considered so drastically removing protections from our public lands. Going beyond undoing President Obama's conservation legacy, the recommendations seek to redefine what national monuments mean under the law by opening them to what Secretary Zinke calls "traditional uses," including mining, logging, and fossil fuel drilling.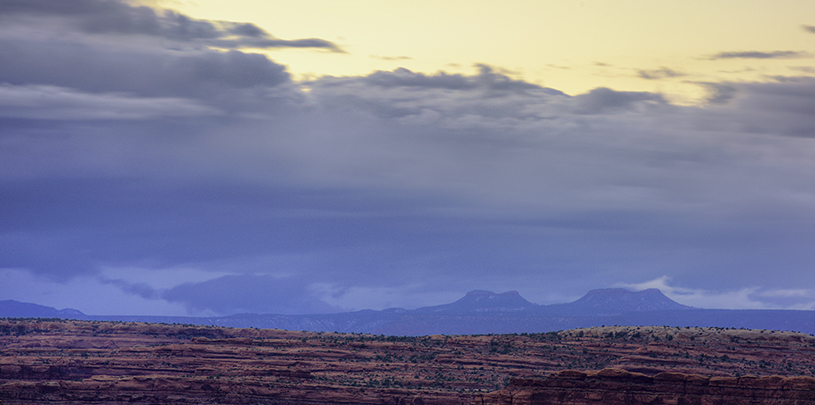 Cedar Mesa with Bears Ears Buttes in the background. TIM PETERSON
National monuments, designated by presidents under the Antiquities Act of 1906, are places where "historic landmarks, historic and prehistoric structures, and other objects of historic or scientific interest" are protected for future generations from precisely the kinds of uses Secretary Zinke recommends allowing. The law has survived for 111 years, proving its durable popularity. If the Trump administration wants to fundamentally alter the Antiquities Act to allow mining, commercial logging, and fossil fuel drilling, Congress, not the executive branch, must act to change the law.
In his report, Zinke recommends shrinking several monuments, including Grand Staircase-Escalante, Bears Ears, and Gold Butte on the Colorado Plateau, as well as dramatically altering the way six other monuments are managed. The recommendations also propose creating a process to review and revise all national monument management plans to allow for mining, commercial logging, expanded livestock grazing, and oil and gas drilling.
Secret maps, destructive schemes
Through an open records request, the Salt Lake Tribune obtained maps detailing the state of Utah's ideas for shrinking Bears Ears National Monument. The map, never shared with the Bears Ears Inter-Tribal Coalition (the formal body of five tribal governments that advocated for Bears Ears' designation), and never released for public review, proposes shrinking Bears Ears National Monument by more than 90 percent — from 1.35 million acres down to 120,000 acres. Utah also proposes replacing part of Bears Ears National Monument with a national recreation area for the Indian Creek area adjacent to the Needles District of Canyonlands National Park, but Congress would have to designate that. And Indian Creek is more than just a place of recreation; it is home to diverse and fascinating rock art, cliff dwellings, ancient tool quarries, a historic Ute winter camp, and numerous sites of pilgrimage still used by Native Americans today.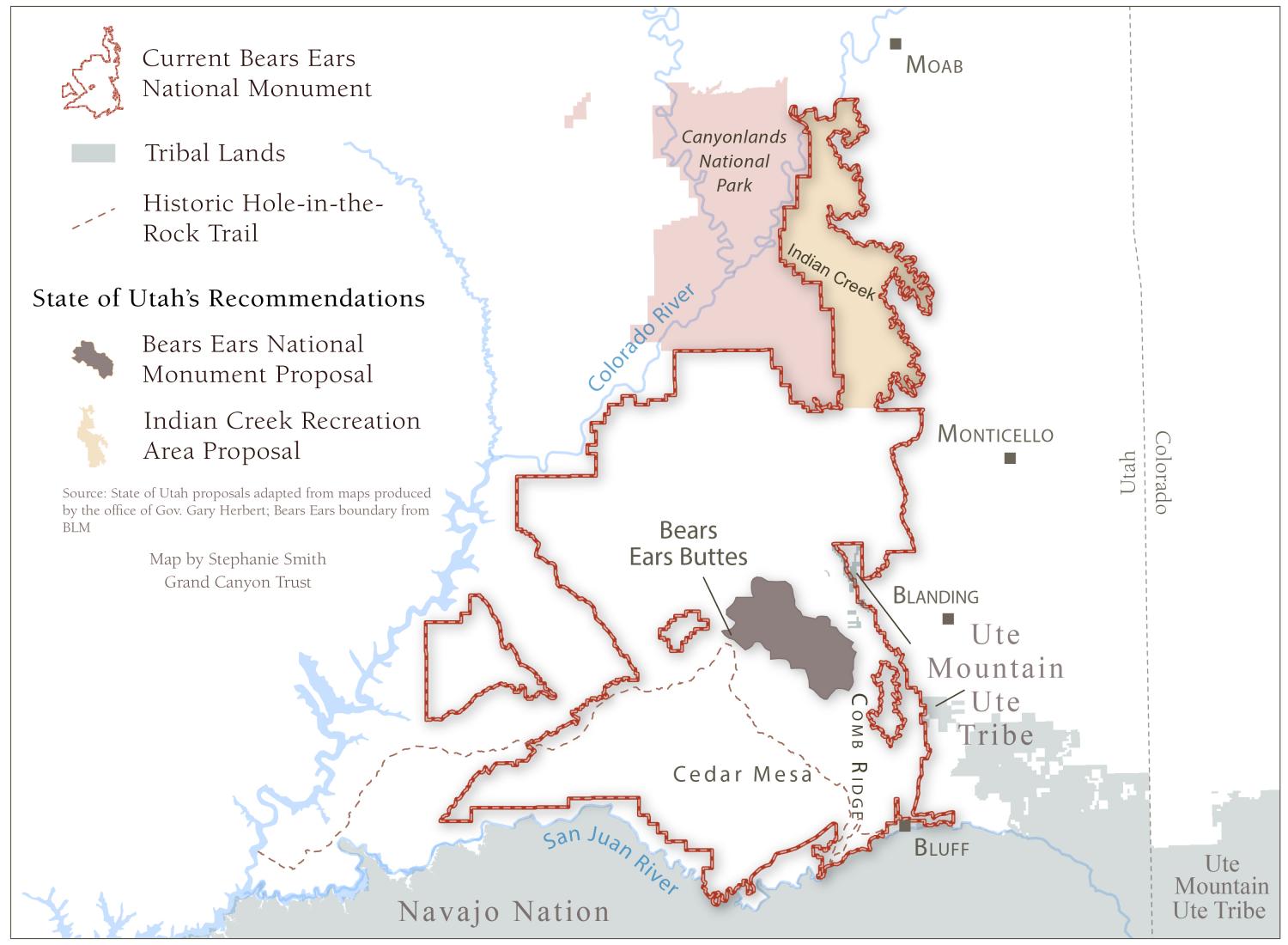 The state of Utah's proposed map is outrageous. It would "unprotect" countless antiquities and objects of scientific interest including the oldest known archaeological sites in Utah — both a 13,000-year-old Clovis camp and the state's oldest rock art site. It also leaves at risk thousands of other sites that the Antiquities Act was designed to protect: cliff dwellings, rock art, ancient roads, largely unexplored treasure troves of dinosaur bones, and ancient sites and landforms sacred to indigenous peoples. Utah's proposed boundaries even leave the historic Mormon Hole-in-the-Rock Trail vulnerable to mineral development.
Utah's plans were made clear in 2015, when the Utah State Legislature passed non-binding legislation calling for fossil fuel and energy and mineral development in what is now Bears Ears National Monument, and, in 2017, called for the elimination of the monument entirely. These plans are out of step not only with the views of the majority of Utahns, but with the American public that owns these lands.
By attempting to keep the proposed boundaries secret, the state of Utah not only dishonors the long public process that led to the creation of Bears Ears National Monument, it disrespects tribal governments, co-equal sovereigns with Utah under the U.S. Constitution. Pueblo of Zuni Councilman and Bears Ears Inter-Tribal Coalition Co-Chair Carleton Bowekaty put it best: "Bears Ears National Monument was created through the government to government relationship that Tribes have with the United States. Now it appears that the monument is being undone while ignoring that relationship."
Secret memo, broken trust
Secretary Zinke's leaked report, though presented as a "draft" document, is riddled with errors and inconsistencies. It also fails to detail specific boundary reductions for any of the monuments it recommends eviscerating, stating monument modifications "will be submitted separately." The report underlines the hasty and fundamentally flawed nature of Zinke's review process, which spared some monuments while targeting others without explanation or justification.
Perhaps the most alarming content of the leaked report deals with the secretary's seemingly warped view of what resources deserve protection as national monuments under the Antiquities Act. The report states: "While early monument designations focused more on geological formations, archaeological ruins, and areas of historic interest, a more recent and broad interpretation of what constitutes an 'object of historic or scientific interest' has been expanded to include landscape areas, biodiversity, and viewsheds." Even if the monuments he proposes to shrink did not contain ample "geological formations, archaeological ruins, and areas of historic interest" (they do), to suggest that biodiversity is not an "object of scientific interest" is ludicrous.
Secretary Zinke began his review of national monuments, as mandated by a Trump executive order, by saying: "Finally, rural America has a voice again," as well as "…part of being a good steward is being a good neighbor and being a good listener," and "In the Trump administration, we listen and then we act." Notably absent is the notion of transparency, and of including the views of the majority of Americans. Secretary Zinke, through his recommendations, has ignored the 99 percent of commenters who favor leaving our national monuments as they are. Instead, he dismissed the views of millions of Americans as the product of "a well-orchestrated national campaign organized by multiple organizations."
Let the spin begin
To divert attention from their unprecedented attack on protected public lands, Trump administration officials are practicing a bit of political spin, seeming to advocate for more durable Native American co-management while extoling the benefits monument evisceration could bring in terms of hunting and fishing access.
In the leaked report, Secretary Zinke recommends asking Congress to act to "enable tribal co-management of designated areas within the revised [Bears Ears National Monument and other revised monuments'] boundaries." Zinke is not only suggesting that only certain smaller areas within the reduced boundaries be co-managed (which would significantly reduce the scope of the tribes' current authority under the existing Bears Ears proclamation), he's also proposing what he must know is a path to nowhere. Recommending that a dysfunctional Congress replace existing collaborative management authority would effectively end Native American involvement in management at Bears Ears. The tribes spent years trying to engage the Utah congressional delegation on legislation for collaborative management and got nothing. Their sovereign authority, their concerns, and their sound recommendations were simply ignored.
Following the leak of Secretary Zinke's report, Deputy Interior Secretary David Bernhardt published an op-ed in the Salt Lake Tribune, saying: "…Secretary Zinke recently made recommendations to President Trump on 27 national monuments that call for changes to some that, while still protecting the land, would also protect and expand public access to that land for citizens who want to hunt, fish, hike, and experience the joy and beauty of these special places."
Don't be fooled. Despite the platitudes, Zinke's recommendations are a thinly veiled attempt to set in motion the single most damaging attack on public lands in this nation's history.
Trump's jobs plan — full employment for attorneys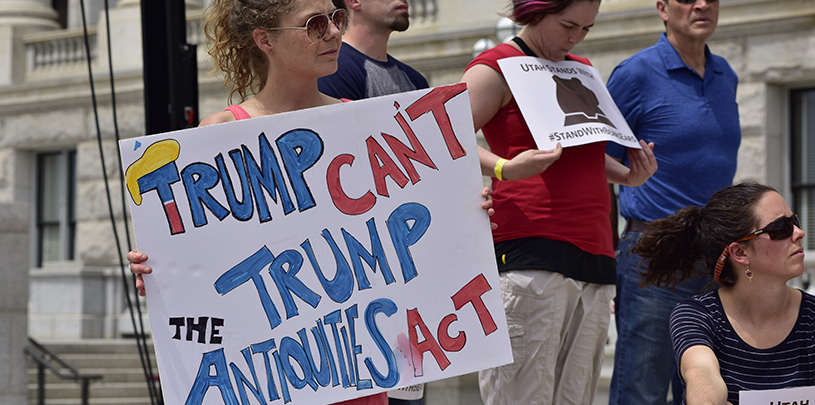 We hear that the Trump administration is busily crafting new executive orders or proclamations to enact Secretary Zinke's recommendations. Should executive action occur, litigation will immediately follow. The tribes, outdoor business interests, and conservationists, including the Grand Canyon Trust, are prepared to go to court to defend our national monuments. Most legal scholars believe that the Antiquities Act clearly provides the president a one-way authority to create national monuments, not to diminish them. That authority rests exclusively with Congress. Any attempt by President Trump to shrink our national monuments would represent a gross overreach of power.
Make no mistake, this unfolding attack is serious, and the Grand Canyon Trust stands ready to litigate to defend Bears Ears and Grand Staircase-Escalante. While we await what may be devastating news for our national monuments in the coming days or weeks, opportunities for public action now are limited.