FOR IMMEDIATE RELEASE
TUBA CITY, NAVAJO NATION — On Wednesday, February 6, 2019, over 40 community members and small business owners from across the Navajo and Hopi reservations gathered in the Tuba City chapter house, the seat of Navajo Nation local government, to weigh in on what services, equipment, and amenities they'd like to see in a new Silicon Valley-style workspace coming to Tuba City. The new Change Labs facility is designed to support and drive small-business growth and strengthen Native economies.
"Projects like Change Labs are an important part of the long-term solution to building our economy," said Navajo Nation President Jonathan Nez. "'Buy Navajo, Buy Local' is a major priority for the Nez-Lizer administration, which means that we are focusing on promoting small Navajo businesses and helping Navajo entrepreneurs. The hundreds of small businesses that Change Labs will serve are key to our nation's long-term job growth and prosperity."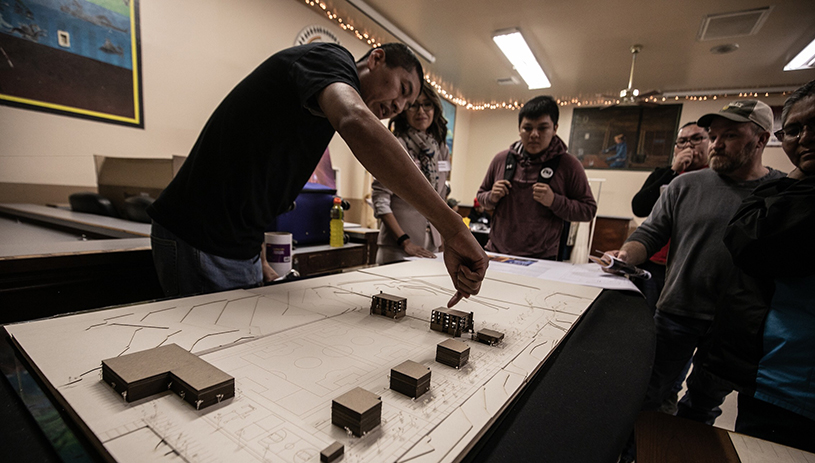 RAYMOND CHEE
Native architecture and engineering firm Terraform Development is expected to break ground on Change Labs' 4,000-square-foot brick-and-mortar location in Tuba City later this year. Change Labs will be the anchor tenant in the firm's new Towering Cliff 8 development, an ultramodern mixed-use building on eight acres in central Tuba City, the Navajo Nation's largest town.
Local voices, local priorities
Business owners at the launch event, including web designers, a cake-maker, Navajo sheep producers, and a tae kwon do instructor, began by sharing challenges in their current workspaces, which ranged from the lack of electricity and running water, to no or unreliable internet, to insufficient parking. Then Change Labs Executive Director Heather Fleming asked attendees to create a model of their ideal workspace, using Legos.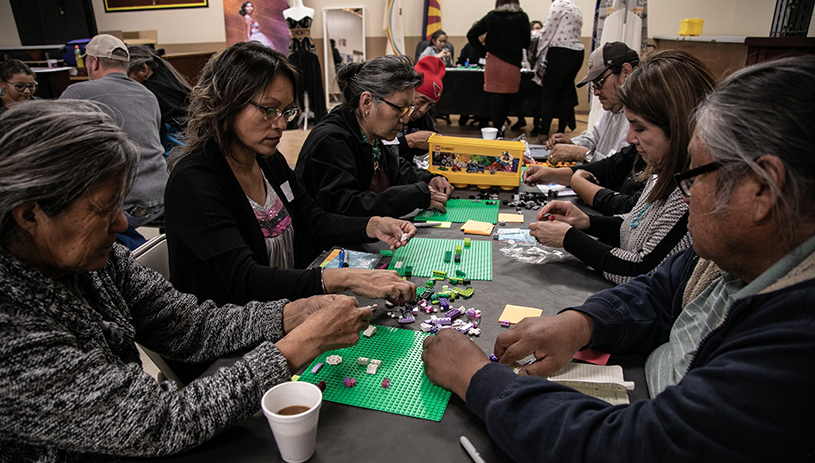 RAYMOND CHEE
"We want Change Labs to meet the real wants and needs of business owners, that's why we're here tonight," said Fleming, a former Silicon Valley CEO who has been leading workshops and listening sessions and gathering data across the Navajo Nation since 2013. "Should we prioritize on-site child care, a jewelry-making studio, or a T-shirt press? Tonight is a promise to the community: change is coming."
In addition to a coworking space with tools and resources like desk space,laptops, and printers, Change Labs will offer artist residencies and business incubation services, giving business owners access to training and mentorship.
"Our people are entrepreneurial — from selling burritos to cutting hair at home — we find ways to make money to support our families. But we don't always think of ourselves as business owners," said Change Labs Director of Business Incubation Jessica Stago. "These small businesses are part of a vibrant, if largely invisible, local economy. If we can support and grow these jobs, the economic impact in our communities will drive down poverty and create better and more sustainable professional opportunities."
"You hear about brain drain," said community member Albert Tinhorn. "Our young people leave to get educated and they don't come back because there are no jobs. This Change Labs effort, if it's done right, it could stop the brain drain. It gives me hope."
Evaluating the long-term impact
Beginning in 2020, Change Labs will publish an annual report, "Doing Business on Navajo," using indicators established by the World Bank to rank the ease of business creation on the Navajo Nation compared to nations around the world. It will also conduct a five-year longitudinal study to assess the impact of Change Labs on the local economy.
"If it's successful in increasing tax revenues and creating jobs, we'd like to see Change-Labs-inspired centers for entrepreneurship spring up across tribal lands," said Stago.