FOR IMMEDIATE RELEASE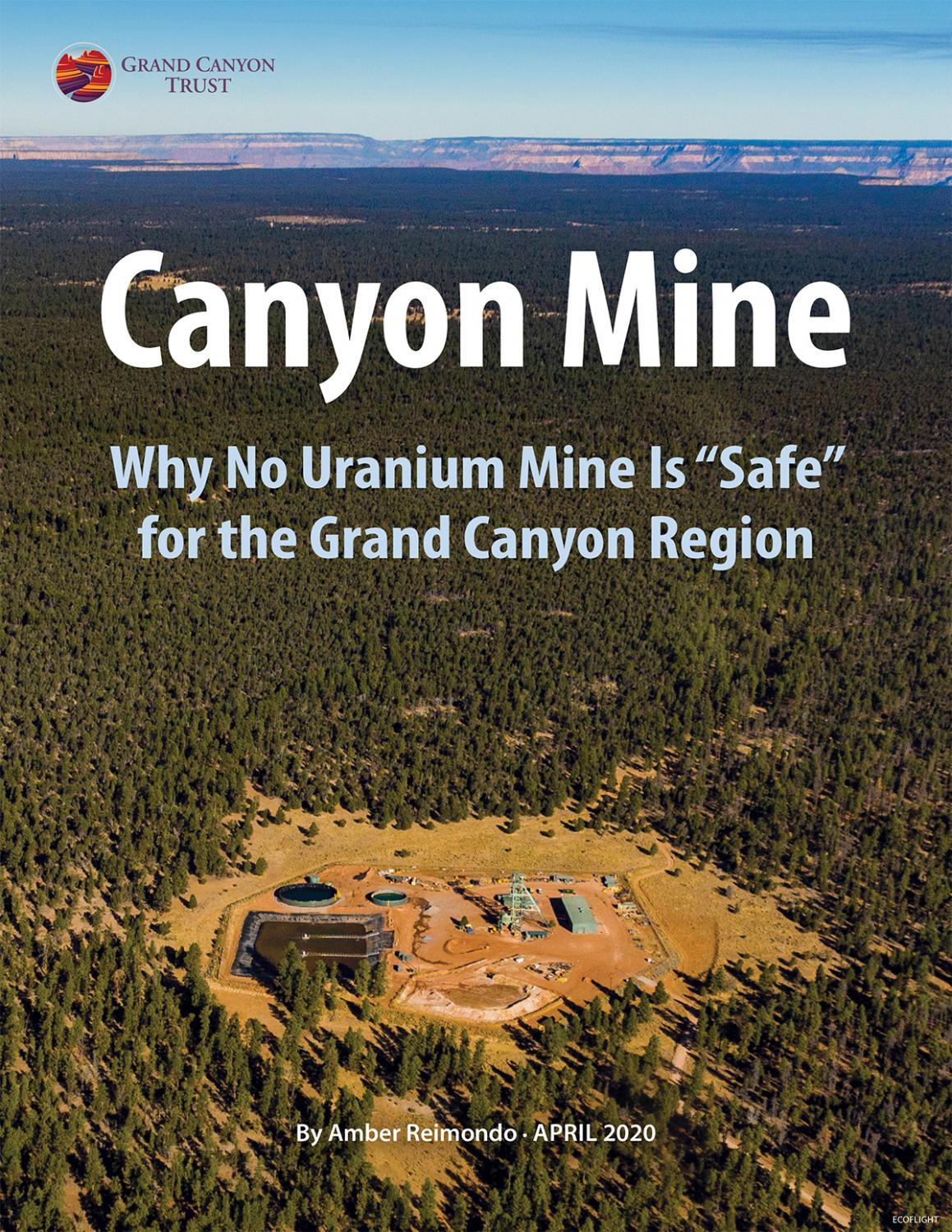 Flagstaff, AZ — A new Grand Canyon Trust research report released today details serious problems at a uranium mine south of Grand Canyon National Park.
The report, "Canyon Mine: Why No Uranium Mine is "Safe" for the Grand Canyon Region," chronicles the mine's history, including escalating flooding and spraying of water contaminated with high levels of uranium and arsenic on soil in a watershed that feeds seeps and springs within the Grand Canyon. Canyon Mine is a poster child of what can go wrong at a uranium mine in the Grand Canyon region, the report concludes.
The report comes as Arizona regulators weigh a key permit application that will determine how the mine is regulated. The Havasupai Tribe has long opposed Canyon Mine, located near the sacred site of Red Butte on the tribe's ancestral homelands, voicing concerns that the mine could contaminate the aquifer that supplies the tribe's water source and economic driver, Havasu Creek.
---
READ THE REPORT: Canyon Mine: Why No Uranium Mine is "Safe" for the Grand Canyon Region ›
---
Approved in 1986, but hampered by low uranium prices, Canyon Mine has yet to extract uranium ore, although, despite company estimates to the contrary, it has hit large volumes of water. Since 2013, the mine operator has pumped more than 30 million gallons of groundwater out of the mine's shaft, including more than 10.6 million gallons in 2019 alone, the report shows. So much water has been pumped out of mine that, at times, emergency measures have had to be undertaken to avoid the risk of overflow of the mine's 2 million gallon evaporation pond.
"Groundwater drainage into a uranium mine is dangerous; it poses a perpetual contamination threat long after a mine is closed, reclaimed, and the company is off the hook for monitoring," said Grand Canyon Trust Energy Director Amber Reimondo, who authored the report. "Groundwater flow near the mine and in the Grand Canyon region generally is extremely complex and insufficiently understood. Canyon Mine's shaft was supposed to be dry, but it's not. The floodwaters have been contaminated, and the result is a pandora's box that will stay with the Grand Canyon region and those who care about it for lifetimes."
As the Trump administration weighs policies that could artificially prop up the U.S. uranium industry, including proposed taxpayer-funded assistance of $1.5 billion over the next 10 years, the flooding problems at Canyon Mine underline an urgent need for improved monitoring and regulation at a minimum.
"The Arizona Department of Environmental Quality must require Canyon Mine to get an individual aquifer protection permit, rather than letting it slide by with another general permit and subpar monitoring requirements," Reimondo said. "This is the Grand Canyon's watershed we're talking about."
Individual aquifer protection permits include enforceable site-specific safeguards and require a public comment period. General permits do not.
"This report is yet another reminder of the tremendous unknowns associated with uranium mining in the Grand Canyon region," said Ethan Aumack, executive director of the Grand Canyon Trust. "Whatever temporary short-term gains private companies imagine they can derive, mining uranium near the Grand Canyon is simply not worth the risk."
Take action. Urge Arizona regulators to close and clean up Canyon Mine.
Graphics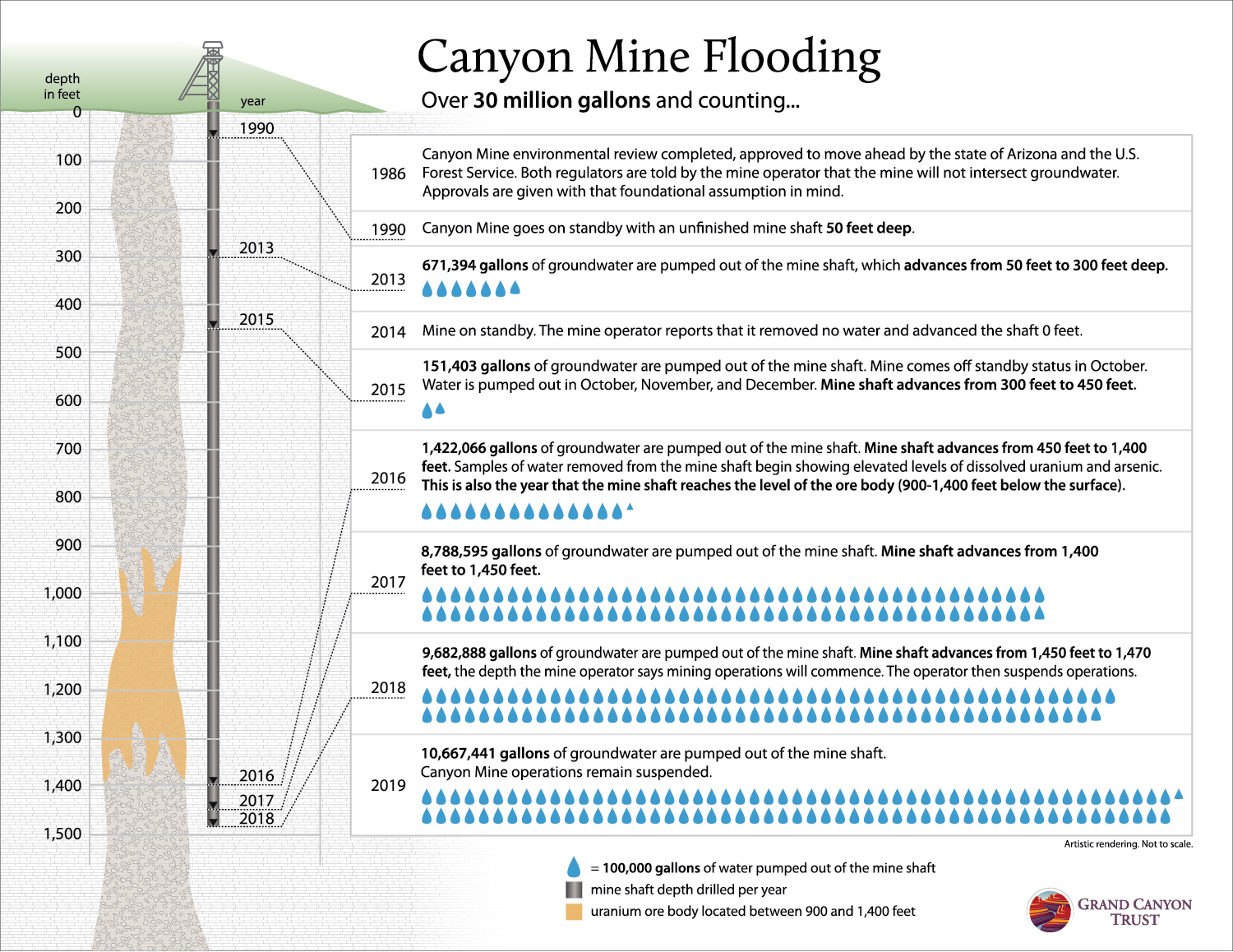 JOAN CARSTENSEN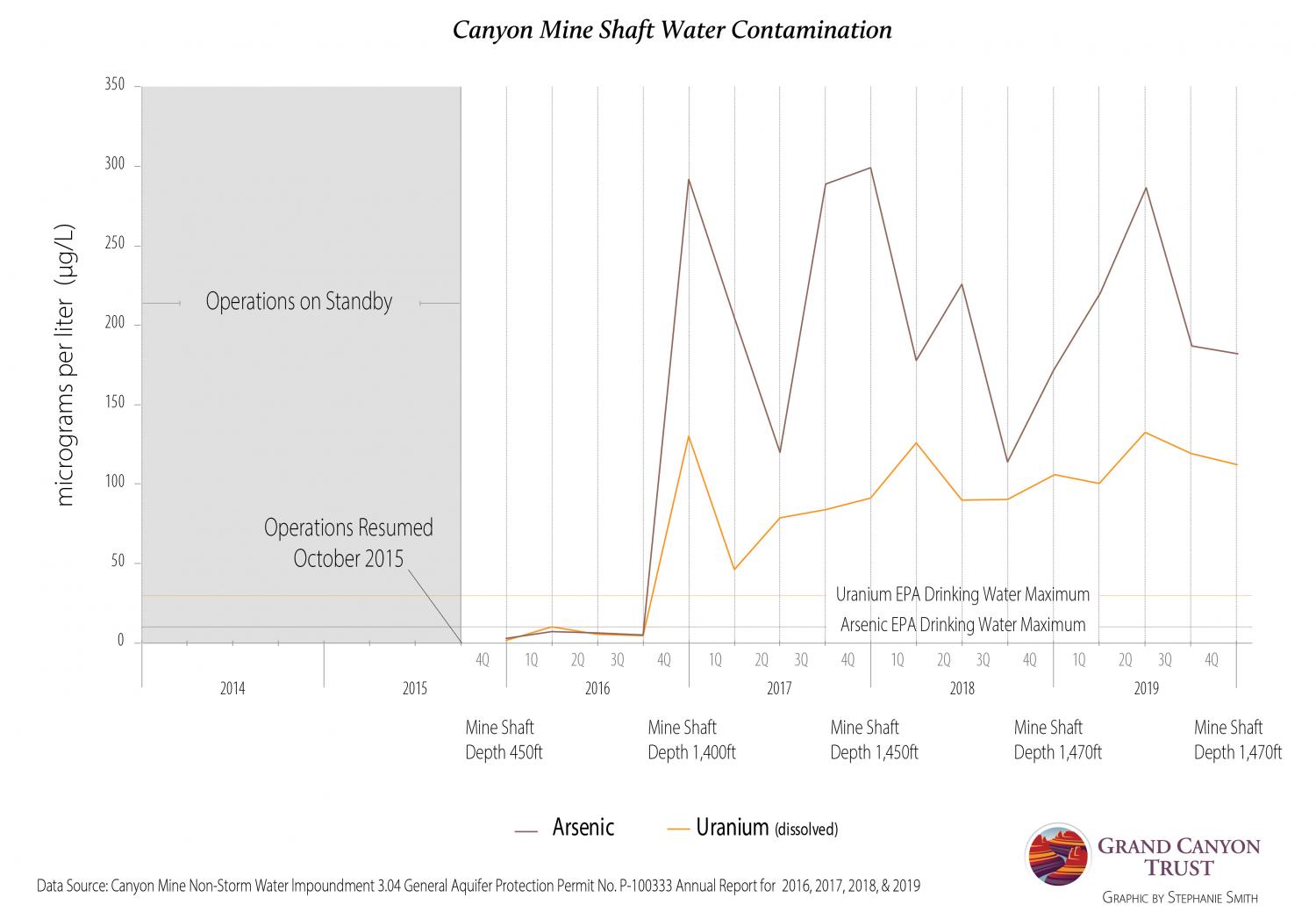 STEPHANIE SMITH