FOR IMMEDIATE RELEASE
GRAND CANYON NATIONAL PARK, AZ — Uranium-mining companies with mining claims near the Grand Canyon and Bears Ears may soon be receiving a boost from the U.S. government. According to a federal strategy released today, the Trump administration plans to examine land protections to allow more access for uranium mining on federal lands, use taxpayer funds to support "at least two U.S. uranium mines," and streamline regulations like the National Environmental Policy Act, and the National Historic Preservation Act, which requires consultation with Native American governments prior to activities like mining.
Today's announcement comes from the Nuclear Fuel Working Group, created by President Trump last July to find ways to prop up the uranium industry.
After 60 days of deliberations, the working group submitted its recommendations to President Trump on November 10, 2019, but those recommendations were only made public today.
The move threatens the existing mining ban around Grand Canyon National Park where more than 10,000 mining claims were once staked. Today's announcement could spell disaster for the Grand Canyon region, where there are over 800 active mining claims remaining and where one uranium mine with ongoing environmental problems has been awaiting more favorable market conditions to begin mining. Any moves to lift the temporary mining ban could mean a flood of new claims in the region, just as legislation to permanently protect over a million acres of public lands around the Grand Canyon from new mining claims is making its way through Congress.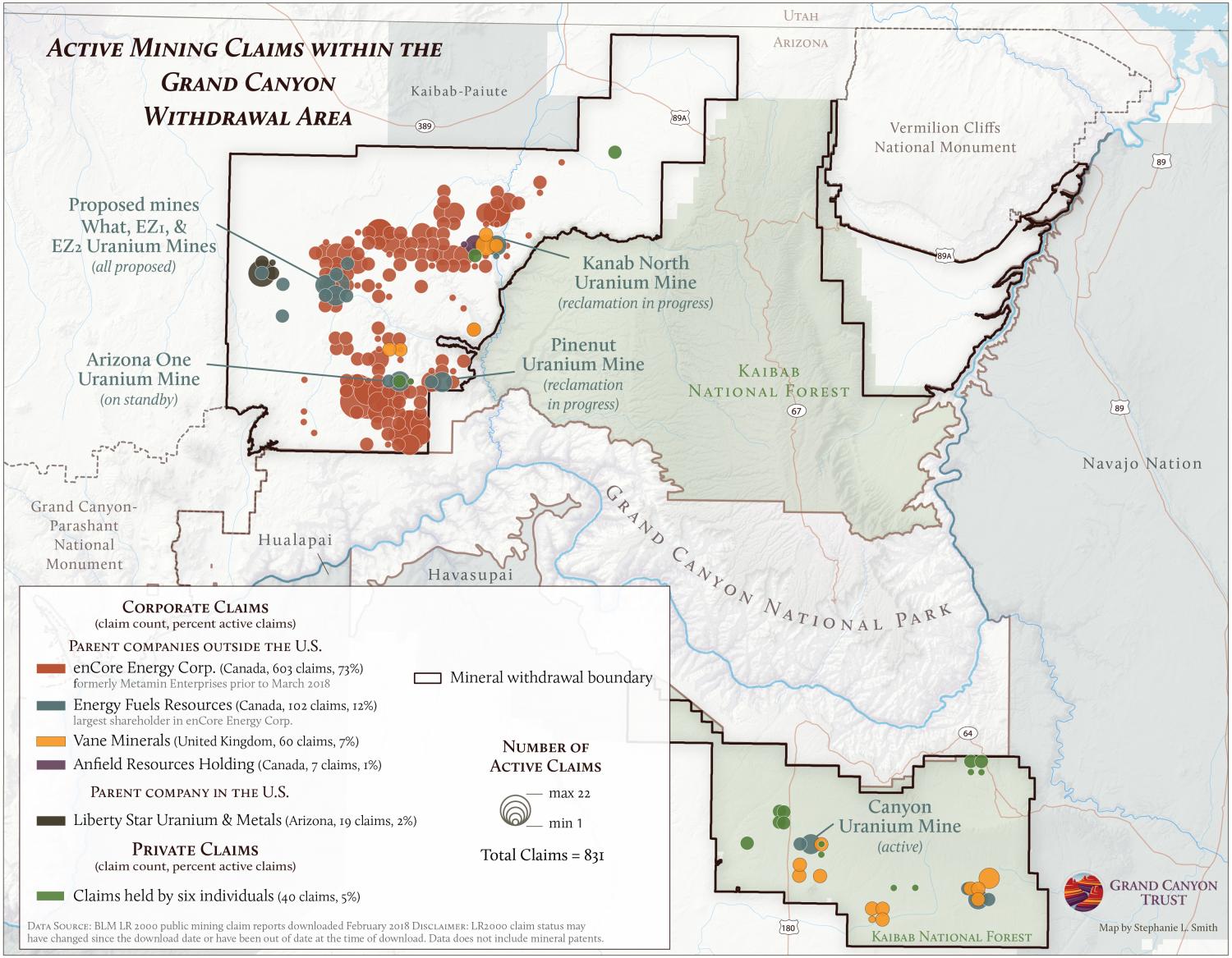 "Today's announcement runs counter to logic and lessons learned, and gives uranium-mining companies an easier pass to profit from our public lands while risking lives and livelihoods for generations to come," said Amber Reimondo, Energy Director for the Grand Canyon Trust. "The Grand Canyon region is the last place we should mine uranium."
The working group's recommendations could also threaten lands that President Trump unlawfully cut from Bears Ears National Monument more than two years ago. While our lawsuit challenging the cuts works its way through the courts, new uranium mining claims have been filed at Bears Ears and one mine, called the Easy Peasy, has since been re-opened. Fully funding the president's budget request for 2021 to create a new uranium reserve could also mean that the permitted Daneros uranium mine, currently on standby on the doorstep of the original Bears Ears, could be put back into production.
"Relaxing environmental laws to prop up polluting industries is bad enough, but doing so to facilitate uranium mining in and around Bears Ears in the heat of a global pandemic is an affront to the tribes that have worked so hard to see their heritage protected," said Tim Peterson, Cultural Landscapes Director for the Grand Canyon Trust. "Cutting Bears Ears National Monument by 85 percent in 2017 was bad enough, but now the Trump administration wants to roll back laws mandating tribal consultation and public involvement to help the uranium industry. Today's announcement rubs salt in the wound."
National security experts have said there is no true national security need for additional uranium to be mined in the U.S., let alone from the Grand Canyon region and the Bears Ears cultural landscape. Energy industry experts have said, based on production costs alone, any imaginable supply gap could be filled by mines with higher quality resources in friendly countries like Canada and Australia. And even in a scenario where additional U.S. uranium mining became necessary, the majority of already identified, lower-cost U.S. uranium deposits are located in places other than the Bears Ears and Grand Canyon regions. `
The working group's recommendations are partially reflected in President Trump's recent budget proposal to Congress for $1.5 billion over 10 years to build out the U.S. uranium reserve. Other specifics for how the working group's strategy will be carried out are yet to be determined, but the strategy does point back to the administration's Federal Strategy to Ensure Secure and Reliable Supplies of Critical Minerals released last summer. That strategy calls for the review of land protections such as mining bans, national parks, and national monuments to "reduce unnecessary impacts that they may have on mineral exploration, development, and other activities."
Background
Creating the working group was a compromise by the president to make up for his decision to reject trade measures proposed by two mining companies, one with a significant stake near the Grand Canyon, that would have forced domestic nuclear power plants to purchase additional uranium from U.S. mines. The U.S. nuclear power industry had vehemently opposed the proposed trade measures, citing the higher price of U.S. uranium compared to other countries, including Canada and Australia, which provide the majority of U.S. uranium supplies.