In a valley dominated by invasive plant species, we are working to nurture a small garden for native plants. As sage, snakeweed, and other drought-tolerant native species take root in the Kane Ranch garden, we get a front row seat to see how native plants are responding and adapting to our warming climate. Volunteers help us weed and water the garden to help native plants thrive.
Browse current volunteer opportunities ›
About the Kane Ranch garden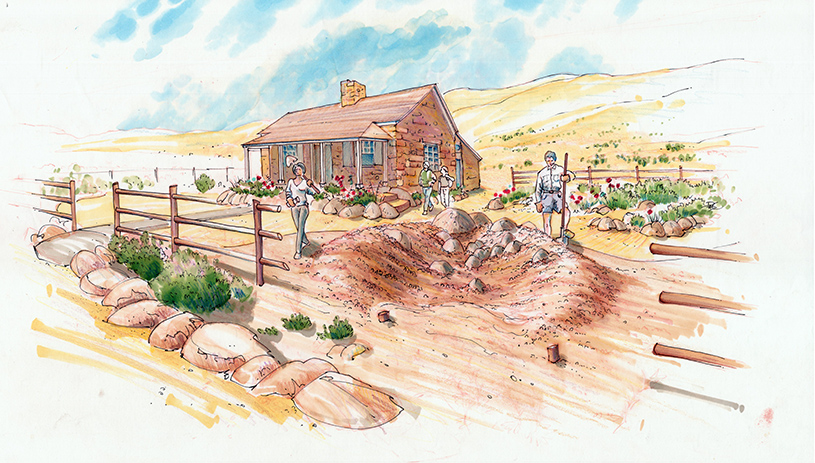 Sketch by Bob Chambers, Terrabirds.
Kane Ranch, a historic homestead built in 1877, sits at the base of the Kaibab Monocline in House Rock Valley. It is the home base for North Rim Ranches, which stretch across 830,000 acres of public lands north of the Grand Canyon. More than a century of heavy livestock grazing has brought invasive species like Russian thistle and cheat grass to dominate the grassland. We hope the garden at Kane Ranch will be a native seed source for the area and an educational space for visitors.
Our efforts
As the livestock grazing permittee of North Rim Ranches, we strive to be stewards of this landscape, including the Kane Ranch headquarters at its heart. Since 2010, Trust volunteers have built garden terraces around the porch, lined paths and beds, installed irrigation, and planted seeds to create the Kane Ranch garden. Invasive plants snuck back in throughout the years, and the irrigation system stopped working.
Now, we are working to bring the garden back to health, taking cues from the garden about what it needs. Each month, garden stewards pull weeds and water by hand. As we watch to see what native plants survive, and what do not, we adjust our plantings accordingly.