Get out into the forest and explore creeks and streams in a whole new way!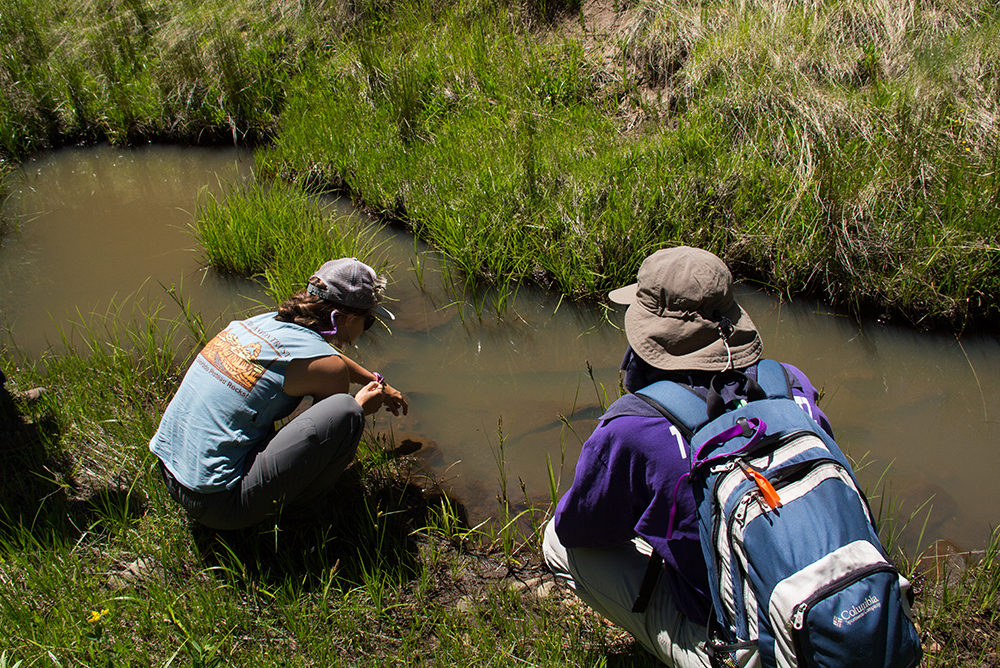 The Four Forest Restoration Initiative (4FRI) is the largest forest restoration project in the history of the U.S. Forest Service. The initiative area covers approximately 2.4 million acres and extends from the south rim of the Grand Canyon to the Arizona-New Mexico state line. The primary goal of 4FRI is to re-establish and restore the health and function of ponderosa pine forests. This will increase forest resiliency to natural disturbances such as wildfires and climate change. Restoring and maintaining the health of land surrounding rivers, streams, and springs is a key component of supporting a properly functioning forest area. Springs and streams have been specifically identified for restoration by 4FRI.
The wet/dry stream mapping project is a long-term effort to quantify trends in surface water patterns and understand groundwater and surface water interactions. This will be the third year of a multiyear project that will help scientists and land managers learn more about the effects of forest restoration treatments on perennial streams with interrupted flows. A similar effort, pioneered by The Nature Conservancy, has monitored the San Pedro River for more than a decade.
Citizen scientists will travel along the length of key stream sections, recording areas that have surface flow during the driest time of the year. Over the next several years, we hope to see the effects of climate variation and forest restoration on these streams. This information will help scientists and land managers better understand and manage habitats in and around rivers, streams, and springs.
Similar to the previous two years, we will survey part of the East Clear Creek area, tracking the north-flowing streams that originate near the Mogollon Rim and drain to Blue Ridge Reservoir or to East Clear Creek above or below the reservoir.
Who can sign up?
This trip is open to the public and recommended for strong hikers who enjoy long days of off-trail adventuring. We ask that each participant become a member of the Grand Canyon Trust with a $50 donation. Trips are free for current members. Be sure to submit your Volunteer Application Form to secure your spot on the trip.
---
Itinerary:
Day 1
Meet at 9:30 a.m. MST at the Trust's Flagstaff office or 12:00 p.m at the Kehl Springs Campground. We will carpool to our site, set up camp, eat lunch, complete a project orientation, and get to know each other. We'll begin fieldwork together in the afternoon. Enjoy a delicious dinner prepared by our staff and an evening discussion with Forest Service personnel.
Days 2-4
Wake up early. Coffee and breakfast served at 7:00 a.m. Split into teams and do fieldwork from 8:00 a.m. until approximately 5:00 p.m., with a midday lunch break. Return to camp for sunset, dinner, discussions, stargazing, and free time.
Day 5
Wake up early. Coffee and breakfast served at 7:00 a.m. Finish any necessary fieldwork. Pack up and head home — or off to your next adventure — knowing just how important this work is the conservation of ponderosa pine natural areas.
---
Accommodations:
We will have a car camping base camp for four nights, utilizing the Forest Service's Kehl Campground on the Mogollon Rim near Happy Jack, Arizona. Water and pit toilets will be available.
The Trust provides: All meals, snacks, and field equipment.
Participants provide: Personal transportation, camping gear for the week, good hiking boots and day pack, wide-brimmed hat, sunglasses, a second pair of footwear for camp, rain gear, and clothing for warm days and cool nights.
Our gear packing list will help you prepare. We can provide limited transportation and loan gear on a first-come, first-served basis — contact us for details.