by Ellen Heyn, Communications Associate
Let's face it — 2017 has been full of, shall we say, challenges. But despite our heartache over President Trump's assault on our protected public lands, we have much to celebrate. In 2017, we saw the Navajo Nation quash the Grand Canyon tram proposal. Hundreds of volunteers joined us in the field, and millions of people wrote comments in support of our national monuments. In the spirit of celebrating our successes, here's a roundup of our major accomplishments this year:
Navajo Nation slams door on Grand Canyon tram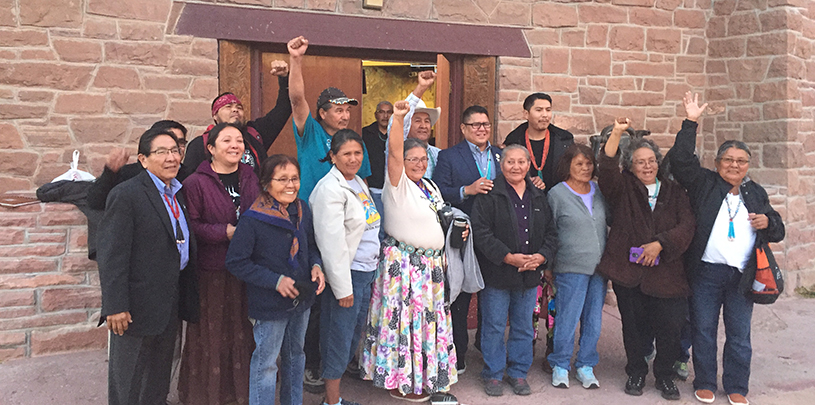 After years of fighting alongside Save the Confluence to stop developers from building a tramway to the bottom of the Grand Canyon, we're happy to report the so-called "Grand Canyon Escalade" is dead. This fall, in a 16-2 vote, the Navajo Nation Council killed the bill that would have authorized a mega resort and gondola on the canyon's east rim. We're celebrating this win but know our work is not over. We will continue supporting the Save the Confluence families as we have for the past six years, along with efforts that create respectful and sustainable solutions in western Navajo.
Improved cleanup plan at White Mesa uranium mill
Ute Mountain Ute tribal members lead a spiritual walk from the tribal community of White Mesa, Utah to the nearby White Mesa uranium mill in May 2017. Photo: Corey Robinson
---
The Trust's advocacy inspired changes to a new reclamation plan for the White Mesa uranium mill in southeastern Utah that should speed up the mill's eventual cleanup and reduce contamination risks after the mill shuts down. The mill is the last of its kind running in America, blighting the neighboring Ute Mountain Ute tribal community at White Mesa. We've been working on holding the mining company accountable for years, and the improved cleanup plan is a step in the right direction.
North Rim springs and lakes get some much-needed love
Photo: Blake McCord
---
This year, we restored three springs and natural lakes on the north rim of the Grand Canyon. Volunteers and partners at the Forest Service helped us replace rotten fencing, improve a degraded spring, and protect 4,000 square feet of rare wetland habitat along the Rainbow Rim. We also worked with Hopi students to build fences around two natural lakes, preventing cattle and bison from trampling delicate ecosystems. We're planning more springs restoration trips in 2018, so keep an eye out on our volunteer trip schedule to join the fun!
You stood up for your national monuments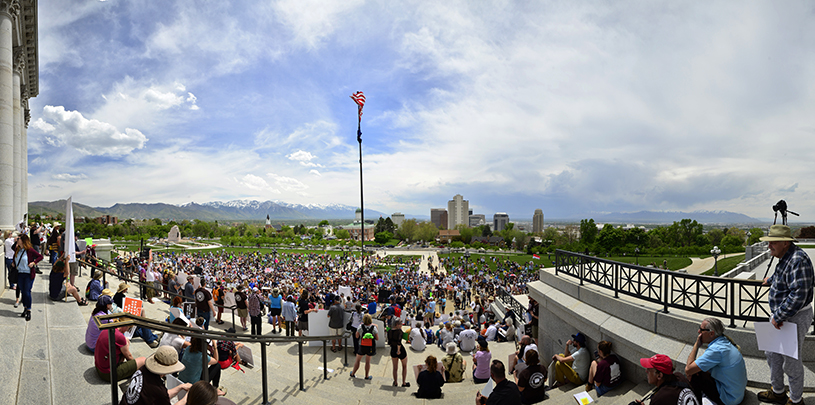 ---
This April, President Donald Trump directed Secretary of the Interior Ryan Zinke to review 27 national monuments, with Bears Ears and Grand Staircase-Escalante in his crosshairs. In the public comment period that followed, you and millions of Americans stepped up on behalf of your national monuments.
2.8 million people submitted comments to the Department of Interior, with over 99 percent of them opposed to weakening protections for places like Bears Ears and Grand Staircase. Trump gutted those monuments despite the public outcry, and now we're taking him to court.
Volunteer power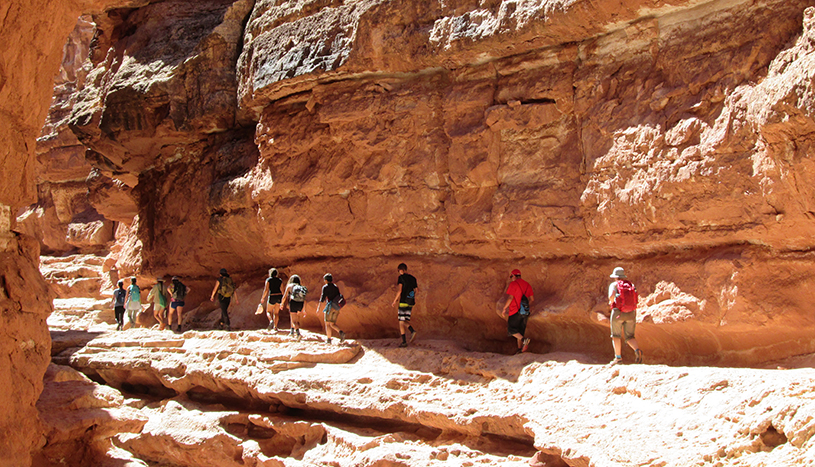 We put out the call for volunteers, and hundreds of you took time away from your families, jobs, and lives to help us in the field. This year, we had 375 volunteers give a total of 11,000 hours of service to 27 projects across the Colorado Plateau. From pulling invasive plants, to surveying 40 miles of streams, to assessing nearly 70 springs, we put our hearts and souls (and backs) into protecting and restoring the places we love. We'll be posting our 2018 volunteer trip schedule in January, and would love to have you join us!
Supporting Native American entrepreneurs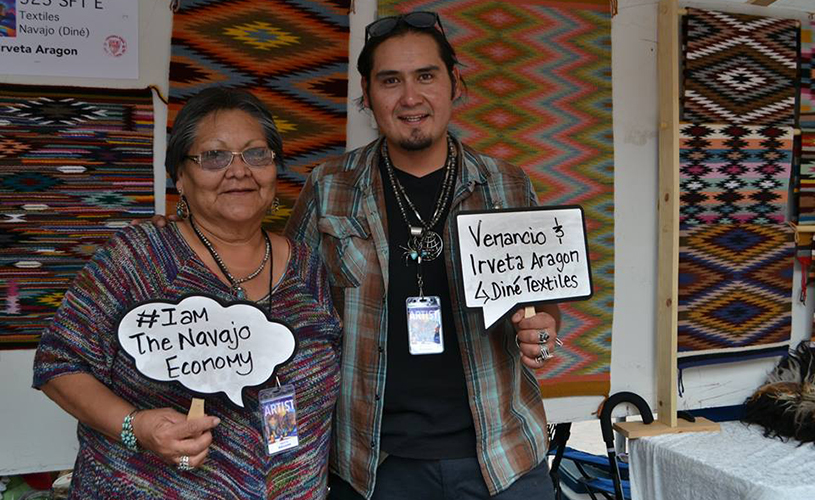 Starting a business on the rez isn't easy, and the Native American Business Incubator Network (NABIN) spent the year helping budding entrepreneurs make their dreams come true. In 2017, NABIN helped launch six new businesses, offered training and support to more than 40 businesses at the annual Create and Elevate marketing event, and a startup boot camp called Launch Pad. NABIN also sponsored an innovation challenge focused on bringing positive social and economic change to tribal communities. Three winners walked away with $5,000 of seed money and a year of business counseling and support services from NABIN.
We documented grazing impacts in southern Utah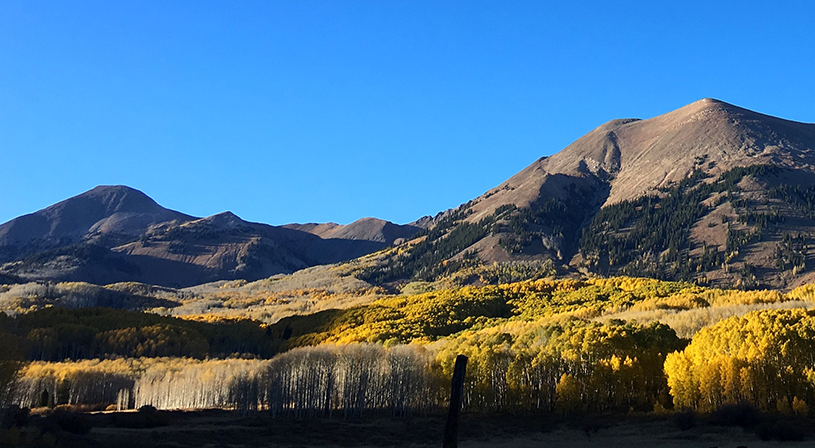 This year, we continued documenting the impacts of cattle, elk, and non-native mountain goats across public lands in Utah. Trust volunteers helped us with restoration work in the ungrazed Johnson Lakes Canyon, an 840-acre island of private land owned by Susie and Rick Knezevich. We looked at plant diversity beneath 63 aspen stands as part of the 10-year Monroe Mountain aspen restoration project. And we visited 45 sites in the alpine Mount Peale Research Natural Area, documenting the damage that mountain goats are causing to fragile alpine plants. Our findings in each of these projects have important implications for grazing and restoration on public lands across the Colorado Plateau.
Sharing indigenous farming practices
Kerley Valley community farmers, who are based near Tuba City, Arizona, traveled to Los Angeles as representatives of the Colorado Plateau Intertribal Conversations Group. They met with famers from southern California tribes, sharing practices, discussing climate issues, and planning a future native-owned seed bank. This year, the Kerley Valley farmers also participated in the Navajo Nation Vice President's food sovereignty campaign.
Upping our storytelling with beautiful maps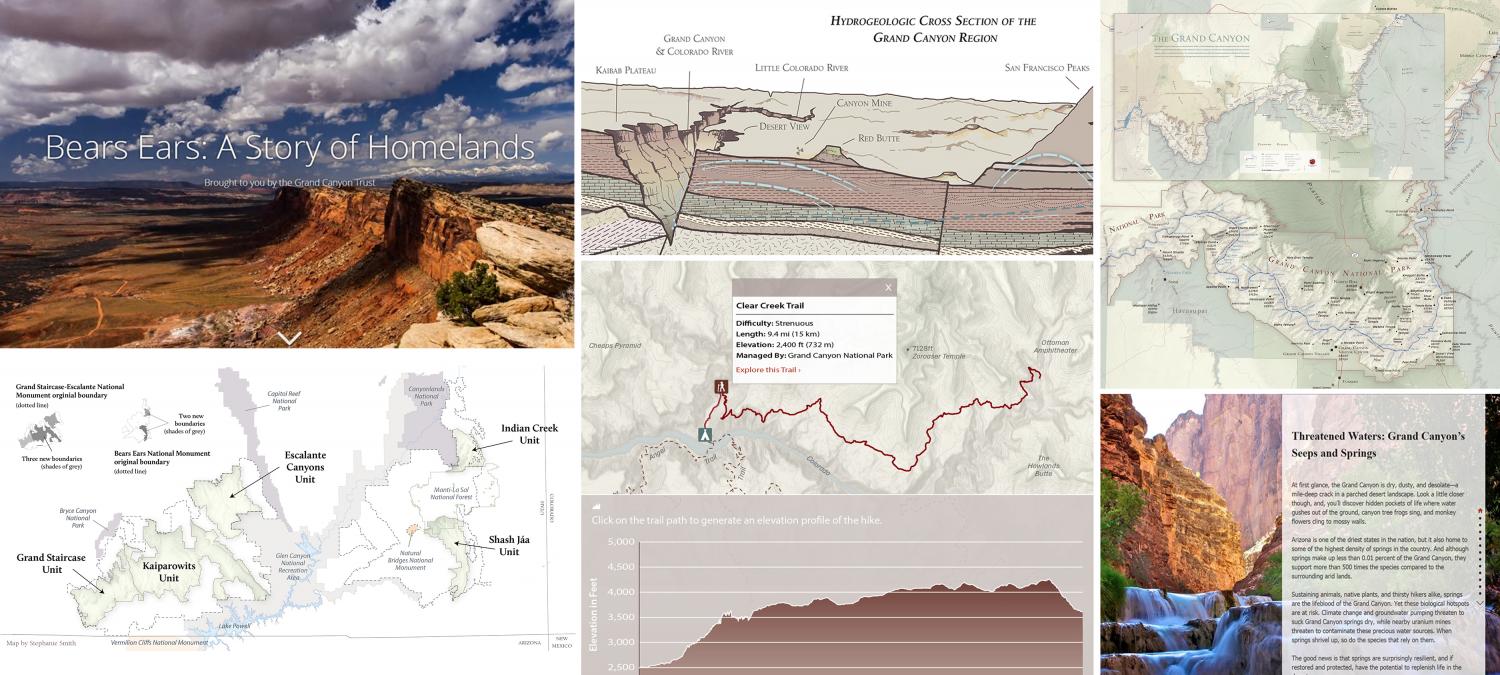 As in years past, our GIS Program Director Stephanie Smith produced a suite of beautiful maps and graphics to help us tell stories about the issues we work on. Here are a few highlights from 2017:
A series of maps in defense of Bears Ears and Grand Staircase-Escalante national ,onuments.
"Bears Ears: A Story of Homelands" – This guided tour of Bears Ears National Monument showcases the historical, scientific, and cultural wonders the monument protects, with words from tribal elders and leaders helping explain the long journey to protection.
"Threatened Waters: Grand Canyon's Seeps and Springs" – This story map displays the importance of the canyon's native waters and efforts the Trust is taking to restore springs along the north rim of the canyon.
Citizen scientists help with forest restoration in Arizona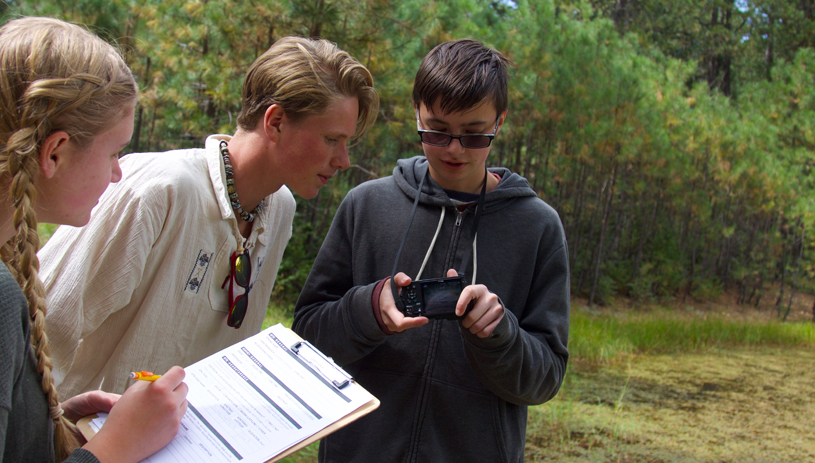 Students from Flagstaff Arts and Leadership Acadamey survey springs.
---
Grand Canyon Trust volunteers put boots to the ground this year, helping assess springs and streams in northern Arizona and making recommendations for future restoration opportunities as part of the Four Forest Restoration Initiative (4FRI). Volunteers assessed 41 springs in the Coconino National Forest and surveyed over 40 miles of streams near the Mogollon Rim to help the Forest Service understand how 4FRI treatments will affect water resources.
Building young advocates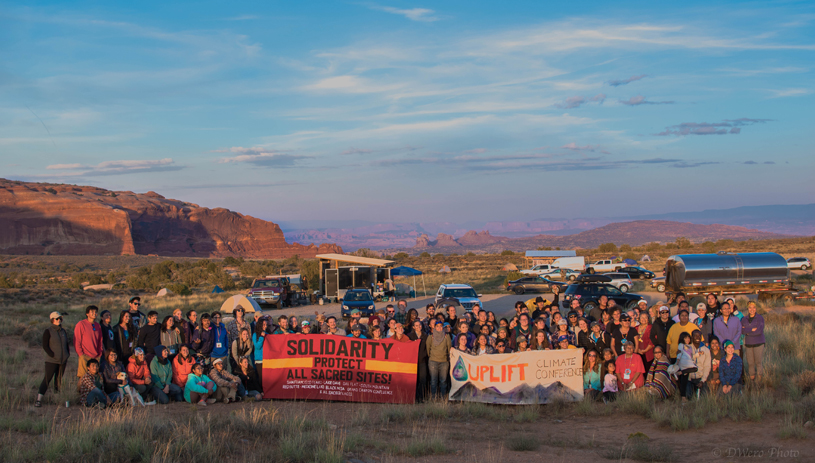 Photo: Dustin Wero
---
When the politics of public lands get us down, we need only look at the young folks who are advocating for the Colorado Plateau for a dose of optimism. They are some of the most passionate and driven people we know. This September, over 150 young activists gathered in Moab, Utah for the third annual Uplift Climate Conference. We also worked with local high school students throughout the year, and these emerging leaders went on to make comments at city council meetings, create environmental art installations, and write letters to elected representatives.
Building regional economies on the Navajo Nation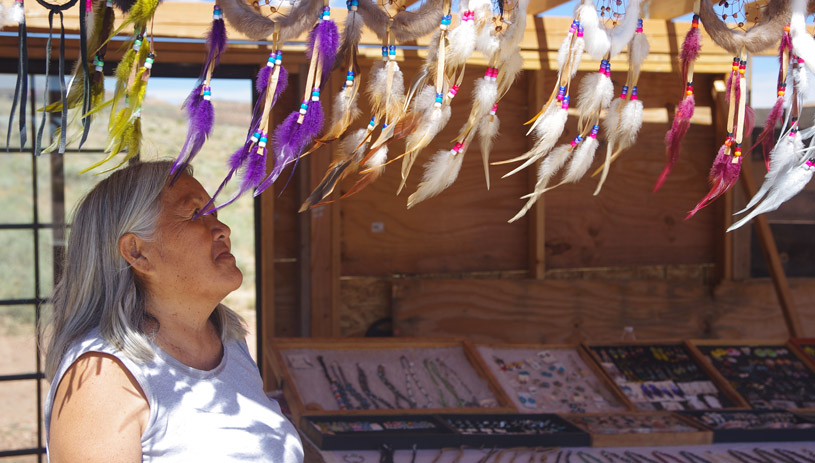 Stella Lewis has been selling jewlery her whole life.
---
Our innovative DinéHózhó investment platform, which pairs socially minded investors with Navajo entrepreneurs, has been working toward creating a sustainable, diverse, and culturally appropriate regional economy. This year, DinéHózhó worked on an economic plan for the community of Cameron, identifying community-owned business opportunities and highlighting the impacts vendors can have on the Navajo Nation tourism industry.
Your support makes this good work possible. Happy new year, and see you in 2018!