by Tim Peterson, Cultural Landscapes Director
The world has changed so much in just a few short weeks. In a normal year, this is the time many of us would be getting ready to venture out to our favorite places on the Colorado Plateau. Spring is a fickle time here, perfect weather and warm sun one moment are as likely as wind-driven snow squalls the next. But normally we brave these conditions to connect with and be part of our beloved cultural landscapes — places like Bears Ears.
This year is not a normal year, by any stretch. The COVID-19 pandemic is challenging each of us and our communities in unprecedented ways. Some Native nations have closed their borders, many national parks are closed, and cities and counties have closed motels and public-lands camping to protect rural healthcare systems.
Grassroots and community-led mutual-aid efforts have sprung up to support tribal communities across the Colorado Plateau. Urgent needs include food, water, firewood, and other essentials including food for livestock and pets. We encourage you to support these volunteer-based mutual-aid efforts directly.
---
---
Restoring Bears Ears' original boundaries
At the Grand Canyon Trust, we're working hard to stay connected in new ways to our families, our communities, and our work while keeping the necessary distance. Rest assured that while we're staying home, we're still working to protect and restore our national monuments. Legal filings in our cases to reverse the president's unlawful cuts to Bears Ears and Grand Staircase-Escalante national monuments are proceeding, and we're watching out for proposed projects like pinyon juniper deforestation and proposals to mine and drill within the original boundaries of the monuments. For more on what's happening now, and more about the Indigenous traditional knowledge that's inseparable from Bears Ears, check out this feature from our latest Advocate magazine.
Bears Ears in Six Images
Right now, many have a strong desire to escape to the places they love. Because many counties have closed lands within their borders to non-resident recreation, photos might be the next-best way to connect with places that are important to you. Remember the light, the feel, and the smell of your favorite places. Keep them with you as the pressures of this difficult and stressful time wear on you.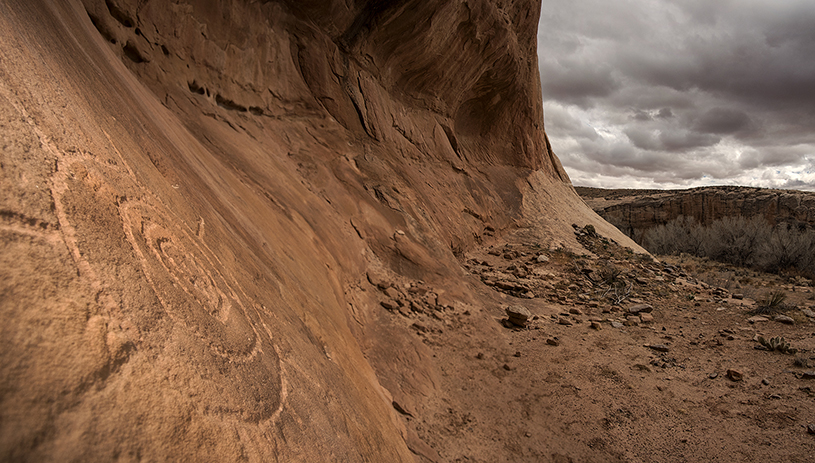 A sun-like petroglyph shines from an alcove on lands removed from Bears Ears National Monument. TIM PETERSON
There's enough speculation by academics on what petroglyphs mean and why they are where they are to fill many library shelves. Often, those who know for sure based on their Indigenous knowledge handed down over generations choose to preserve that knowledge within their own communities, and not share it publicly. In any case, sunshine on a cloudy day is always welcome, particularly in times of crisis.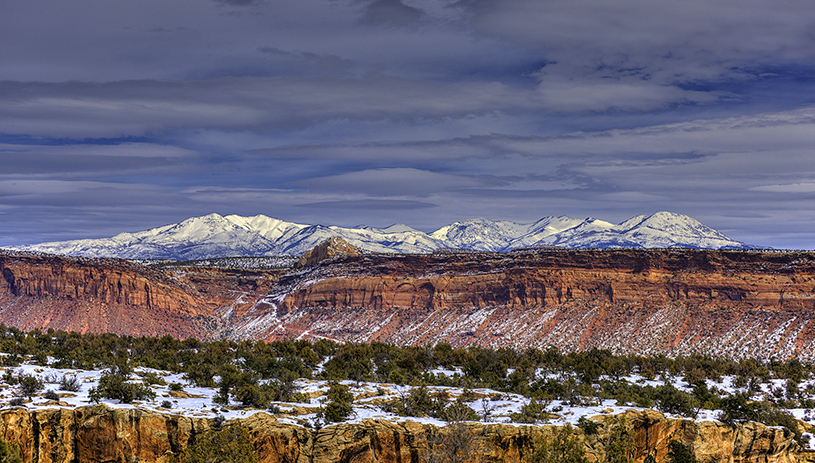 The Abajo Mountains above Comb Ridge in the reduced Bears Ears National Monument. TIM PETERSON
Comb Ridge, a line of jagged cliffs formed when a fault slipped some 60 million years ago, begins at Elk Ridge near the base of the Bears Ears buttes and runs for nearly 80 miles south to Kayenta on the Navajo Nation. The cliffs of Comb Ridge represented a major barrier to east-west travel before highway construction blasted through the feature in the twentieth century.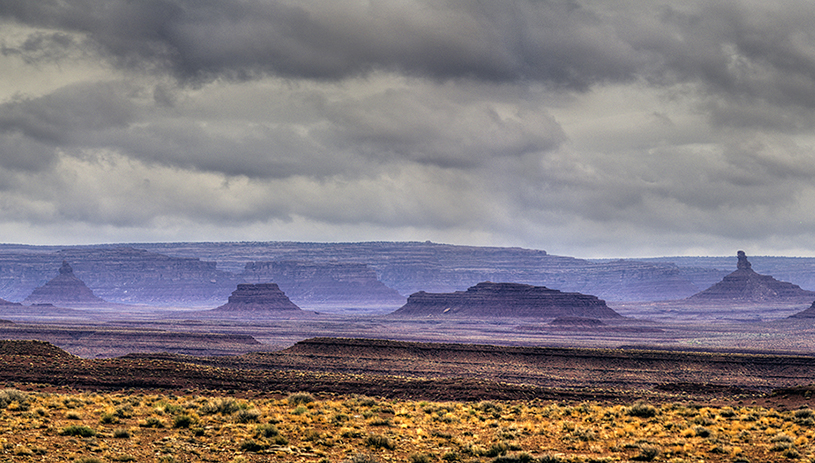 A misty day in Valley of the Gods, on lands removed from Bears Ears National Monument. TIM PETERSON
Valley of the Gods rests at the base of Cedar Mesa north of the San Juan River. Diné people interpret the needles and buttes here as warriors frozen in time who can be appealed to for protection.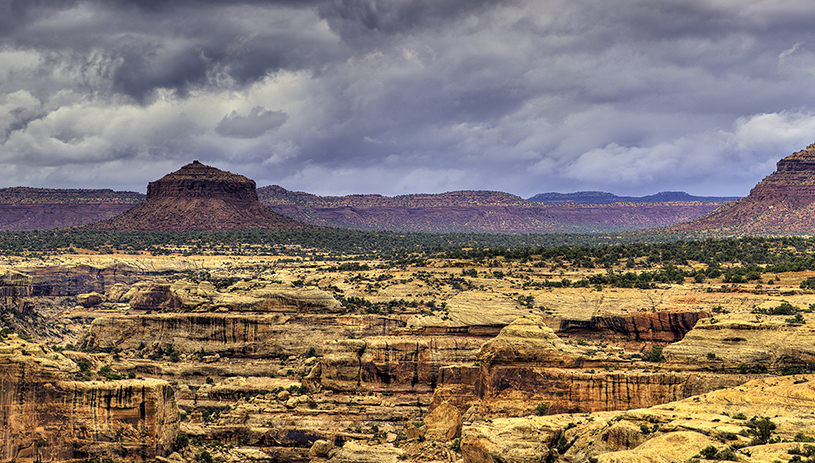 Cheesebox Butte in White Canyon, on lands removed from Bears Ears National Monument. TIM PETERSON
Likely named on maps by hungry cowboys, Cheesebox Butte is in the center of a Cold War-era uranium mining district. As unlikely as new uranium mining here seems now, the president's proposed 2021 budget released in February includes a $150 million giveaway ($1.5 billion over 10 years) for the uranium industry to create a national uranium reserve. The Trump administraiton has hinted at other actions to subsidize the domestic uranium industry which could be announced before the November election. While this place is not in immediate danger, restoring Bears Ears could prevent new uranium mining here.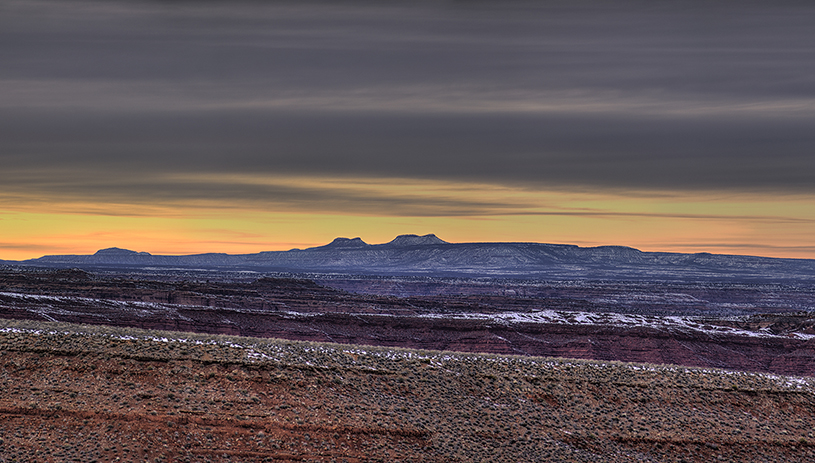 Woodenshoe and Bears Ears Buttes at sunset from Lime Ridge, lands removed from Bears Ears National Monument. TIM PETERSON
To the west of Bears Ears, the Woodenshoe buttes look like an upside-down clog from some angles, comprised of buttes named "The Toe" and "The Heel." Some of the oldest scientific evidence of human habitation in Bears Ears was found just south of this vantage point. Tools identified there date back some 13,000 years when mammoths still roamed the landscape.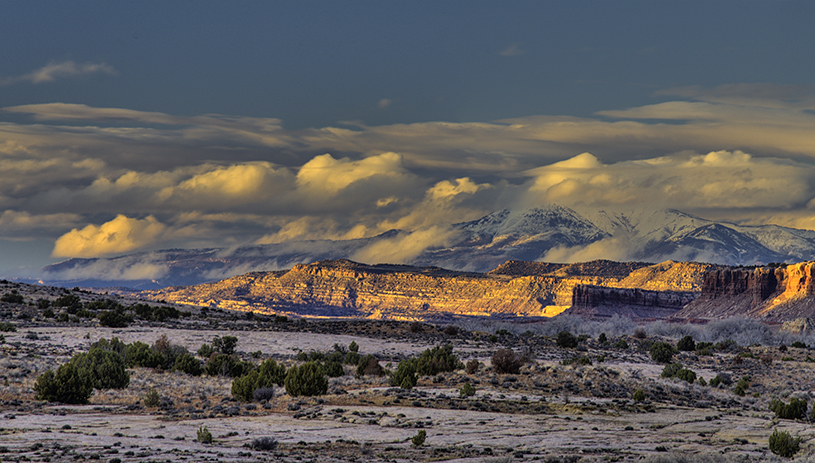 The Abajo Mountains from Butler Wash in the reduced Bears Ears National Monument. TIM PETERSON
The Abajo Mountains were named for the Spanish word for their placement on a flat, north-oriented map "below" the Colorado River. This late-afternoon image hints at why they are also known locally as the Blue Mountains. The peaks capture winter snows that nourish the desert below with life-giving springs and streams throughout the year.
Stand with Bears Ears
These places in Bears Ears are beautiful and vital, and they'll still be there to heal us when we emerge from this pandemic. While we keep our distance, you can make a difference for Bears Ears by urging your members of Congress to co-sponsor the BEARS Act (H.R. 871), which would restore and expand Bears Ears National Monument. If they've already done so, please send a personal note of thanks. Thank you for reading and for caring about Bears Ears, your support means so much during these trying times.