by Tim Peterson, Utah Wildlands Program Director
October has been a big month for the Colorado Plateau. On October 12th, Representative Raul Grijalva announced new legislation to permanently protect a Grand Canyon Heritage National Monument. Three days later, the Bears Ears Intertribal Coalition announced their proposal to protect the Bears Ears cultural landscape in southeast Utah as a new national monument. Watch highlights from the press conference:
As we approach the end of the Obama administration, President Obama is readying his pen to take action on new national monuments, and Bears Ears could be at the top of the list. Help ensure this happens by signing a petition in support of the tribes' request to designate a new Bears Ears National Monument.
The Bears Ears Intertribal Coalition is a formal body composed of elected and cultural leaders from the five core tribes of Hopi, Navajo, Uintah and Ouray Ute, Ute Mountain Ute, and Zuni, and is supported by 20 other tribes and the National Congress of American Indians. Their proposal is exciting and wholly unprecedented. It represents the first time in the 109-year history of the Antiquities Act that Native American tribes have formally petitioned the President for the creation of a national monument.
It would also be the first national monument to honor not just antiquities themselves, but the progeny of those antiquities – the people whose ancestors have lived here and used these lands for thousands of years. The proposal envisions a new kind of collaborative management for Bears Ears beyond mere consultation - a sensible, workable regime of true federal-tribal collaborative management. Collaborative management would not change the ownership of the land, nor the public's access to it; tribes and agency officials would work together as equals to make joint decisions. You can read the full proposal here.
What we are celebrating is something new – something fresh – something you've never seen or experienced before. This is what we're offering to not just our interests but to the interest of everybody who values these lands from all over the world.

– Eric Descheenie, Co-Chair of the Intertribal Coalition
Because tribes have a unique legal and political government-to-government relationship with the United States, the Obama administration has demonstrated an interest in working with the tribes to secure permanent protections for the Bears Ears. The Bears Ears area, just south and east of Canyonlands National Park, is home to stunning scenery and more than 100,000 cultural sites – it's the most significant unprotected living cultural landscape in America.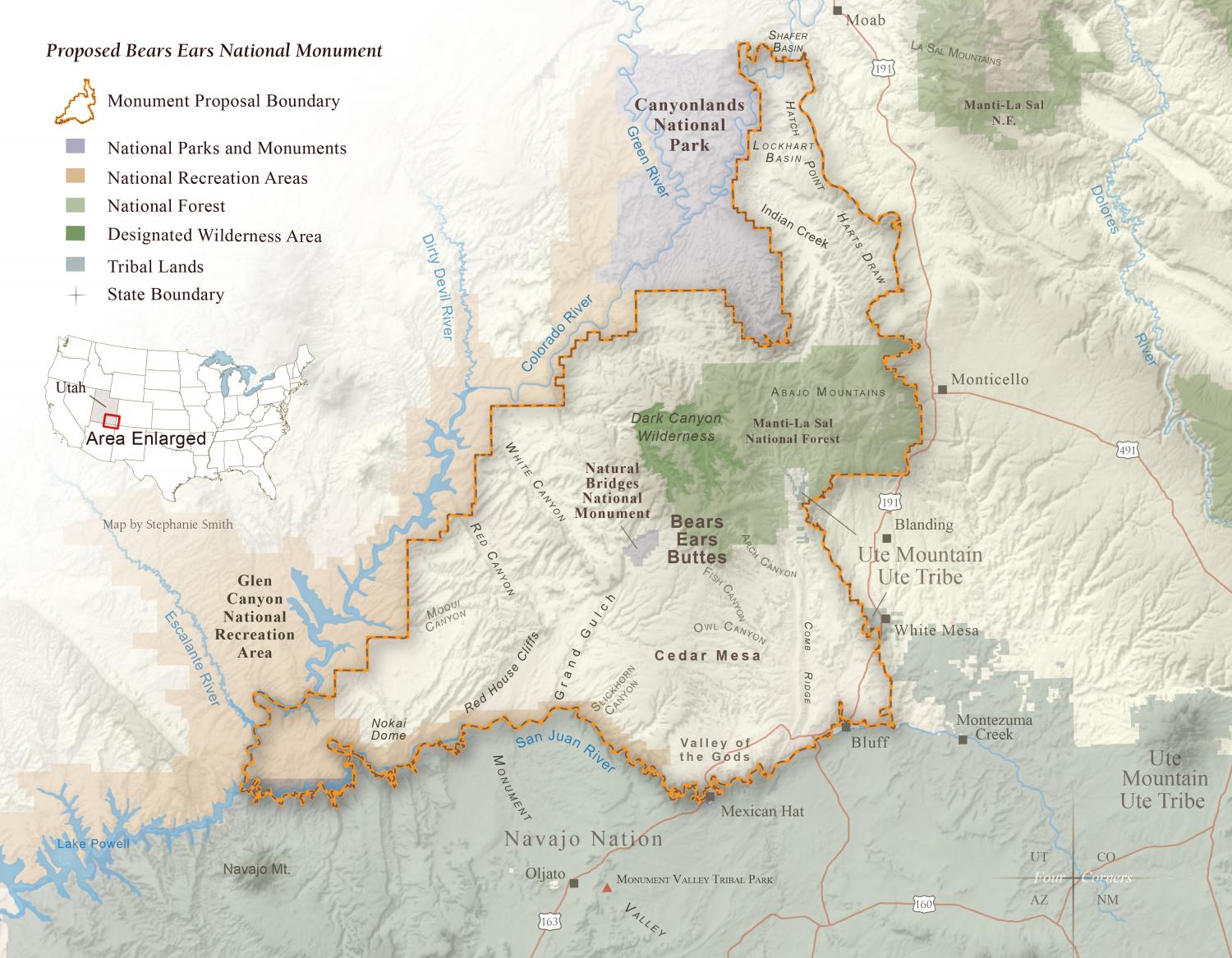 The Bears Ears Intertribal Coalition is urging the Obama administration to designate 1.9 million acres of public lands as a new national monument. Their proposal acknowledges that tribes—and all Americans—have a responsibility to preserve this world treasure. Native peoples' interest in stewardship of lands is not confined to the boundaries of their reservations; they are concerned with the welfare of the entire planet.
Tribes have a history of land stewardship that spans thousands of years in Utah. Each of the five core tribes have strong and effective land management agencies, and their expertise in cultural resources is unmatched. This will not only be a new kind of national monument, but a better managed national monument. The proposal envisions the creation of a world-class institute on systems of land management that accounts for both western science and traditional knowledge to be located in or near the monument, and this institute can serve as a draw for people interested in the landscape, cultural resources and the rich history of the area.
But looting, grave robbing, careless visitation, oil and gas development, uranium and tar sands mining, and irresponsible off-road vehicle use all threaten to destroy these lands and the precious rock art, cliff dwellings, prehistoric villages, and Ice Age hunting camps they contain.
At the center of the Intertribal Coalition's proposal is healing – for the land and for people.
It's not just for us to be healed; it's for our adversaries to be healed too. We can all come out dancing together.

—Willie Grayeyes, chairman of Utah Diné Bikéyah
Bears Ears Intertribal Coalition leaders say the creation of a national monument is imperative for the protection of their identity. "This destruction of our sacred sites—including the gravesites of our ancestors—deeply wounds us. [This national monument] is not only a request, it's our responsibility. This is who we are. This is something that our grandparents had probably foreseen for us many, many years ago. Bears Ears should have been protected long ago. It has been central to our creation and migration stories since time immemorial." – Regina Lopez-Whiteskunk, Ute Mountain Ute Council Member.
Please join the tribes in asking President Obama to protect these irreplaceable public lands for all Americans by adding your name to the petition ›
---
Read more about the proposal in the news: