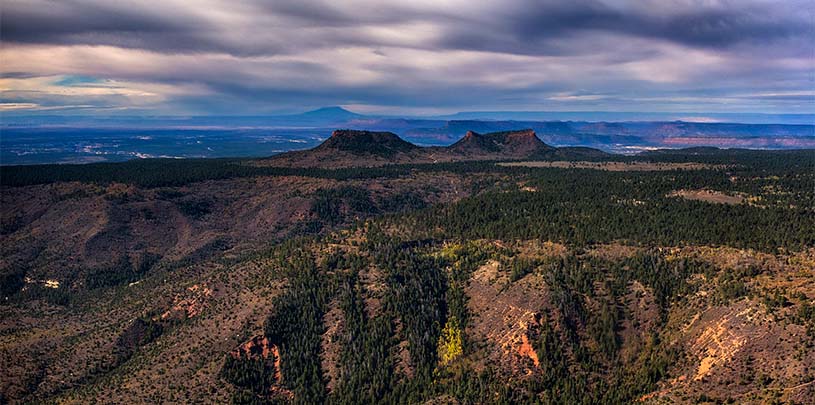 Tim Peterson, flown by EcoFlight

by Tim Peterson, Cultural Landscapes Director
Now's your chance to make your voice heard about the future of Bears Ears National Monument.
When President Biden restored protections for Bears Ears a year ago, it was only the first step in ensuring the proper care and management of the monument. Now, the U.S. Bureau of Land Management (BLM) and the U.S. Forest Service have begun the official process to write a new management plan for Bears Ears.
Bears Ears is not a typical national monument — it was the first national monument to be created at the request of tribes — and a typical management plan will not do. Bears Ears requires a new and better kind of plan that recognizes the important roles of tribes and Indigenous knowledge.
The first step in this planning process is called "scoping"; this involves gathering general thoughts and ideas from the public. This summer, the five tribes of the Bears Ears Inter-Tribal Coalition (Hopi, Navajo, Ute, Ute Mountain Ute, Zuni) released their own collaborative land management plan for Bears Ears synthesizing tribal perspectives on how the monument should be managed. The tribes' plan deserves your support, and we invite you to add your voice by Oct. 31, 2022.
How do I comment?
Submit your comment directly to the BLM via its online form, or mail a hard copy of your comments to ATTN: BENM RMP Project Manager, BLM Monticello Field Office, 365 North Main Monticello, P.O. Box 7, Monticello, UT, 84535.
What should I say?
TIM PETERSON
Please use your own words when writing your comments. Begin with who you are and your personal connection to Bears Ears. Next, list any qualifications that may distinguish your comment from others. Are you an archaeologist, backcountry hiker, or local business owner? Say so. And urge federal land managers to:
Honor Indigenous traditional knowledge. At Bears Ears it's long overdue to recognize that Indigenous traditional knowledge and Native ways of knowing deserve equal treatment alongside Western science. Native people have taken care of Bears Ears since time immemorial and their traditional knowledge about the plants, wildlife, water sources, and natural systems in Bears Ears is vital, especially in the face of drought and climate change.
Respect the tribes of the Bears Ears Commission as full partners. The proclamation for Bears Ears National Monument requires active and robust collaboration between the Bears Ears Commission and federal land managers. The commission and the tribes that compose it are not "stakeholders," "cooperating agencies," or "interested parties" in planning; they must be full partners in collaboratively managing the monument.
Protect monument values and monument objects first. Bears Ears National Monument must be managed to preserve and protect the values and things for which it was designated (including unique geology, fossils, petroglyphs and pictographs, kivas, cliff dwellings, villages, ancient roads, ceremonial sites, and even particular landscape features, just to name a few), above all other land uses. Though many activities are appropriate and allowed at Bears Ears, applying the BLM's "multiple use" concept to prioritize activities like deforestation, increased off-road vehicle recreation, and commercial events, like races, is inappropriate and inconsistent with Bears Ears' monument proclamations.
Manage Bears Ears holistically. Bears Ears is not a collection of isolated cultural sites; it is an interconnected and living cultural landscape and it must be managed holistically. Canyons and rock formations, springs, petroglyphs and pictographs, kivas, and cliff dwellings are equal components of the cultural landscape, and a management plan must protect the natural world and cultural resources together.
Adopt the Bears Ears Inter-Tribal Coalition's plan. The five tribal nations of the Bears Ears Commission have written in detail about their goals for Bears Ears in their land management plan, and the monument should be managed according to that plan.
---
---
More information about the Bears Ears planning process can be found on the BLM's website. Take a look ›
TIM PETERSON
Bears Ears is truly remarkable in every sense. The physical place, the people who have and continue to call it home, the plants, wildlife, and the ecology aren't really separate things. Everything works together at Bears Ears, and the people planning for its future should too. It's time for federal land managers to set the usual playbook aside and do something better here — Bears Ears deserves nothing less.
Thank you for taking the time to stand with Bears Ears. Future generations will thank you.