by Amber N. Benally, Rising Leaders Associate
"Can everyone hear me?" a student shouted as his screen flickered like a 90s television channel. "We can hear you," everyone shouted back. Lance Tubinaghtewa, a LeaderShift participant and Grand Canyon Trust intern, gave two thumbs up and proceeded to talk. "You're on mute, Lance," everyone called out.
In June 2020, 14 young people from across the country hopped online for LeaderShift — a training program designed to build and connect young environmental justice leaders. This year looked a bit different, as we took to Zoom for three weeks of virtual learning. From the safety of our homes, we dove into the coal industry, heard firsthand accounts of its impacts on Navajo and Hopi communities, immersed ourselves in stories of the land, and practiced advocacy skills in workshops and projects.
---
Know a young person who might be interested in LeaderShift 2020? We're running a fall session November 30-December 18. Join us ›
---
Learn the history: Dziłíjiin as a case study
"I was just a young girl when the mining companies showed up," Louise Benally, a Diné elder, explained to the students. "It was my job to translate what they were saying to my grandparents." Benally is a community member and lifelong resident of Dziłíjiin — Black Mesa, Arizona — where Peabody Energy built two coal mines in the 1960s. The operations depleted the underlying Navajo aquifer for over 50 years. Through our screens, she shared her experiences about life before and after coal was strip-mined from her homeland. Benally said everything changed for the worse, from the local ecology to tribal relations.
The coal from Dziłíjiin fueled the Navajo Generating Station, the largest coal fired plant in the West, until 2019. Dziłíjiin has experienced the worst effects of extraction, but community members like Benally continuously work toward a better future for their land and future generations.
Throughout LeaderShift, one theme echoed from our 10 speakers — the need for young people in environmental justice to create lasting solutions and maintain momentum.
One student stated, "I learned the properties which uphold the extractive economy and how they were at play in the overtaking of Black Mesa. I also learned a lot about the history of Indigenous lands and have gained a newfound love and respect for the land."
Build the new: Young people dream up a just future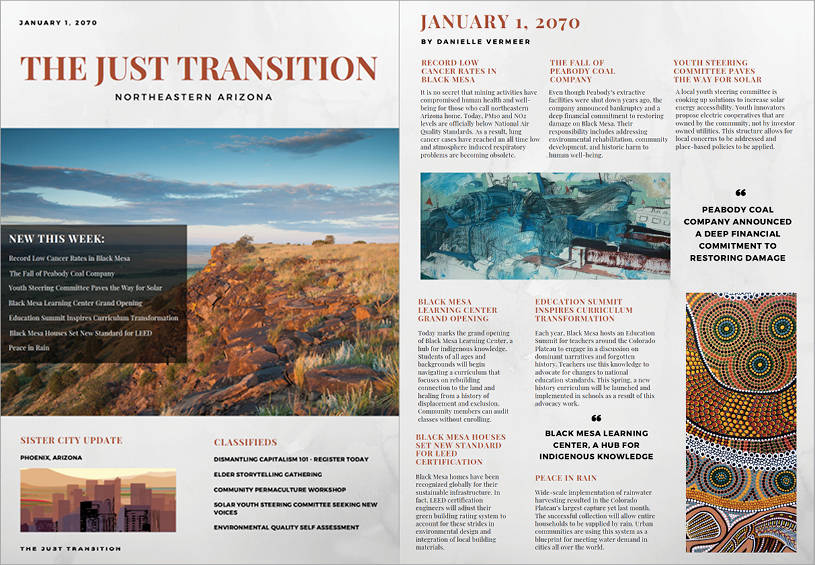 Throughout the three-week program, we challenged participants to dream up a better future. What would a world look like where environmental justice has been achieved? What role would people play in achieving that goal? How could they apply the skills they learned in LeaderShift?
For the final project, each participant created a newspaper foreshadowing the year 2070. Headlines included:
"Food deserts have been eliminated!"
"An end to energy monopolies!"
"Drones test for uranium contamination"
"80% of Native youth now fluent in their Native languages!"
The wide range of headlines highlights an important part about environmental justice — achieving a just future requires a diverse set of strategies and well-equipped strategists.
Looking forward
LeaderShift serves as a space for young people to connect with the land and other environmental leaders. The summer 2020 LeaderShift cohort met numerous challenges, including balancing life during a pandemic, transitioning to online learning, and building a connection virtually to the lands of Black Mesa and to others. But participants thrived in this new virtual world as they challenged themselves to learn new skills and histories alongside their peers.
One student left us this note: "The best part was definitely the people. I did not think I would get so connected considering it was over Zoom, but I already miss my classmates and facilitators."
Going forward, the Rising Leaders Program will continue to prioritize the needs of young people by soliciting their feedback for what a just future looks like and facilitating opportunities for environmental advocacy skill-building.
Interested in our program? Join us online again in late November and December for our fall session of LeaderShift 2020!