by Kate Savage, Public Lands Gatherings guest blogger
Why do we hide our thirst for beauty, and what if we fought for it instead?
The question
Tasch teaches us the song "Bread and Roses" as we walk up Little Cottonwood Canyon on the edge of Salt Lake City. This canyon still holds pockets of snow in the scorching summers and pockets of fresh air in the smog-blanket winter.
Easton and I follow her steady voice and British accent there and then later in the pit toilets, the best place for singing in national parks and national forests, the pitch of the concrete ceiling sending the note gently back, sweet as a vestry choir.
"Our lives shall not be sweated
From birth until life closes
Hearts starve as well as bodies
Give us bread but give us roses."
Words older than a century, from the female textile workers striking in New England, then passed to labor movements in Old England, where Tasch learned it. It must be some kind of European sport to memorize old labor anthems, I thought when I first met Tasch, who seemed to me to be a Very Serious Climate Organizer. But two years on as best friends, I've seen Tasch begin meetings with dance parties and tarot readings, wear her fanciest dress to protest Bureau of Land Management land auctions, and carve out time to read poetry, feast, construct giant, colorful puppets. This song is her mission: however the work is done, hearts must be fed.
"What do the words mean to you?" asks Tasch, as we move up the canyon. I try to answer her with this place. Tasch and Easton, like me, are underemployed and overbooked grassroots organizers, running out of money and time. Our harried brains tell us to be down in the city hustling bucks or building coalitions, instead of giving ourselves this full, sprawling Tuesday morning to walk up creeks and snowdrifts to Red Pine Lake.
But once we're here, we all feel the prelingual pull of this forest and lake. With the Pfeifferhorn peaking above us like the fin of a shark, time itself changes. Time percolates through the grain of rock, the swelling of buds. I'm feeling through the question of bread and roses as it pertains to a place. What does land — sacred, protected, public, intimate — teach us about the place of beauty, not just in our hungry hearts, but in the biosphere?
---
"Bread and Roses" was inspired by a working-class Jewish woman named Rose Schneiderman, who fought for women's rights and workers' rights and didn't see much of a difference between the two. She's the one who said:
"What the woman who labors wants is the right to live, not simply exist — the right to life as the rich woman has the right to life, and the sun and music and art. You have nothing that the humblest worker has not a right to have also. The worker must have bread, but she must have roses, too."
The sun and music and art. Red Pine Lake is still covered in slush and ice, but ringed in that cerulean blue iconic to Utah's alpine lakes. We sit alone in the sun and eat any snack that made it this far, watch ground squirrels, and talk about this place.
The Latin American revolutionary movements all called for tierra y libertad — land and liberty. The first word was about economic necessity, and the second was about the right to live, not simply exist, with sun and music and art. It's another way to voice Schneiderman's bread and roses.
And a land like this, with its Douglas firs twisted and stunted by the snow and rocky soil that couldn't grow a single carrot, is this place land or liberty?
Storytime in the post-apocalypse
I tell Tasch and Easton about the two post-apocalyptic books I'm reading at the same time. One imagines a world where the rich live on luxury space stations and the poor, crammed in grimy cities on Earth, sell their bodies to them. In this tale, I'm supposed to get excited about cyber-intrigue and high-stakes hacking for big bucks.
The second, "Station Eleven" by Emily St. John Mandel, imagines that after a disease kills off most humans, a group of survivors form a traveling symphony and Shakespearean theatre troupe, wandering through the ruins and performing Bach and "A Midsummer's Night Dream." On the old pick-up truck at the front of the caravan, now drawn by horses, they've painted the words, stolen from "Star Trek: Voyager": "Survival is insufficient."
Both books take as a given that our world will change dramatically, tragically. Only the second book mourns that loss, and, like Shakespeare, in the bottom of that mourning takes hold of loss and shapes it into a heavy beauty. It's in that beauty that some hope takes shape.
When author Rebecca Solnit visited Salt Lake in May of 2016, she told us she'd been researching hope and disasters. She said hope is easiest while visiting the sites of actual disasters, where again and again she saw ordinary people come together to create egalitarian groups to nurture each other through pain and trauma. The most dismal research, on the other hand, had been watching disaster movies. In these, ordinary people were shown as a mix of stupid and evil, needing a hero — typically in a military uniform or a suit — to save them from themselves. Election season, she said, felt like a disaster movie.
Easton nods when I tell him this. He was in New York during Hurricane Sandy and was one of the dozens who immediately quit their jobs and created Occupy Sandy, diving straight into the labor of community survival. Occupy Sandy had a tiny fraction of the budget of any big charity group, but mobilized 60,000 volunteers to meet people's needs, get them safe, and rebuild. "But this wasn't a charity thing," Easton says. "It was all of us together. I don't know how to explain this, but 'care' wasn't food and a FEMA trailer. It was also sitting with people, listening to their trauma."
In the maw of disaster, he says, people came alive. "This'll sound corny," he says, "but it was — I don't know — it was about loving each other."
Forget about the post-apocalypse: the books I'm reading roughly lay out the questions we're living now. Both stories coexist, muttering into our ears everywhere we turn.
One story shackled tight to our minds is about consumption, control, extraction, and exploitation. In this story, most human lives don't matter, and surely the lives of other species and the life of the land don't. As Sufi mystic Llewellyn Vaughn-Lee puts it, this story isn't only consuming the Earth — it's consuming our own souls.
This story is now projected onto the maps of public land: take the land from the commons, cut it into smaller pieces, sell it off. Sheet cake at a bake sale. Pump the ancient carbons out into atmospheres and into lungs and buy a mansion farther up the mountain.
And the other sort of story we could tell?
In these moments of slow-time, walking through Little Cottonwood Canyon with two people I love, I feel myself already on the inside of another story. Post or pre-apocalypse, this Earth trembles with beauty. We who live in the valley below imagine the unending growth of our houses, highways, suburbs. Or the Second Coming of Christ. Or a Mad Max megadrought. Or the colonization of other worlds. In our wild visions can we also envision wildness? Can we imagine a beautiful future? Can we tell the story where once upon a time we loved a place so fiercely we protected it as fully as we could, and nurtured it carefully through what we couldn't stop from happening?
Economic epicycles
Red Pine Lake, where I now sit, is part of the Wasatch-Cache National Forest, a double-barrel name that fits its ambiguous history. "Cache" is the word used by French fur trappers for their hidden stashes of beaver pelts. They were in these mountains with the Rocky Mountain Fur Company making a profit off of skins until decimated beaver populations and a change in the ever flighty fashion of men's hats drove them out of business. They were Jedediah Smith and Jim Bridger and over a thousand more: men who were white and well-armed, killing the pond-makers and hoarding their skins, only to find when it came time to sell the stockpiles that the well-heeled wanted silk hats instead to show their status.
But by then the founder of the Rocky Mountain Fur Company had already sold his shares and become a successful congressman. The beaver weren't so lucky: they rallied but never fully recovered, their unsellable pelts rotting in the caches.
And the word "Wasatch"? It's a mystery, one of those deep-history words. The internet offers all kinds of suggestions, occasionally lewd, but the best guess by indigenous scholars is that it's tied to a Shoshone term for a blue heron. The kind of birds that live in the wetlands built by beavers.
Without any beavers at Red Pine Lake, land managers have had to build a retainer wall and wire together a logjam to keep the water back. This eye of ice water is part of Salt Lake City's drinking water supply. It's also unconscionably beautiful. Do you want me to parse out the double name of this forest and decide which it will be? Will it be horded, a controlled economic asset in a boom-and-bust cycle — or will it keep blossoming with a history deep with human stories, wild species, and the unknown? Cache or Wasatch?
We can call the forest by either name when we're demanding its protection. We can speak either language. There's an economic reason to protect this canyon and its creeks. Unlike, say, oil, water doesn't have a substitute. We can give a dollar value for this watershed, show that this forest is bordered by over a million people, and conclude that pollution is too pricey for our budgets. We could do something in the same vein for every wild area, and for our very climate. We can meet the ones who speak in commodities, and beat them on their own grounds.
It's surely important work, but sometimes inside the forest this logic feels perverse. In his essay on the land ethic, Aldo Leopold traced how we're pushed to circuitous reasoning to protect what we love:
When one of these non-economic categories is threatened, and if we happen to love it, we invent subterfuges to give it economic importance. At the beginning of the century, songbirds were supposed to be disappearing. Ornithologists jumped to the rescue with some distinctly shaky evidence to the effect that insects would eat us up if birds failed to control them. The evidence had to be economic in order to be valid.
Ptolemy believed the Earth was the center of the solar system, and to explain the odd movement of the planets he had to invent the concept of "epicycles" — curlicues within their movement. When we say songbirds should live because we don't want too many grasshoppers in the corn patch, or this forest should be protected because bottled water is pricey, we're trying to describe "value" in Ptolemaic epicycles around a central dollar sign. It could be more parsimonious to admit we revolve around another kind of central value — what holds most gravity for us are values that dwarf the dollar sign like the sun dwarfs our Earth.
Galileo was forced to recant his heretical astronomy by an all-powerful church. The orthodoxies of our own time demand that we stay silent about falling in love with the land. A rule-bound Galileo muttered under his breath "and yet it moves," and it's this stubbornness that we remember, not his house-arrest obedience. Those I most love risk the stubbornness to say "and yet it's beautiful," knowing when paper bills and plastic cards are quaint relics, beauty will remain to move us.
The grey men
Because we're talking of stories, Tasch tells me her favorite one from her childhood. It's the story of Momo, by Michael Ende, who also wrote "The Neverending Story."
"Momo is a little girl living alone in this old abandoned amphitheater," says Tasch, who's sitting on a rock in the sun, nursing warmth back into her toes after running through the snow in sandals. "Momo is so fun, so good at listening to others that she has dozens of friends who visit all the time. But they start disappearing, one by one." She tells how Momo ventures out to find her friends and discovers they've been changed by the grey men, an alien race of parasites who feed off the time of others. The grey men tell humans: "you can bank time with us. Give us your spare time now, and you can save it for later."
One by one Momo's friends are seduced, drawn into harried "efficiency" in their work, surrendering their "saved" time to the bankers. They give up romance, music, reading, and sitting around with friends like Momo. Of course the sour punchline is that nothing is saved that way, only lost.
---
The grey men, not content with time alone and wanting also space, have opened new offices in the West. They say wilderness is so much untrimmed fat and public land is wasted space. You could use the land "efficiently" instead, fill it with oilfields and gas rigs and suburbs.
The Momos here are the ones like Aldo Leopold, daring to say instead, "a thing is right when it tends to preserve the integrity, stability, and beauty of the biotic community. It is wrong when it tends otherwise."
This land ethic is often described as a shift away from humanism, as we invite all other creatures into the realm of ethical consideration. And it's true that this idea breaks some species boundaries, knocking humans off their pedestal. But it likewise opens a door to a very human activity. Leopold says the ethical is woven in with the "beauty of the biotic community." Humans are animals who are good at finding the natural world beautiful. This isn't just our gift, but also, Leopold suggests, our ethical responsibility.
Leopold also calls this land ethic a "new ethic," but it's worth remembering that care for ecosystems and respect for their sacred beauty have deep roots in many indigenous worldviews. Maybe this idea has existed as long as human footprints have dented the Earth. It's only sometimes lost.
I think of the beaver skins rotting in caches and the plots parceled out for clear-cutting and strip-mining. I taste the bile of bad memories as First Nations again face massive land grabs and drives to privatize. Some people are ravenous to own this land only so they can liquidate it — gridded, divided, and tossed out like candy at a parade, except this parade is only attended by oil and gas magnates. Acquire and divide: It's a mystery of our time, how the cousin gesture of hording is cutting to pieces. How both are called gain when they mean so much loss.
I think of a Bible tale, where the two women came to King Solomon both claiming a baby was theirs. He said to cut the baby up, and we learned that the real mother was the one who kept the child whole. Hands are itching to grab and own, but the real mothers of this land are the ones who would keep it whole.
Soft words and hard heads
I feel the need to defend land because of its beauty. But beauty is a soft word, and up against a history of hard words — injustice, genocide, ecocide — how can we allow a soft word in?
When the land is exploited, certain communities are pummeled by storms and poisoned by their own water supplies, certain countries are drowned by rising oceans, certain neighborhoods are displaced, certain kids get asthma from the refineries and incinerators. We're all in this together, but only from a very high view. At eye-level, there are victims and perpetrators.
Especially when I consider how conventional white conservationism has historically focused more on pretty places than human justice — even, occasionally, at the expense of human justice — I fear all talk of beauty risks charges of privilege and soft-headedness.
But in my experience, the rejection of beauty tends to come from other privileged corners. The communities most affected by environmental injustice are also the most likely to insist the beauty of the Earth isn't some cherry-on-top luxury for the well-heeled. When others witness the immediate horror of strip-mining, clear-cutting, and mega-infrastructure projects of freeways and pipelines on their land or in their neighborhoods, they often speak their hard truths in soft and unquantifiable words: home, sacred, relationship.
If you plug your ears with cotton against beauty-words, the first people you'll ignore are on the front line. Inner city kids know they deserve air that doesn't corrode their lungs, but also that they deserve a bright blue sky and a clear view of the mountains. Indigenous organizers know their fight for sovereignty is tied up with the protection of a culture that has honored and protected the land's beauty for millennia.
I think of the words of Wangari Maathai, the Kenyan tree-planter and political activist who always carried a sharp analysis of race, ethnicity, and gender in her work. When she talked about the environmental devastation that killed a stream, she spoke about the long distances women had to walk for water. But she also phrased the problem in these terms: "The challenge is to restore the home of the tadpoles and give back to our children a world of beauty and wonder."
Rose Schneiderman says bread and roses, says we want justice and sun, music and art. Wangari Maathai says justice and tadpoles, beauty, and wonder. They both claim a right to that beauty. Maathai pleaded:
If we love the environment, we must identify with the tree that is cut down, and the human and other communities that are dying because their land no longer sustains them. We must express regrets for the destroyed landscapes, become angry when we hear of another species under threat from human activity or see another polluted river or a landfill. We need to honor our hunger for beauty amid the sterility of an urban environment with no parks or trees or flowers. We need to recognize the despair we may feel when a river no longer reaches the sea, or a lake's bottom is caked with cracked mud.
We need to honor our hunger for beauty, says Maathai, as a matter of survival. Maathai knows the well-being and beauty of others are deep in our bodily needs. Maslow's hierarchy tries to segregate our needs into tidy layers, but we've always know we can't survive on bread alone or streams alone. The bread of servitude is indigestible, and a stream without tadpoles and wonder is only plumbing. Humans hunger for bread that is also roses, because it has been co-created with the earth and the ones we love, and because it satisfies our need for beauty.
When we say "Survival is insufficient" we're not demanding more than survival. We're saying survival alone can't be survived. We can't live off just calories, whether from food or from fossil fuels. Beauty is woven warp and woof into our survival.
As Albert Camus worked to resist Nazi occupation and then French colonialism, he wrote:
All those who struggle today for liberty are in the final analysis fighting for beauty. [. . .] [We] cannot do without beauty, and this is what our time seems to want to forget. We tense ourselves to achieve empires and the absolute, seek to transfigure the world before having exhausted it, to set it to rights before having understood it. Whatever we may say, we are turning our backs on this world.
Wangari Maathai stubbornly faces the world, with all of its injustices. And — just as importantly — she falls in love with tadpoles. With beauty, she lures us also to stop turning our backs on the Earth.
Curing bread
The pages of the Utah Book Cliffs are ripped out, crumpled, burned. In addition to the oil and gas developments, U.S. Oil Sands, a (confusingly-named) Canadian company, is strip-mining this area for tar sands.
Tasch is leaving this week for that aspen-filled plateau. She's bringing food and gear and colorful fish puppets, preparing for a direct action against the tar sands mine. I've read the letter from the Utah Division of Oil, Gas and Mining dryly reporting "it is expected that the mine will use 116 gallons of water per minute on a 24-hour basis." These are numbers, only numbers, but I think of the waters and wildlife of that place and numbers start to wrench at my heart.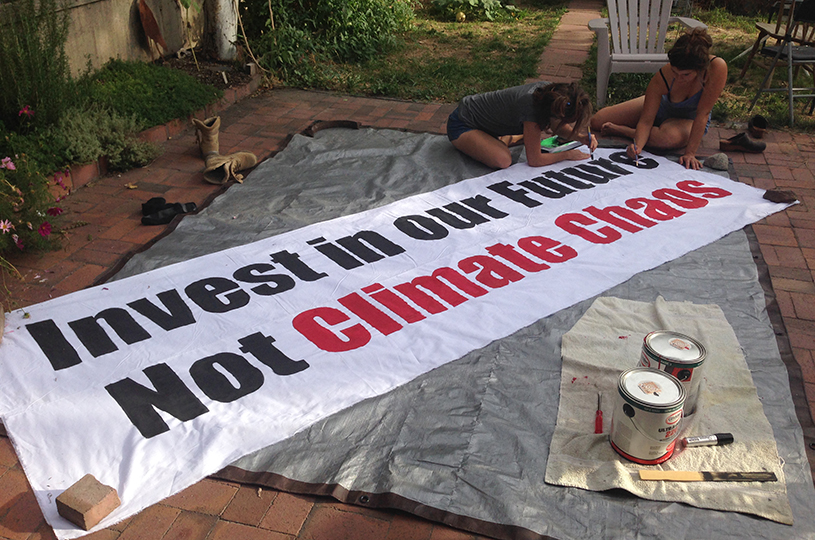 Natascha Deininger and Kate Savage in their Salt Lake City backyard, painting a banner for an action with Wasatch Rising Tide. Photo by Lauren Wood.
---
When I tell Tasch I'm coming with her, she suggests I can lead writing and reflection groups for those who have gathered to protest. I joke that we'll do civil disobedience while reading our essays and call ourselves the Writer's Block. It would all be in line with this bizarre direct action, which will mostly consist of dance, song, and prayer, seeding the cleared land with native species, holding space to process the grief of seeing a wild landscape gridded flat by massive machines.
Tasch and the others are confronting a tar sands climate bomb on the Book Cliffs and setting out to dismantle it with sun, music, and art. I think of her when I read some lines of Albert Camus writing about his close friend René Char. Char was an active member of the French Resistance during World War II, and later led protests against atomic weapons. Throughout, he feverishly wrote poetry. Camus writes: "It can never be said enough, and all men confirm it every day, that there are two kinds of revolt — one that conceals a wish for servitude, and another that seeks desperately for a free order, in which, as Char magnificently puts it, bread will be cured."
What does it mean to "cure" bread? Camus says it's to "restore it to its rightful place, to place it above all doctrines, and give it the taste of friendship." Char's art has this deep rebellion in it: rather than devote himself to another platonic ideal or academic ideology, he keeps faith in the very base of our lives — our basic necessities and love for each other.
Another basic necessity was cured through art in February 2016, when author Terry Tempest Williams won the bid on parcels of public land put up for auction for oil and gas exploration. Terry said her protest bids were in service to a different kind of energy, and an older form of exploration. This is the energy of our movement to keep fossil fuels in the ground; this is a heart-and-gut exploration of what sustains us and how we will protect it. Terry's risks, and the risks of prayerful land and water-defenders, are all about land and energy being cured, moved to their rightful place, given the taste of friendship.
---
But today as I write this, we're not in the middle of an action camp or a land auction. We're up Little Cottonwood Canyon without a schedule. Today this land isn't the official Forest Service data of acreage and districts, the land isn't the promise of "unlimited recreational opportunities," or sheep and cattle grazing, or watersheds. This land also isn't a "carbon sink" or pollution mitigation, and this hike is no direct action.
What words am I hungry for? I want an official forest website to mention after the lists of acreage that this forest is our mother. I want a posted notice that this lake will build the symphonies and Shakespeares of the post-apocalypse. I want to hear that even if it sounds corny, holding to history and care for the land is about loving each other. I want the pamphlet FAQ to note that beauty is our North Star when we're in the slow pursuit of the good and the true.
When we get home I want the small print on every faucet in the city to explain that the water rushes down from beauty and that means more to us than hydration. We drink the Douglas fir and Engelmann spruce, the finches and owls, the ghosts of beaver ponds and Shoshone ceremony.
I want to say I'm sorry and I want to say thank you, and then I want to listen.
---
This essay arose from the 2016-2017 Public Lands Gatherings, which brought together legal scholars, political experts, artists, and theologians to discuss the future of America's public lands. Learn more about the Public Lands Gatherings ›
EDITOR'S NOTE: The views expressed by guest bloggers are solely their own and do not necessarily represent the views of the Grand Canyon Trust.