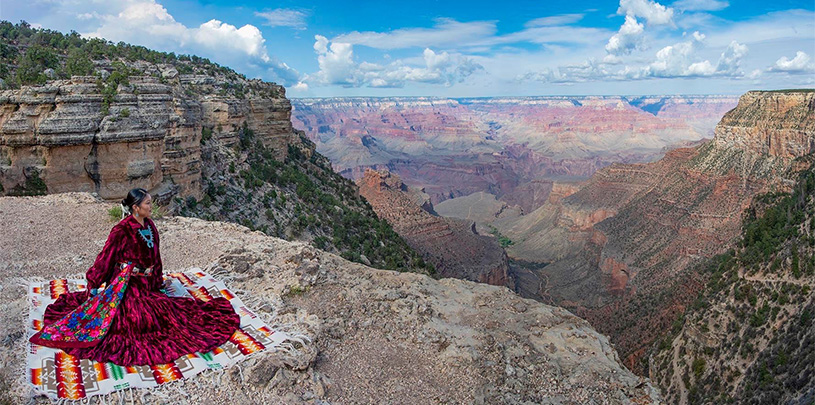 Grand Canyon National Park

by Amanda Podmore, Grand Canyon Director
Grand Canyon National Park is ushering in a new era when it comes to relationships between the park and Native communities, who were pushed off their ancestral lands to make way for the park. The Havasupai were forcibly removed from the canyon as late as 1928, for example. But awareness of the 11 tribes (Havasupai Tribe, Hopi Tribe, Hualapai Tribe, Kaibab Band of Paiute Indians, Las Vegas Band of Paiute Indians, Moapa Band of Paiute Indians, Navajo Nation, Paiute Indian Tribe of Utah, San Juan Southern Paiute Tribe, Pueblo of Zuni, Yavapai-Apache Nation) who call the canyon home is growing, thanks in part to the work of the Intertribal Centennial Conversations Group, a grassroots advisory body that formed around the centennial anniversary of the park to advance educational, economic, and stewardship change at Grand Canyon National Park.
The Desert View Watchtower. MICHAEL QUINN, NATIONAL PARK SERVICE
The park now recognizes Native peoples as the original but displaced stewards of the Grand Canyon and is working to center Indigenous perspectives in park management and interpretation. Desert View, the gateway from Grand Canyon National Park to Navajo and Hopi lands, is transforming into an intertribal cultural heritage site, with an emphasis on first-voice cultural interpretation. And Indian Garden, along the Bright Angel Trail, will soon be re-named Havasupai Gardens.
Still, more can and needs to be done to recognize the importance of the canyon to the 11 Grand Canyon associated tribes who hold traditional and modern-day connections to the Grand Canyon. Park management and economic-benefit sharing are two areas where meaningful change must occur.
Hiring reform to benefit tribes
The most impactful visitor education comes firsthand from Native peoples. That's why hiring Native interpreters, law enforcement officers, cultural resource staff, and managers is critical to address economic, educational, and stewardship change at the park.
The Grand Canyon Trust is working to advance hiring reform that will allow the park to directly hire from all 11 associated tribes for jobs at all levels of park management. This would mean members of those tribes would not have to compete for jobs through the traditional, cumbersome federal hiring process. This will likely require federal legislation, but reform of this nature could be replicated across the country.
Economic changes in and outside of Grand Canyon National Park
Grand Canyon National Park pumps hundreds of millions of dollars into northern Arizona's economy. In fact, in 2021, the park's 4.5 million visitors spent an estimated $710 million in gateway communities like Tusayan. However, little of this tourist spending ends up in Native communities surrounding the park. The Grand Canyon economy, which has historically excluded Native communities, doesn't just need to be made inclusive: it needs to be re-envisioned.
That's why on August 16-19, 2022, the Grand Canyon Trust is hosting an intertribal economic summit, called Emergence, that will explore new avenues for Native community members to participate in the Grand Canyon's economy while advancing principles to protect the canyon's cultural heritage for future generations.
At the four-day summit, Native entrepreneurs, community leaders, tour operators, and others will look at Native representation in the park, brainstorm business opportunities that benefit and sustain regional tribes, and explore economic models guided by Indigenous cultural values for the Grand Canyon's next century.
---
Attend Emergence virtually. Tune in via Zoom to hear the discussions ›
---
Grand Canyon National Park is just the starting point
Grand Canyon National Park, one of our country's crown jewel national parks, can be a model for change across the region. By creating a welcome and inclusive space for Indigenous voices, beliefs, and priorities, we can change the tone for Grand Canyon National Park's second century.
But hiring reform and inclusive economies won't happen overnight — these are long-term efforts that will take collaboration with Native communities, tribes, the National Park Service, and legislators. The Trust is committed to helping to foster and support these necessary conversations.
Change is long overdue, but it's never too late to begin.