by Jessica Stago, Native American Economic Initiatives Director
---
The Grand Canyon Trust is proud to partner with Change Labs to help entrepreneurs realize their dreams and build a strong, resilient, and culturally respectful economy across Native America.
---
On June 16, 2023, the first Change Labs small-business and entrepreneurship hub on the Navajo Nation officially opened its doors in To'nanees'dizi (Tuba City), population 8,000, the largest community on the Navajo reservation.
Over the past decade, Change Labs has hosted thousands of Native entrepreneurs at our conferences and events, put on hundreds of workshops, graduated 53 startups from our incubator, raised nearly $6 million to design programs for entrepreneurs in our community, and distributed nearly $300,000 of that in microloans in the middle of a pandemic, all without a physical home base. Now, we finally have one.
It's hard to explain just how much this means to us, and to our community, but let me tell you a story.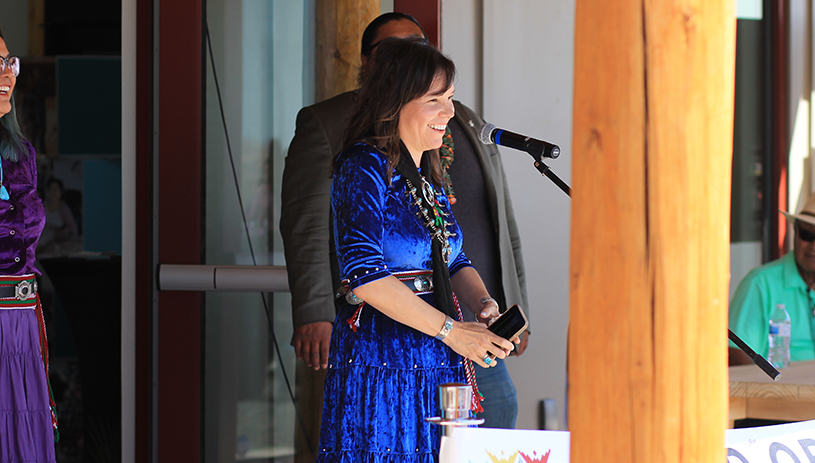 Change Labs Executive Director Heather Fleming addresses the crowd during the grand opening celebration.
WENDY HOWELL, NAVAJO-HOPI OBSERVER
The search for a building
Back in 2018, I stood with my friend and cofounder, Heather Fleming, executive director of Change Labs, on a bare lot just up the hill from the To'nanees'dizi (Tangled Water) Tuba City Chapter House, the local seat of our Navajo Nation government. The lot didn't look like much — dirt, rocks, weeds — but we had big plans for it.
We'd set out to create the first Change Labs hub on the Navajo Nation, to offer coworking space, meeting space, internet access, software, and printers. But more than that, we wanted to build a place where Native entrepreneurs with big ideas could meet, collaborate, and make their business dreams a reality.
But finding a brick-and-mortar space to do business on the reservation is a tall order — it's one of the biggest barriers our entrepreneurs and artisans face.
"You want to build what?" people asked when we explained our plans. "That's impossible," they told us.
We'd inquired about every vacant building, every vacant lot, knocked on just about every door in Tuba City, and had a good number of them slammed in our faces. People thought we were a little crazy. And maybe we were.
We were out of options when Executive Manager Durann Begay of the To'nanees'dizi Local Government offered us an empty lot near the chapter house. I'll spare you the ups and downs of the process — and there were many — but five years later, that bare lot is now home to a beautiful beacon of hope and community for Native entrepreneurs.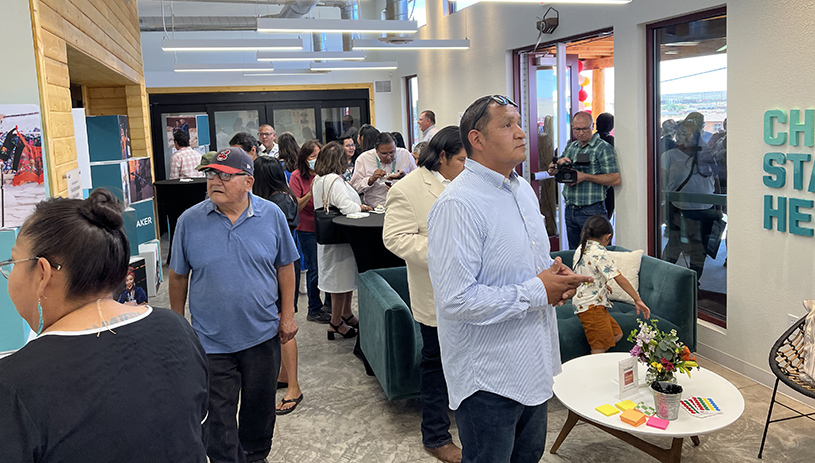 Inside Change Labs Tuba City during the grand opening event. WENDY HOWELL, NAVAJO-HOPI OBSERVER
By Native people, for Native people
Every last inch of our Tuba City Change Labs building was constructed by Native hands, from the foundation to the roof overhead. Like Change Labs itself, our building was raised by Native entrepreneurs for Native entrepreneurs.
You know the saying: If you want to go fast, go alone; if you want to go far, go together. We certainly didn't get here fast, and we didn't come this far alone. So many people supported us, from our families, to allies like the To'Nanees'dizi Local Government, Rock Gap Engineering LLC, and Navajo Nation President Buu Nygren, who served as the first president of the Change Labs Board of Directors.
Navajo Nation President Bu Nygren (second from right, dark hat) during the grand opening celebration. WENDY HOWELL, NAVAJO-HOPI OBSERVER
Committed to the community
"For me, its physical presence is a symbol of our commitment to the community," Heather told the crowd who'd come to celebrate the building's grand opening. "Entrepreneurship and commerce are vital to our prosperity, and this is something that our ancestors understood."
My family are silversmiths. Out of all my aunties and uncles, only two of them left for a job every day. Everyone else stayed and worked making jewelry, then one or two of us would go sell it and that was normal to me. It wasn't until many years later that somebody said, "oh, so you were raised in a family of entrepreneurs," and I realized "oh yeah, I was."
Heather and I are both entrepreneurs ourselves. We know what it's like to choose between food and gas, and our experiences inform the programming and services we offer to entrepreneurs.
What makes you think that you can start a business? What puts that feeling in you and what's the next thing you do? How do you put a plan in place? How do you execute it? We want people to bring those questions in the door at Change Labs.
For Navajo people, our system of ke' is based on kinship and relationships, on reaching out and saying, "we need help here." And at Change Labs, we're here to help.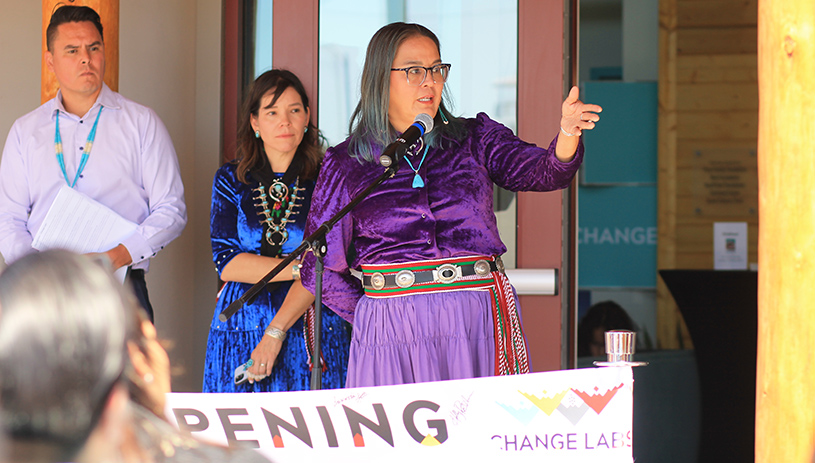 The author, Jessica Stago, cofounder of Change Labs, speaks during the grand opening celebration. WENDY HOWELL, NAVAJO-HOPI OBSERVER
Building a strong, sustainable economy
I work both as the director of business incubation for Change Labs and as the director of Native American economic initiatives at the Grand Canyon Trust. Sometimes people look at me a little funny when I say that — why is a conservation organization like the Trust involved in business incubation?
The reality is a strong economy is good for our people and our environment. When we don't have a strong network of small businesses, big outside companies — mining companies, energy companies — have historically come in and exploited our natural resources, or imposed ideas that aren't sustainable or compatible with our cultural values — the Escalade tramway resort proposal is a recent example.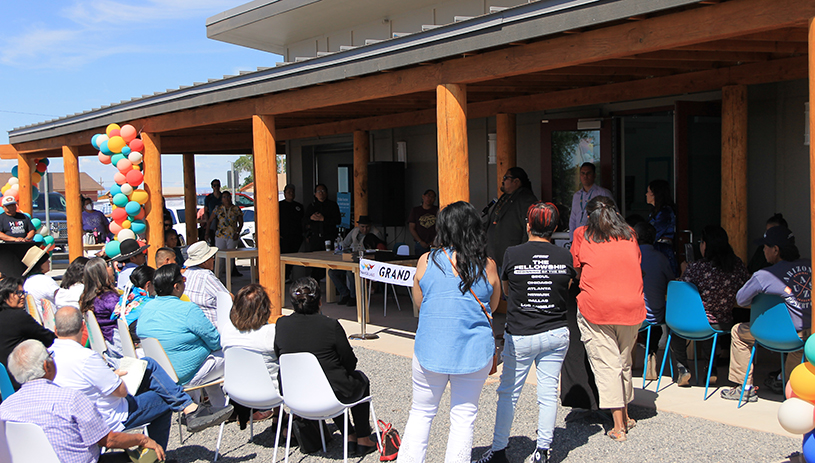 Outside Change Labs Tuba City during the grand opening event. WENDY HOWELL, NAVAJO-HOPI OBSERVER
Building a strong, sustainable economy means supporting entrepreneurs in our communities. And that's why we're so excited to have this space.
As Heather says, "It's a space where we can meet each other. It's a space where ideas will be born, it's a space for partnerships to be built, it's a space where businesses will be realized, and, above all, it's a space where we can start building community, because as we've learned in the past 10 years, community is the most powerful tool for making change."
Next up: Change Labs Shiprock
When we first started, a building really was a dream. I remember Natasha Hale, who started the Native American Business Incubator Network at the Trust, which later became part of Change Labs, saying, "We need to have a place where people see that this is where it happens. People need to drive by and say, 'entrepreneurship happens there.'" And now we do. But we're not stopping here.
The Tuba City hub is just the first of many we envision in communities across the Navajo Nation. We're already designing for the next Change Labs small business hub, in Shiprock, on the eastern Navajo Nation.
Thank you for your support over the years and see you at the next grand opening. And if you're a Native entrepreneur with your own business or wanting to start one, book an appointment with one of our Change Labs business coaches and check out other Change Labs resources. Ahéhee.