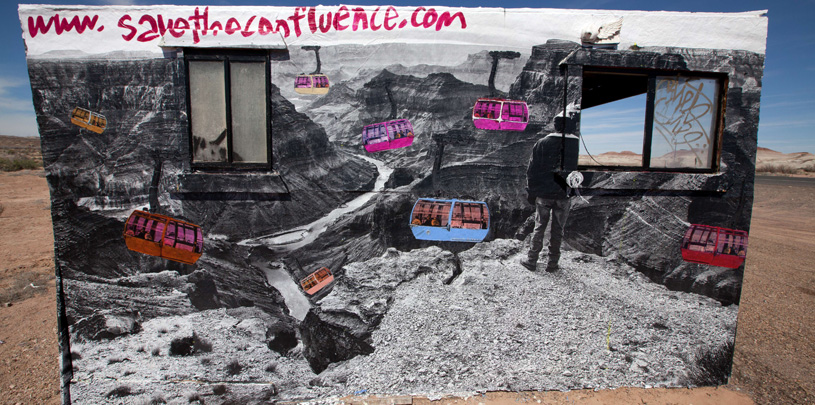 Nicolas Lampert & jetsonorama of #justseeds

by Claire Martini, Citizen Science Volunteer Coordinator, AmeriCorps
The proposed Grand Canyon Escalade gondola development might seem removed from downtown Flagstaff, but it affects us all. What can you do? Save the Confluence writes, "There are Industry vs Native/Indigenous Land conflicts everywhere. A lot of people ask 'How can I help?' You can help by supporting your local Native communities in their struggles to protect what is sacred."
Here's a concrete way to help spread the word and protect sacred sites.
Youth leaders from UPLIFT youth conservation movement are collaborating with local artists to promote Save the Confluence here in Flagstaff. This April, we hope to install wheat-paste art speaking out against the Escalade development (the piece, featuring Jason Nez of Save the Confluence, is a collaboration between Nicolas Lampert and jetsonorama with the printmaking collective #justseeds). You've seen murals like these along Highway 89 as part of the Painted Desert Project. Now is the time for Flagstaff to stand in support of Save the Confluence!
Got a wall that's visible from a major road in Flagstaff?
Help us turn your blank space into a canvas (we can use water or gas tanks, windows, walls made of stones, etc.)! We'd like to work directly with the property owner to find this powerful piece a place from which to speak. If you can host a semi-permanent wheat-paste art installation, please contact us at: uplift@grandcanyontrust.org.
---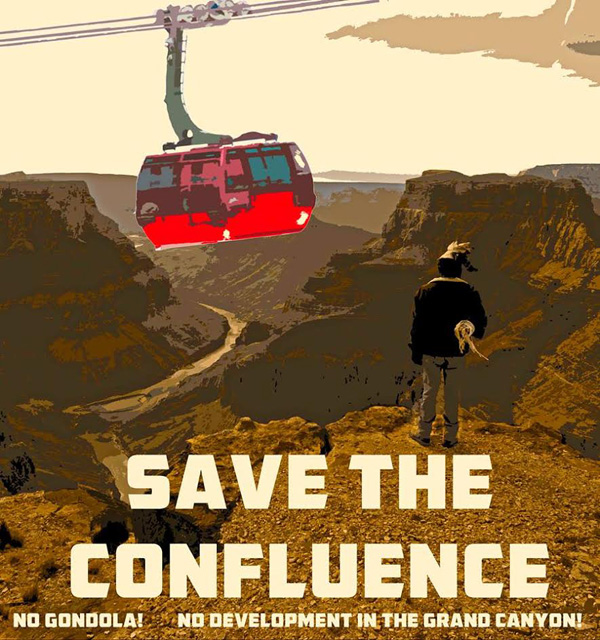 ---