by Ellen Heyn, Communications Associate
As the threat of the Escalade development hovers over the confluence of the Colorado and Little Colorado Rivers, the high-stakes debate surrounding it represents another kind of confluence, "a turbulent coming-together of powerful forces that promises to shape America's most iconic natural wonder for generations," in the words of writer David Roberts.
In a recent Smithsonian article, Roberts lays out the empty promises of the proposed gondola complex and its hotels, restaurants, and gift shops. It's time to call the Escalade development's bluffs:
1. No sacred sites will be impacted by development
Confluence Partners LLC , the company created to build Escalade, maintains that the development will not affect any sacred sites. This self-serving conclusion is drawn from a selective literature review that discredits Hopi, Navajo, Zuni, and other native claims to cultural sites and ignores the Inter-Tribal Compact. The compact requires Hopi and Navajo approval of any development within mapped areas of cultural significance, and Escalade's proposed location is clearly within a delineated cultural area where prior approval by the Hopi Tribe is mandated.
Hopi leaders, who voted unanimously against Escalade when it was first proposed, stand ready to ensure that the Inter-Tribal Compact – sanctioned under a federal consent decree that lifted the Bennett Freeze – is enforced.
To date, the Hopi Tribe, Zuni Pueblo, and All-Pueblo Council of Governors have passed resolutions that oppose the mega-resort and tourist tramway, and the Havasupai will likely follow suit.
Hear from Save the Confluence, a group of local families, about protecting sacred sites.
2. The proposal adequately addresses water and waste disposal requirements
Scottsdale-based Confluence Partners managing partner Lamar Whitmer claims the Grand Canyon Escalade is in an area with a large and self-replenishing aquifer. In reality, little groundwater mapping has been completed here on the western edge of the Navajo Reservation. Two deep aquifers would need to be tapped to supply Escalade with water. Additional wells into those ancient underground reservoirs would further jeopardize Blue Springs, which feeds the Little Colorado River.
Escalade's proposed "master agreement" with the Navajo Nation also does not include any sewage treatment facilities—either down by the river, where a restaurant and walkway would be built, or at the rim, where more than 60,000 square feet of commercial space would go. If 10,000 people visit the confluence every day, the Confluence Partners will have a colossal load of waste, nowhere to put it, and a huge mess on their hands.
3. Over 25,000 rafters and hikers party at the confluence every year
Rafters and hikers do visit the confluence, but the Confluence Partners' numbers are misleading – not everyone stops at the Little Colorado River. During monsoon season (which is also peak rafting season), most parties continue past the Little Colorado if it's muddy, and it often is. The National Park Service heavily regulates river and hiking permits and prohibits camping within a quarter mile of the confluence.
4. The Escalade development has widespread support on the Navajo Nation
"I think the opponents are a very small group. I'd be surprised if there are more than 50 or 60 of them." – Lamar Whitmer
Almost 3,000 Navajo citizens have signed the Save the Confluence petition at chapter meetings, tribal fairs, festivals, political rallies, and family gatherings.
5. The Escalade development will bring a "brighter future" to western Navajo communities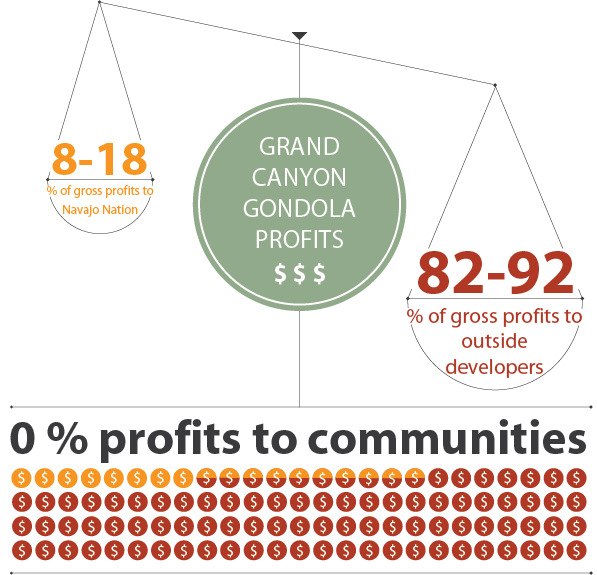 Developers promise jobs and economic opportunities, but details recently leaked from the "master agreement" reveal a disproportionate share of profits would go to outside developers. The Navajo Nation would receive a maximum of 18 percent of gross revenues if attendance exceeds two million (which would mean diverting more than 40% of annual Grand Canyon National Park's visitor traffic to the Escalade development), a figure that would drop to 8 percent if visitation falls below 800,000 people. The outside developers capture the remaining 82-92 percent.
"They come in with their empty promises, dividing the people. It hurts me very much," says Save the Confluence member Renae Yellowhorse. "If they come in and build their walls, they'll tear out the heart of mother earth."
The Grand Canyon Trust's Native America program is working with tribes on culturally-driven, locally-based alternative economic development initiatives. Learn more about our social entrepreneurship venture and business incubator network.
Read part II of Calling Escalade's Bluff.