Map of the Month: meet the nerd behind the Grand Canyon Trust's maps for an insider glimpse into the world of cartography.

by Stephanie Smith, GIS Director
While millions of people visit the Grand Canyon each year, most admire the view from its edge. Venture below the rim though, and the canyon's magic grabs you at the core. A small percentage of park visitors actually hike in the canyon, and fewer still camp. In 2017, 1.5 percent of visitors spent a night in the backcountry.
Of those that do embark down the side of our mile-deep treasure, most end up hiking vertical miles, either as rim to river routes or the popular rim-to-rim challenge. Very few experience the canyon as it parallels the Colorado River.
Two hikers, author Kevin Fedarko and photographer/filmmaker Pete McBride, took a river hike a million steps further and hiked the entire length of the Grand Canyon.
Hear their take on their 800-mile journey at one of the our sponsored National Geographic Live tour events ›
As a lover of backpacking myself, I know my limitations, and a thru-hike of the entire Grand Canyon is not going to happen. If you are like me, have no fear. There are lots of options to experience the depths of the canyon.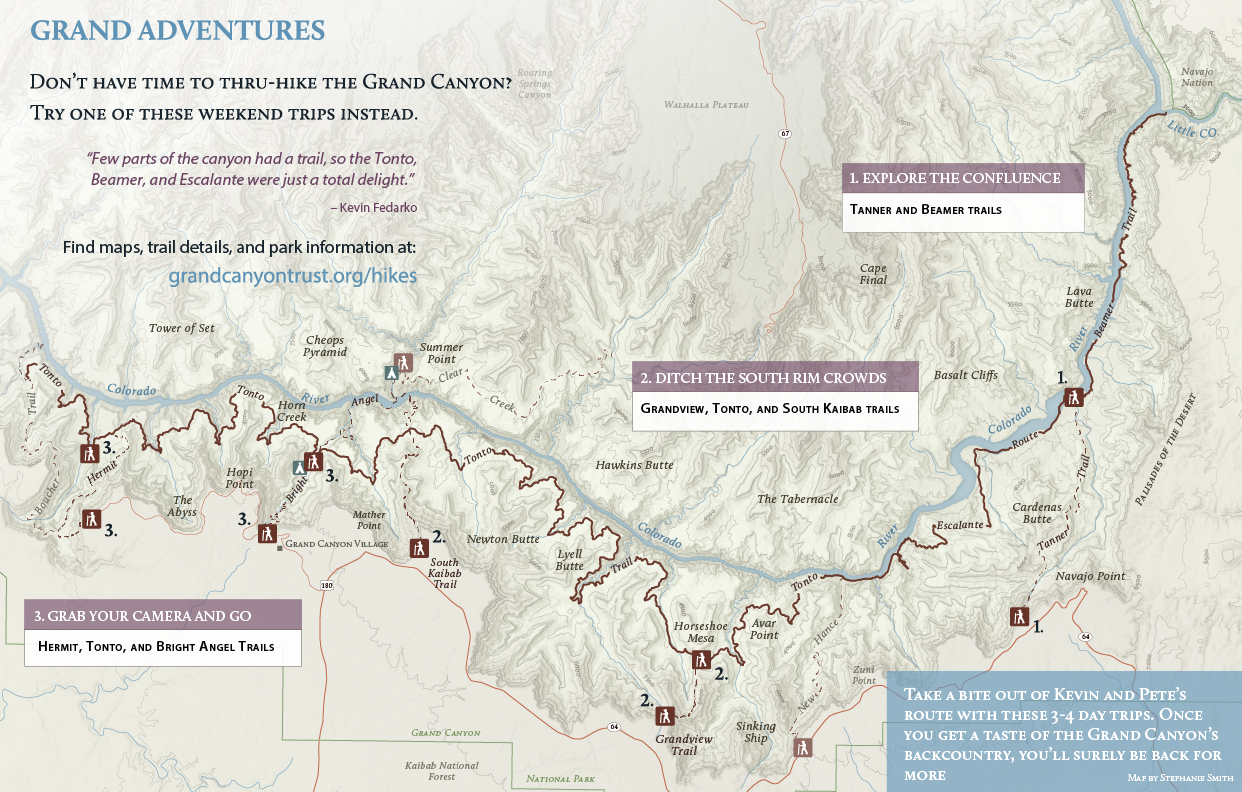 View a larger version of the map ›
Fact: the Grand Canyon is not easy to map
This is my greatest take away every time I set out to display its vastness in print. The Grand Canyon is a complicated landscape of curves, cliffs, stacked contour lines, a name for everything (sometimes more than one), and a river that is constantly changing. Oh, and it's huge. The hardest part is deciding what information to leave out. Treasures lie hidden behind every butte, and while every place in the canyon is worthy of mention, it's vastness makes it impossible to include everything on a sheet of paper.
So why did "Sinking Ship" make the cut? You might think I included it because it's a landmark visible from Grandview Point, or because it's an interesting and unique geological formation, or perhaps because of its ancient ties to Ancestral Puebloans. But alas, my secret: I just liked the name.
The challenges in mapping the canyon are not too dissimilar from planning a hike in the canyon. In such a vast landscape, where do you choose to visit on foot? We've done a lot of that work for you with our Colorado Plateau Explorer. Check out the itineraries below for ideas on how to get yourself into the heart of the Grand Canyon.
Join the 1.5 percent who backpack in the Grand Canyon
The 70-mile long Tonto Trail contours above the Colorado River, and by combining sections of it with intersecting rim-to-river trails, you can string together some great backpacking loops. We can't all thru-hike the Grand Canyon, so try one of these weekend trips instead. Need help figuring out permits? We can help.
---
1. Hike to the confluence
Getting there isn't easy. It takes several days and 36 tough miles to reach the confluence of the Colorado and Little Colorado rivers on foot, but it's worth every step.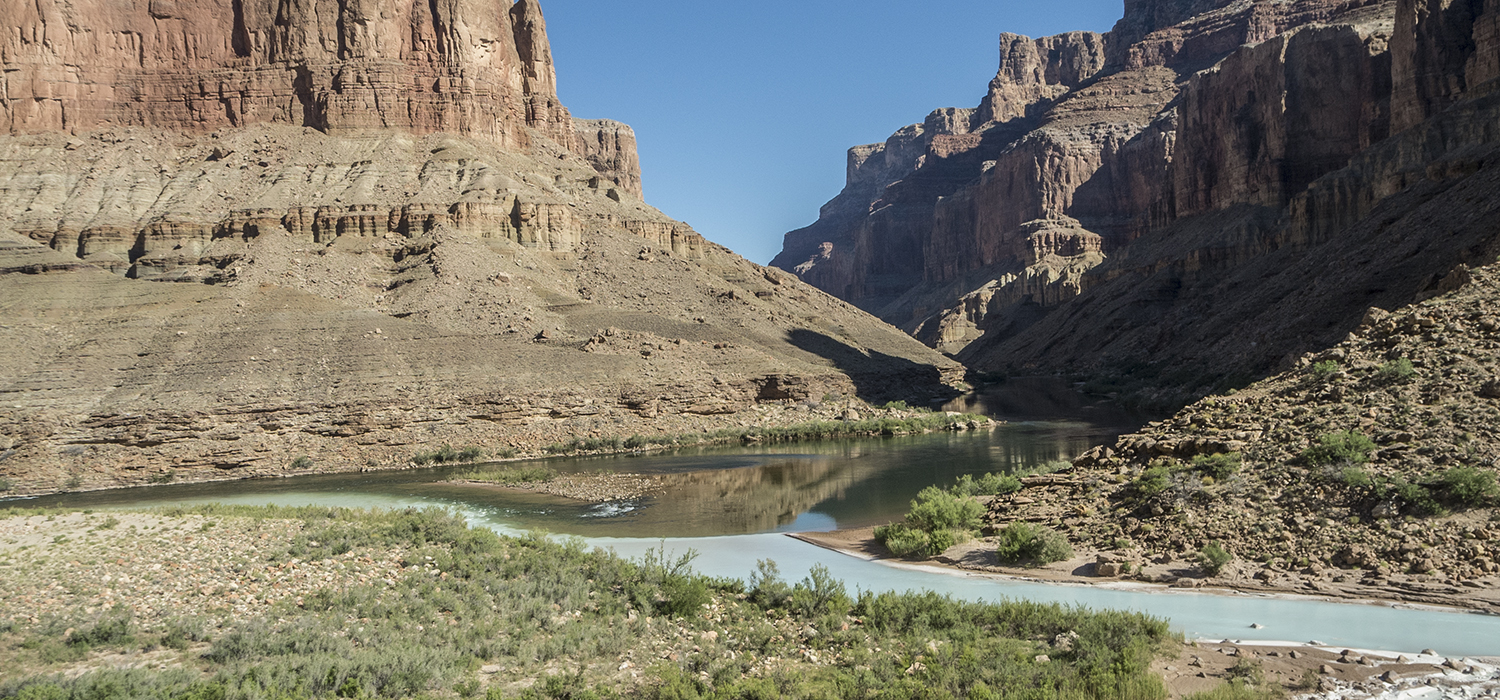 Distance: 36.2 miles
Number of days: 4
Suggested campsites: BB9, BA9, BB9
Put together this out-and-back trip using the Tanner and Beamer trails ›
---
2. Ditch the South Rim crowds
Escape the South Rim hubbub and spend your days snaking in and out of side drainages instead. Just be sure to save enough energy to huff it back to the rim!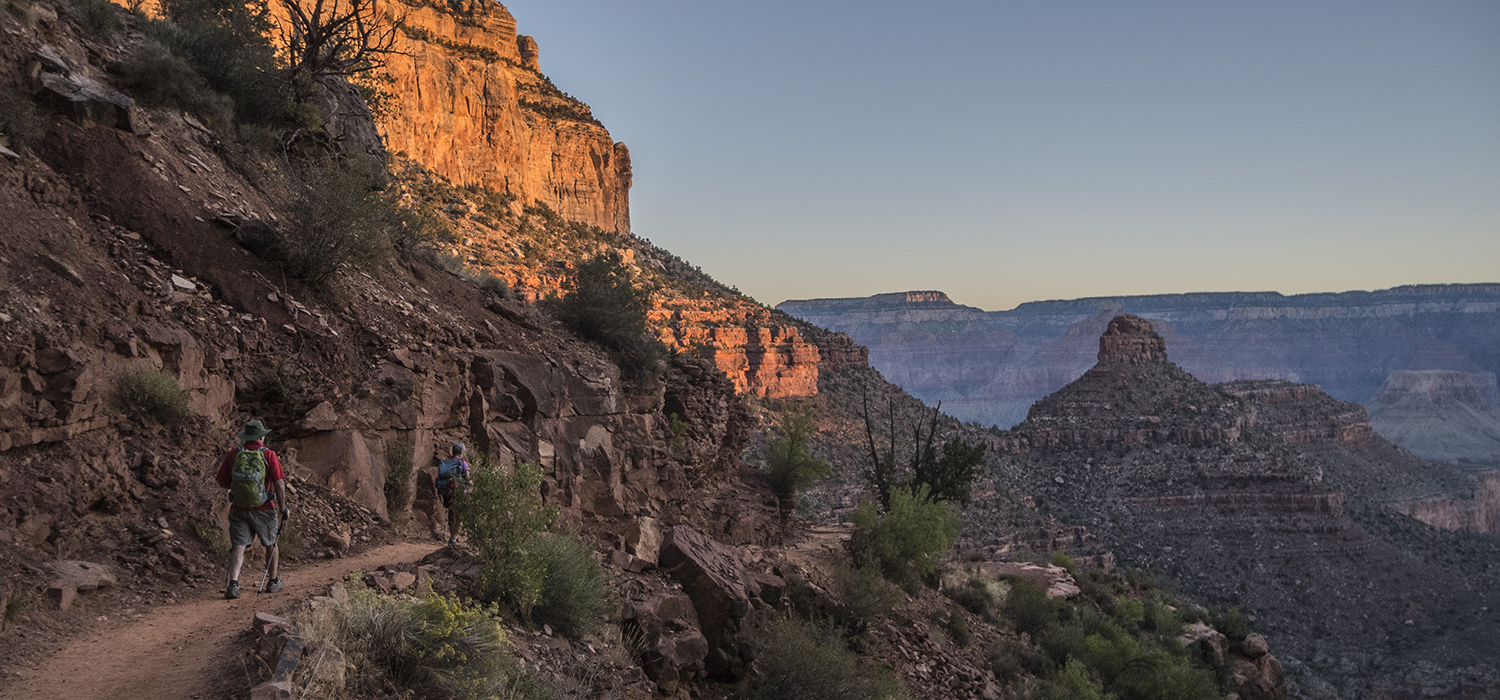 Distance: 28.7 miles
Number of days: 3
Suggested campsites: BG9, BJ9
Hike down Grandview, along the Tonto Trail, and up South Kaibab.
---
3. Grab your camera and go
The views on this route are a photographer's dream. Take a detour to see one of the rowdiest rapids on the Colorado River. If you're lucky, you might even see a raft crash through the wave train.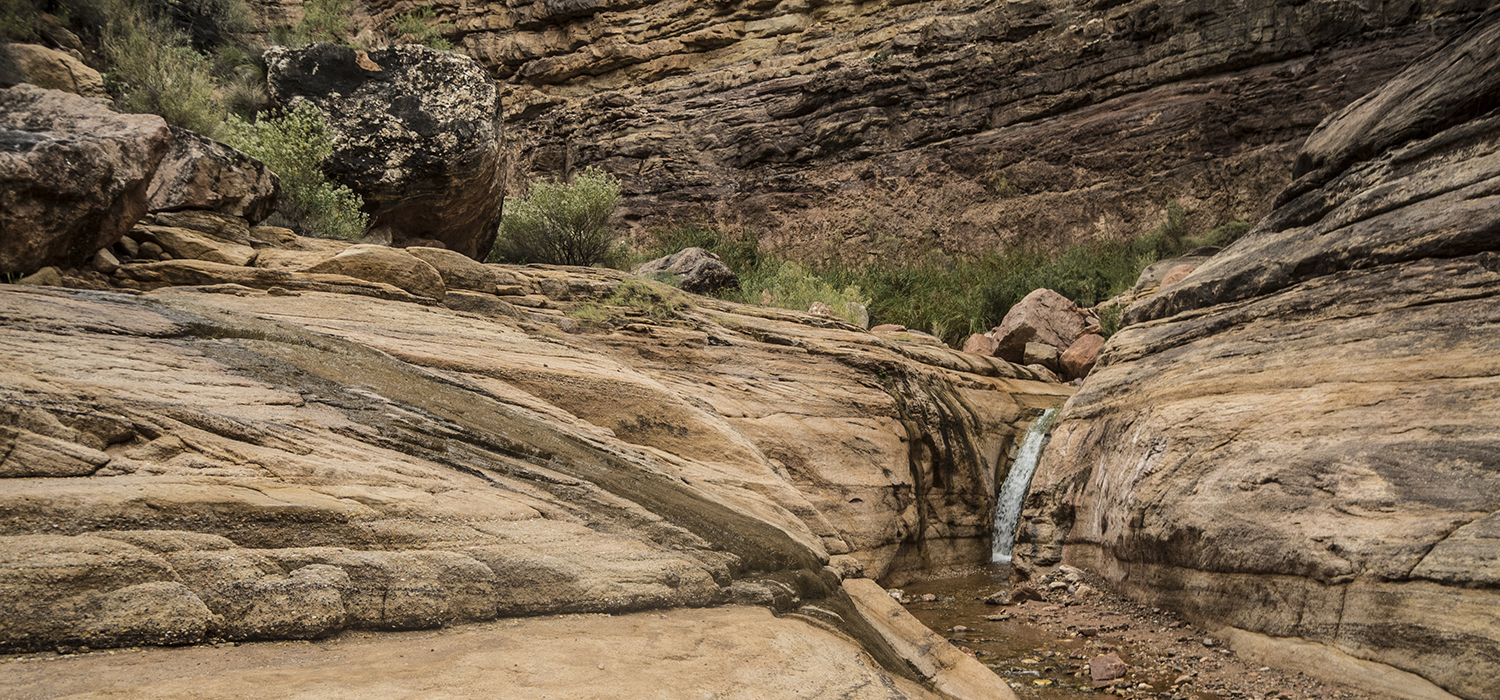 Distance: 24.8 miles
Number of days: 4
Suggested campsites: BM8, BL7, BL4
String together this loop by hiking down Bright Angel Trail, west along the Tonto Trail, and up Hermit Trail.
---