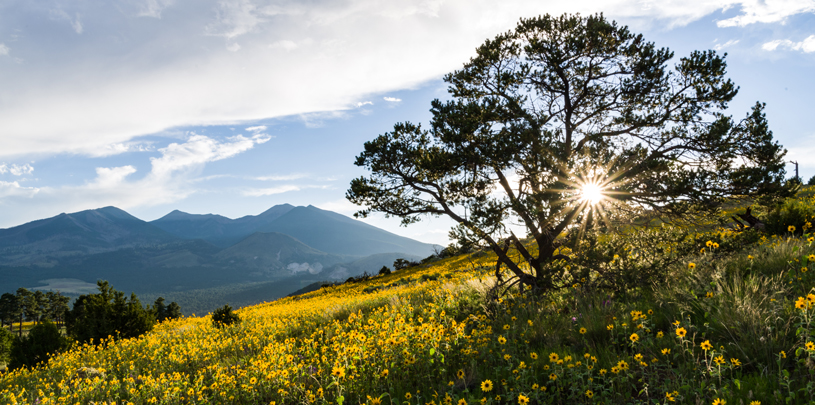 Deborah Lee Soltesz, Coconino National Forest

by Mary O'Brien, Utah Forests Director
Sometimes something that seems bureaucratic and far away hits really close to home.
Here's the bureaucratic and far away version: The Forest Service is proposing to revise how it implements the National Environmental Policy Act (NEPA) — America's bedrock environmental law. The proposal would cut the American public out of weighing in on 90 percent of decisions about what happens on our national forests, including decisions about logging, road-building, and oil and gas pipelines — and you have until August 12, 2019 to comment on that proposal.
And here are a few versions that hit close to home:
You wake up one morning to learn that national forest land near you has been transferred to a private individual with "similar" resource-management practices in exchange for some private land.
Or you hear a semi pull up and unload 100 honeybee hives, with 80,000 bees in each hive, in a forest meadow where you've watched native bumblebees.
You learn there was never public notice of these decisions, and no opportunity for you to comment. There will be no "case file" or "decision memo" explaining how the Forest Service arrived at these decisions.
Or you learn that 70 acres of trees are being cut down by a private timber operator in your watershed.
Or that four oil and gas drill sites and three miles of pipelines are being constructed on the forest a mile away from your home.
Or the local district ranger has declared that an illegal off-road vehicle route that runs near an archaeological site will now be turned into an official national forest motorized route.
You may learn of these particular decisions only after they have been made, when the only option is to go to court if you think the law was broken.
Does this seem too nightmarish to be true? In fact, all these scenarios are allowed according to the the Federal Register notice of the proposed changes.
With the aim to "increase efficiency," the Forest Service is proposing to eliminate the requirement to "scope" for public comment on approximately 98 percent of its decisions. The agency would do this by declaring that these kinds of project decisions can be "categorically excluded" from NEPA requirements for public notice and input because they will have no significant environmental impacts. Since there will be no significant environmental impacts, why waste time to ask you for your on-the-ground information or scientific evidence or thoughts? Why ask county governments or Native American tribes for information about watersheds or culturally significant landscapes?
Proposal leaves Forest Service vulnerable
Yes, Forest Service budgets have been drastically cut in the past decade. Yes, Forest Service staff are being repeatedly sent from their district or forest to help with fires. But this also means less Forest Service personnel present to carefully plan projects or consider impacts to wildlife, water, or rare plants. Just when the agency can use all the free information, collaboration, and help from the public it can get, it proposes to have its shrunken workforce churn out decisions without public participation.
The proposal leaves agency staff vulnerable to industry pressure to meet high timber targets, private landowner pressure to exchange particular parcels, pressure from fossil fuel companies to spread out oil and gas sites, and off-road vehicle groups to expand motorized travel.
Defend your right to have say in what happens on our national forests
Do you value America's national forests? Do you spend time hiking, camping, hunting, or exploring our national forests with your friends and family? Have you ever stood up for your national forests by writing a letter or commenting on a national forest project? Have you ever gone to a Forest Service open house, public meeting, or project tour?
Why do you think you deserve to have some input into what the Forest Service does to your national forests? Please comment on this proposal to lock you out in the future. You can email your comments to nepa-procedures-revision@fs.fed.us or use a simple portal that will direct your comments to the Forest Service.
Need some more information before you comment?
Please, stand up for yourself and your fellow citizens — they're your national forests. Comment now ›