by Maria Archibald, Rising Leaders Manager
"I have grown to be a part of my environment," 18-year-old Tia Stephens calls out as a large audience gathers outside the Arizona Capitol to listen. "For me, the fascinating beauty has become my life source: the trees my lungs, the water my pulsing heartbeat, and the cool breeze my firing neurons."
As she pauses to consider the environment's tenuous future, however, Stephens' reverent tone wavers. "With each act of degradation, the environment that gave me so many gifts is quickly turning into a threat."
The threat
Young people are coming of age in a warming world. Climate change — with its droughts, floods, wildfires, and rising sea levels — threatens to exacerbate social inequity and uproot communities, affecting today's youth disproporionately. Without action, the average global temperature will rise 3 degrees Celsius by the end of the century, impacting environments and communities alike.
At the Capitol, 16-year-old Gabrielle Neilson takes the mic: "A livable climate should be a place where we can live without the environment being a threat to us," she calls.
Scientists say that this may still be possible — but to avoid worst-case climate scenarios, our action must be bold, unprecedented, and immediate.
Taking action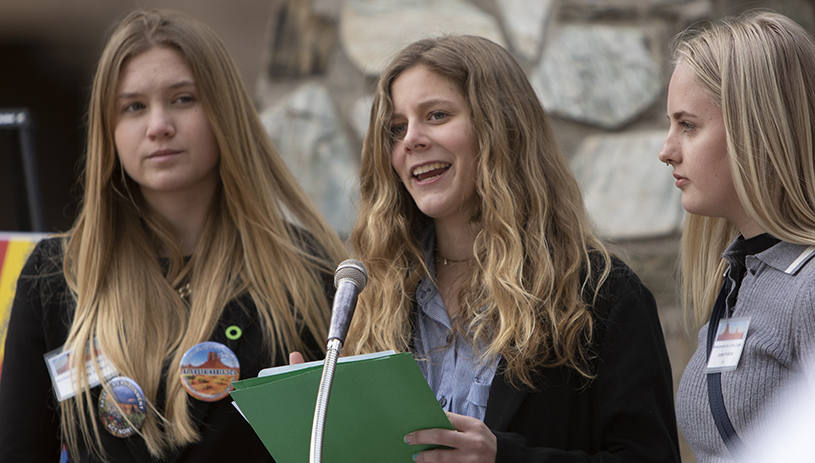 JAKE HOYUNGOWA

While many politicians deny climate change and stall climate action, young people are claiming their power and taking matters into their own hands. As students across the world protest climate change, and young plaintiffs sue the U.S. government for its complacency, local youth are rising to demand legislative action on the Colorado Plateau.
In honor of Arizona's 107th birthday, over 20 Flagstaff teens traveled to Phoenix for Environmental Day at the Capitol, an event organized by the Sierra Club and a host of other nonprofits, where they joined hands with over 300 people from 28 legislative districts.
Trained in lobbying and public speaking strategies by the Grand Canyon Trust's Rising Leaders Program, students spoke to the press, calling for climate policy and social equity, and urged representatives to ban fracking and protect local waterways. They encouraged Arizona leaders to make five environmental commitments in honor of the state's birthday: climate preparedness; clean air and water; conservation of lands, waters, and wildlife; commitment to efficient and renewable energy; and cultural inclusiveness and diversity.
Looking to the future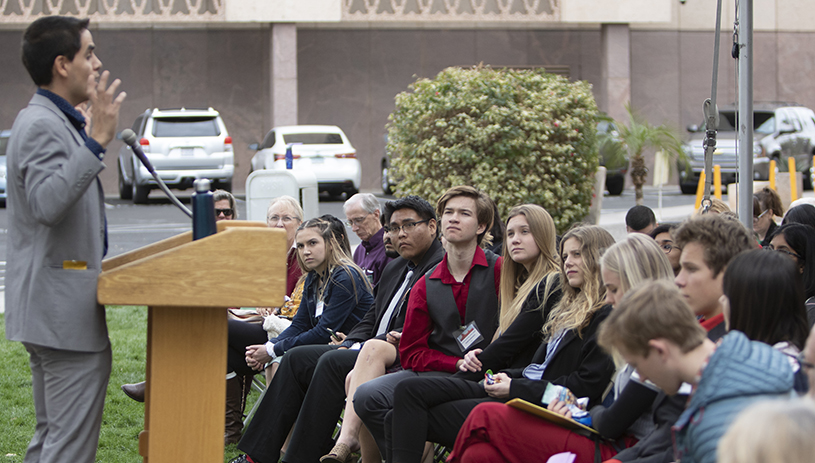 JAKE HOYUNGOWA
"We have witnessed corporate greed and natural disasters, and we have seen how unequal access to education and resources excludes communities from participating in solutions," says 17-year-old Denali Hudman as she takes the stage.
Youth refuse to be excluded any longer. In a moment when climate action is desperately needed, young people are rising to the challenge. "We are working together to ensure that the younger generation has a voice in protecting our environment," Hudman adds.
As a conservation organization with tools and resources, it is our job to support young people in finding this voice. The Trust's Rising Leaders Program does just that. By cultivating the leadership potential of the Colorado Plateau's youth, we support a generation of rising leaders who, we believe, have the power to respond effectively to the environmental and social challenges of the day.