Guest post by Maya Holliday, Flagstaff High School Student
"L2, L4. L3, L2. L1, L4." Our voices ring out in the open air, overlapping in a wave of lingo only we understand. We're working in pairs to record the growth stages of thousands of white pine seedlings—a job usually reserved for grad students. But here we are at Mangum Camp on the North Rim, eight high schoolers equipped with windbreakers and clipboards. This may be the most important work we've ever done. And when you compare it to our usual class work of lab experiments and textbook readings, it's certainly the most interesting.
Swapping microscopes for shovels
As AP biology students, we're taking our laboratory outdoors and gardening in the name of science. The Southwestern Environmental Garden Array (SEGA), a research partnership between Northern Arizona University and the Grand Canyon Trust, is looking at how climate change will affect the plants and ecosystems of the Colorado Plateau.
In layman's terms, SEGA is fancy gardening. The basic idea of this project is that climate change will make our area hotter and drier, and we want to see how vegetation might adapt. With SEGA experiments, we can move plants up and down in elevation, simulating climate change conditions. Using high-end weather stations and watering systems, SEGA researchers can keep important variables, like water, constant across all of the sites.
---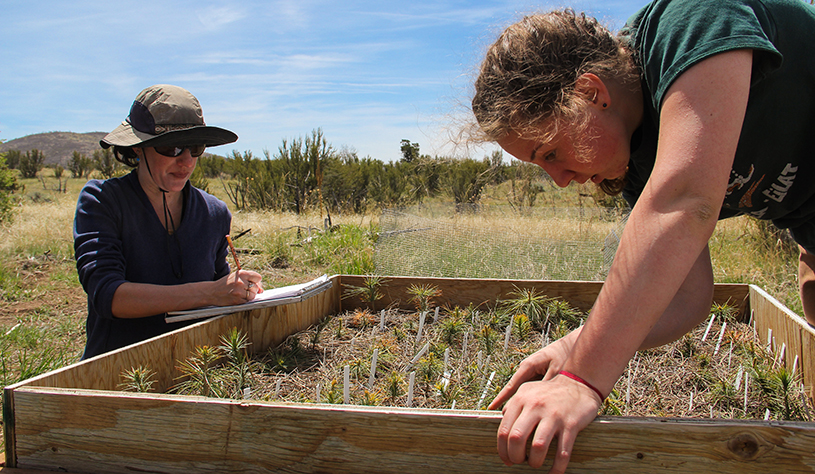 A student works with Ms. Lenz to gather data on white pine seedlings.
---
Bringing SEGA home
On the last night of our stay at Mangum, we gathered around the table to write a grant proposal that will help us bring our work with SEGA back to Flagstaff High School.
Right outside of Ms. Lenz's classroom, sandwiched between the science and culinary classrooms, there is an abandoned courtyard. And if our grant proposal is funded, we will create three miniature SEGA gardens smack dab in the middle of our school. The grant will also fund a weather station that, although less sophisticated than the ones at the original sites, will help students collect real data down the road.
Right now we are weeding, but in the next year, we will "rewild" our three microsites by planting native plants and develop a curriculum for Ms. Lenz to teach incoming freshmen about our northern Arizona ecosystems and the SEGA project.
The promise of change in our little courtyard
SEGA and the Grand Canyon Trust have given us the opportunity to change our little world, and maybe even help change the whole world. It's work that matters and will continue to matter long after we've graduated. We are at the beginning of a multi-year effort to make this space useful, an effort that spans everything from teenagers writing grant proposals to good old-fashioned gardening. Right now it's weeding, but, soon enough, our little courtyard will be another piece of the SEGA puzzle—a puzzle that not only provides important information to researchers studying climate change, but also connects people of all ages to our environment and its future.