by Audrey Kruse, Community Engagement Director
Your time is precious, so when you set aside a day or week to volunteer with the Grand Canyon Trust, we make it worth your while. We take you to some of the most beautiful and untrammeled tracks of the Colorado Plateau to restore streams, build fences, pull weeds, and more.
Whether you're a brand new or seasoned volunteer, come along to dig in the dirt, meet new people, eat good food, and learn about the Trust's conservation work.
If you're considering signing up for a volunteer trip and need some extra convincing, here are a few perks to keep in mind.
You pick the trip that matches your interests and lifestyle
Crave the escape of a few nights under the stars? Spend a week in the field with us. Or, if you're short on time, join us for a day trip on a Saturday or Sunday. We offer a range of trips to accommodate families, people with jobs, and retired folks alike. A few of our trips even have childcare for the wee ones. Pick your volunteer adventure ›
You eat really good food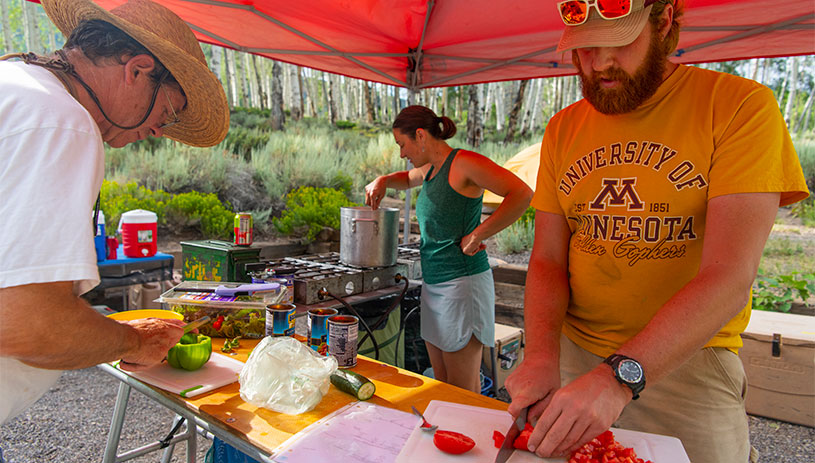 Cooking dinner after a productive day in the field. BLAKE MCCORD
Bring your appetite because we keep volunteers well fed (think pancakes for breakfast, deluxe sandwich spread for lunch, and guacamole and hearty tacos for dinner). We know that eating group meals can feel tricky if you have special dietary needs, but we take cooking healthy meals for everybody seriously and can adapt our menu accordingly. And we never miss an opportunity for dessert — because life is short, and everything tastes better in the backcountry.
You camp in beautiful places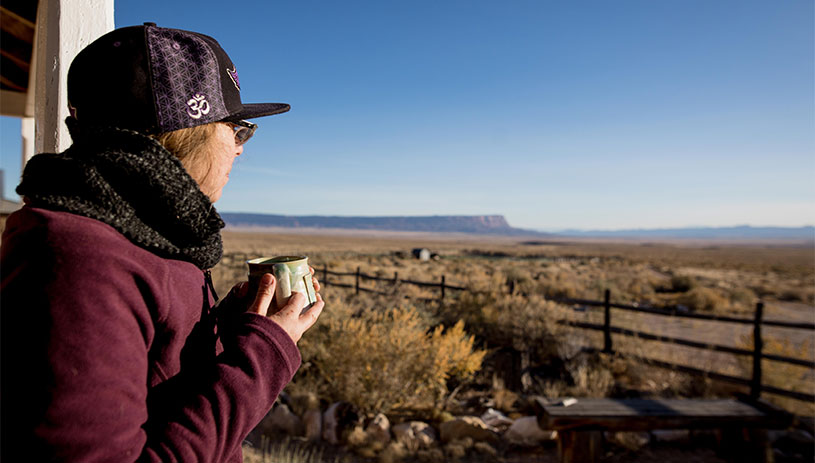 View from the porch at Kane Ranch. MEREDITH MEEKS
Sleep under the Milky Way in far-off corners of the Colorado Plateau. You don't have to be an outdoorsy type to come on a volunteer trip. We have camping gear to lend, and our staff will share hot tips for staying warm through chilly nights. Once in a while, we stay at rustic cabins at Kane Ranch, where you can enjoy incredible views from the front porch.
You're well cared for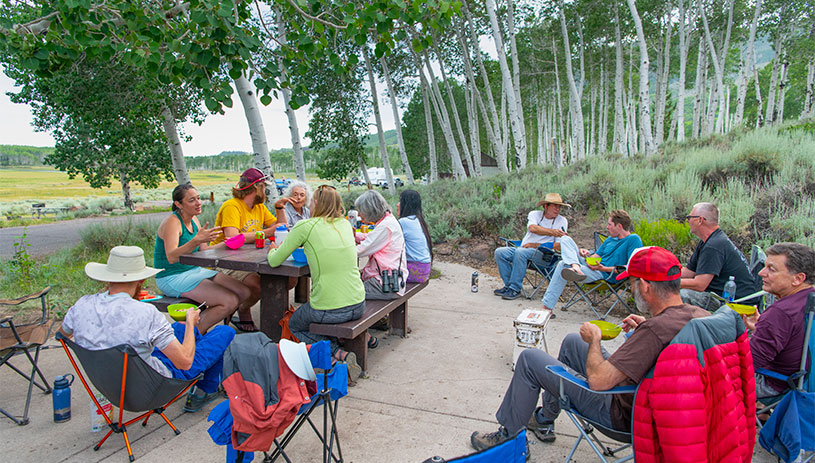 Sharing a meal in the field. BLAKE MCCORD
We do our best to keep you safe, comfortable, and happy. We train you on tool use, environmental hazards (lightning, steep terrain, wildlife, etc.), and leave-no-trace practices in camping. We pay careful attention to how you are coping with things like heat, cold, and physical exertion and can work with you to adjust work tasks as needed. Trust staff are trained in wilderness medicine and have appropriate emergency equipment for the places we work.
You meet interesting people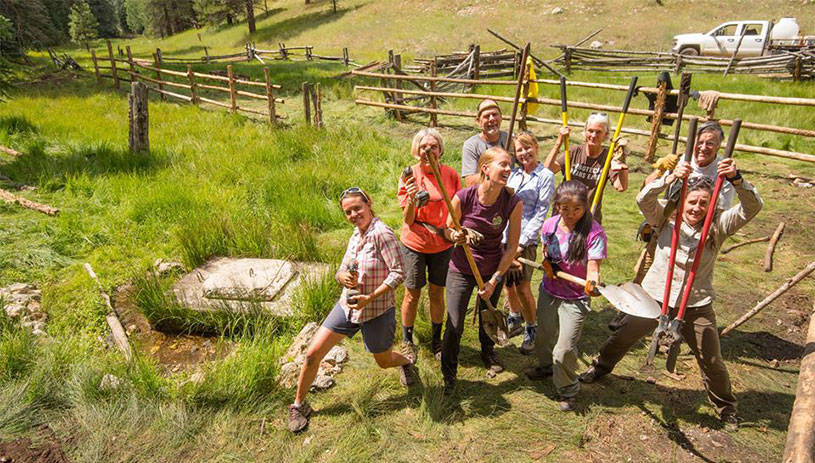 Volunteers build a fence around a spring. BLAKE MCCORD
Join passionate and caring folks from all over the country who are eager to dig postholes, discuss native plants of the region, and enjoy belly laughs during dinner. If you're from Arizona, Utah, Colorado, or New Mexico, you'll be in good company, but our volunteers hail from as far away as Washington, D.C. and Florida. Trust volunteers love wild places and thriving landscapes, so come along and you might meet your new bestie.
You see the positive impact you make on the ground.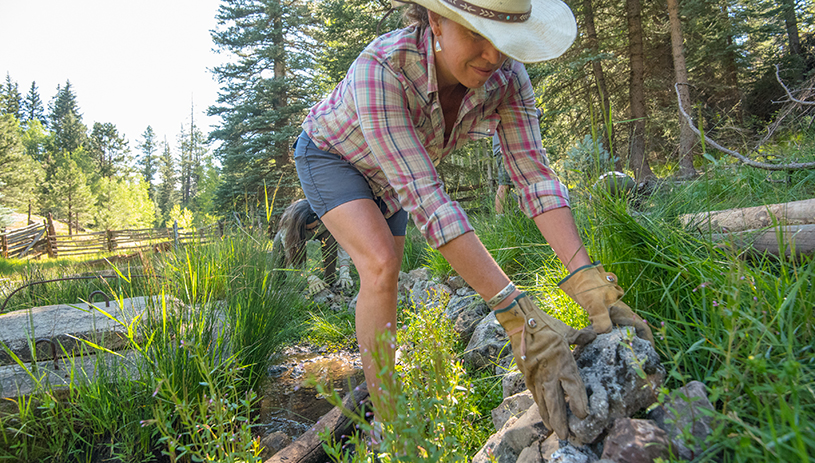 Restoring a spring site. BLAKE MCCORD
Garbage bags of weeds you pull, cottonwood saplings you plant, or human-made beaver dams you build are tangible proof of your hard work. Annual projects, like native plant restoration at Johnson Lakes Canyon, allow you to experience how the land recovers over time thanks to your volunteer efforts. Trust volunteers have been modifying fences for pronghorn since 2011, and now, 24 miles of fencing later, pronghorn can safely migrate through vast swaths of House Rock Valley in Arizona.
You learn new skills
Volunteers search for pinyon jays using binoculars. BLAKE MCCORD
Depending on the trip you sign up for, you might learn what a fence plier is, how to use a phone app to collect data, or what creature made tracks in the mud of a streambank. We always share pre-trip reading materials with volunteers that introduce projects and landscapes. In addition to learning plant identification, spring restoration techniques, or other skills in the field, you'll hear from staff and guest speakers about public land management and conservation work.
Sign up for a volunteer trip today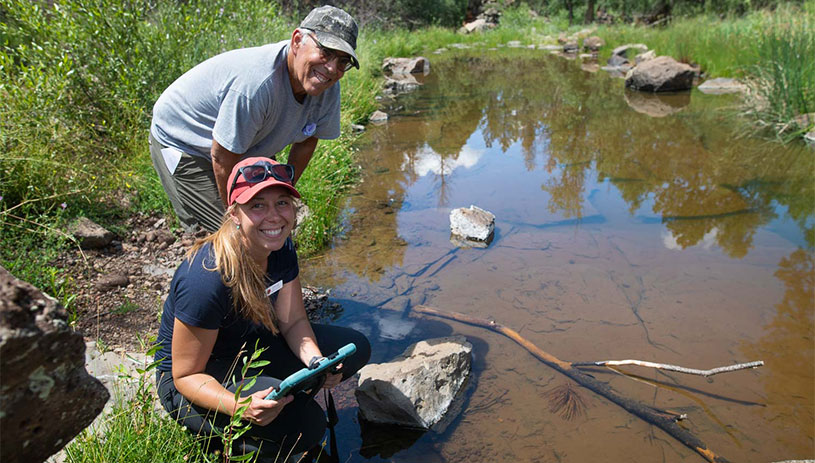 Volunteers survey a spring site. MEREDITH MEEKS
We can't wait to meet you in a canyon, along a creek, or in the high alpine meadows of the Colorado Plateau. Our trips are well organized; we communicate in timely ways, and we make sure volunteers are set up for a great experience, whether it's your first or 51st trip.