Ken Salazar at Grand Canyon National Park, June 20, 2011. Photo by Erin Whittaker, National Parks Service
Two years ago, Arizona Congressman Raúl Grijalva greeted us warmly as we stepped in from a squall of snowflakes for a special event in Washington DC. My 17-year-old daughter and I had flown out from Flagstaff with only three days' notice.
We hoped for something more than what had been publicized as a "premier showing" of a new Grand Canyon film in National Geographic's theater. We weren't disappointed.
---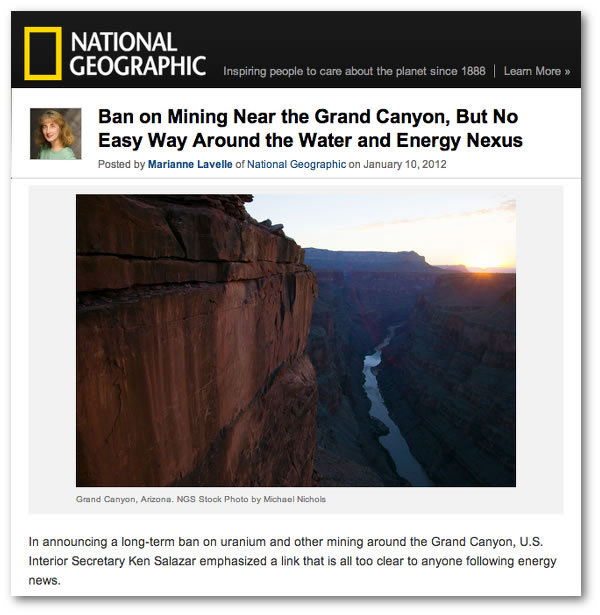 ---
On Jan. 9, 2012, Interior Secretary Ken Salazar signed the "record of decision" for a 20-year ban on new uranium claims on more than a million acres of public land surrounding Grand Canyon National Park.
Just prior to putting pen to paper, Salazar said:
"Every generation of Americans faces moments when we must choose between the pressures of the now and the protection of the timeless. Today, we know that we can no longer afford to turn our backs on … iconic landscapes like the Grand Canyon. … I am therefore at peace with this decision, because it is the right thing to do."
Nearly a hundred supporters, who had worked for years to achieve this victory, stood and applauded. And then we flew home to continue battling mining industry attempts to overturn the decision and to keep four "zombie" uranium mines from harming the Grand Canyon further.
In the two years this ban has been in place, the uranium industry and its supporters have filed multiple lawsuits— one seeking to raid the U.S. Treasury of $120 million, alleging that the ban constitutes an unlawful taking of the company's more than 700 unproven uranium claims. They have also moved to reopen two 1980s-era mines that still threaten the public and traditional tribal land and water within and around Grand Canyon National Park.
Thus far, U.S. attorneys, Havasupai Tribe, and Grand Canyon Trust in coalition with other conservation groups have consistently and effectively stood up to every challenge brought by the industry. In March, 2013, federal courts denied industry's motion to overturn the withdrawal and the underlying federal authority to enact withdrawals larger than 5,000 acres. In early November, citing market conditions and litigation, Energy Fuels Resources, Inc. placed the Canyon Mine in non-operational, standby status and announced plans for "temporary" closures of Pinenut mine and its White Mesa uranium mill in mid-2014.
Experience has taught us to increase vigilance as uranium activity wanes. In 2014, the Trust will seek to amend antiquated rules that would otherwise allow "temporary" closures to extend another two decades. We'll also push the old mines to be updated with enforceable standards that ensure against irretrievable contamination of Grand Canyon's watersheds. And we'll be taking a hard look at the uranium pollution problems beyond the boundaries of Grand Canyon's watersheds—including at the White Mesa Mill near Blanding, Utah.
As with the withdrawal, the public's participation and support in these efforts will be critical to success. We'll keep our members abreast of our work and opportunities to help. Together, we can continue to realize a safer, less-polluted and more equitable future for all of the Colorado Plateau's inhabitants.