by Roger Clark, Grand Canyon Program Director
One year ago, those of us opposed to Grand Canyon uranium mining hunkered down as the new administration took office. Who knew what events would unfold?
A year later, we have a clearer sense of what's in store. From new contamination concerns to efforts by the uranium industry to increase private profits at public expense, here's a look at what to expect in 2018:
New risks to groundwater
Who knew, at the start of 2017, that groundwater would soon flood the freshly drilled shaft of Canyon uranium mine, thus increasing the risk of contaminating the primary source for hundreds of life-giving Grand Canyon seeps and springs?
Canyon uranium mine, where the mine owner used water canons to mist contaminated water into the air. BLAKE MCCORD
---
Neither the state-issued aquifer protection permits nor the federal operating permits, issued in the 1980s, anticipated the need for emergency procedures to dispose of large volumes of contaminated water from the deeply drilled mining shafts or to prevent it from draining into and permanently contaminating lower-lying aquifers.
Imprudently, the federal land management agencies and the Arizona Department of Environmental Quality have failed to adopt commonsense practices in permitting Grand Canyon uranium mines, such as requiring all mines to install monitoring wells to detect when groundwater becomes contaminated.
Groundwater monitoring is a standard requirement for most types of mining. Uranium mines located within Grand Canyon's watersheds are an exception. As operations at Canyon Mine move ahead in 2018, so do new risks to groundwater.
New pressure to mine uranium around the Grand Canyon
After a long legal battle, the U.S. 9th Circuit Court of Appeals in San Francisco ruled against the National Mining Association in a lawsuit to overturn a 20-year mineral withdrawal that temporarily bans new uranium mining claims on more than a million acres of public land adjacent to Grand Canyon National Park.
Responding to their December 12, 2017 court loss, the association said, "It is now time for the Congress and the administration, working with the impacted states, to re-evaluate whether the withdrawal was justified based on the scientific, technical and socio-economic facts."
An example of such "facts" was previously provided by a top executive with Energy Fuels, the Canadian subsidiary that owns Canyon and Pinenut uranium mines.
In a 2016 appearance before Congress, Energy Fuels Executive Vice President of Conventional Operations Harold Roberts testified that uranium mines in northern Arizona "…are generally dry, and the time span from development through full reclamation is less than six to eight years."
In fact, Energy Fuels owns three active uranium mines in Grand Canyon watersheds that were first opened in the 1980s. Two out of three of these mines have, at some point, filled with radioactive wastewater. None of the three has been fully reclaimed, making the time span that these privately owned eyesores have occupied our public lands more than 35 years — and counting.
When introducing the session in which the Energy Fuels' executive made these false claims, Arizona Congressman Paul Gosar's presentation slides stated, "FACT: NO Evidence that uranium mining in northern Arizona in the 80's and 90's negatively impacted water, air or wildlife in any way."
In reality, the U.S. Geological Survey has documented extensive contamination as a result of uranium mining in northern Arizona during this time period. For example, water samples collected in the sump at the bottom of in the Hermit Mine had concentrations ranging "from 3,310 to 36,600 µg/L [micrograms per liter] (the highest reported value of any sample type in this study) in 1989−90." The U.S. safe drinking water standard is 30 micrograms per liter.
Tilting the playing field?
One year ago, we also failed to foresee that the uranium industry would feign threats to our national security as rationales for rolling back environmental rules and to make uranium mining once again profitable (and less prone to bankruptcy).
Uranium Producers of America is clamoring to block rules, introduced by the Obama administration, to stiffen groundwater protections at uranium mines, claiming that "the proposed regulations would have had a devastating impact on our industry." Its spokesman added: "Countries like Kazakhstan, they're not under the same environmental standards. We want a level playing field."
And who knew, when we were surveying this year's "playing field," that Energy Fuels would ring in 2018 by petitioning the Trump administration to impose import quotas on foreign-mined uranium and require U.S. utilities to buy uranium mined in America, claiming government subsidies by Russia and other countries "threaten to impair the national security"?
A big score for the uranium industry in this fantasy game of profit-and-loss could harm the Havasupai Tribe, whose source of drinking water is the Grand Canyon's primary aquifer, located just a few hundred feet below Canyon Mine's shaft, which filled with contaminated water in early 2017.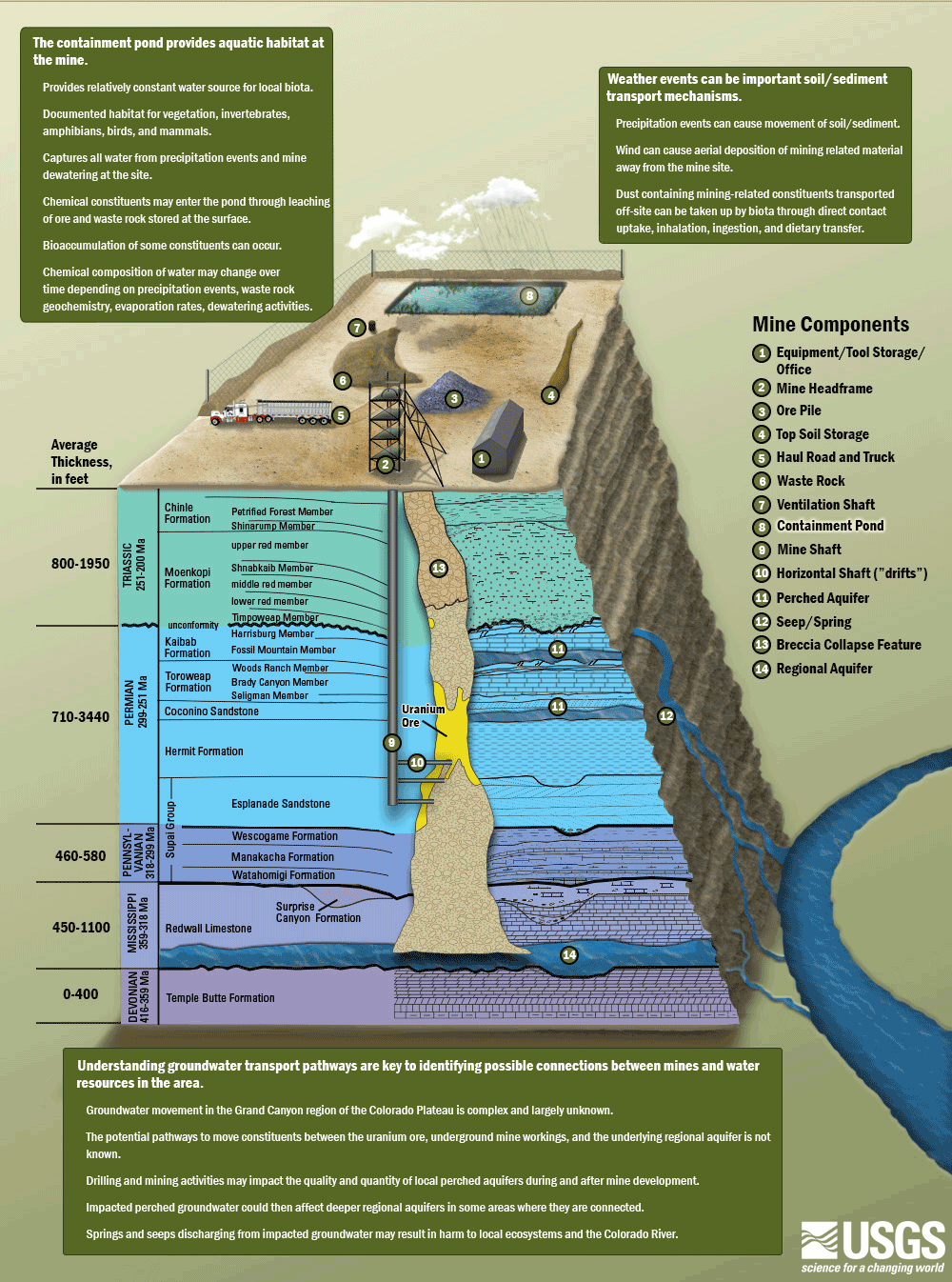 Looking ahead in 2018
Aided and abetted by alternative facts, petitions to quell "unfair" competition, compliant politicians, and pollution-permitting agencies, industry heavyweights who would profit from public lands are poised for the next uranium boom.
Protecting U.S. uranium mining in the name of national security could become a well-orchestrated excuse to unleash another flood of uranium risks into Grand Canyon's waters. We must double-down on our determination to protect our nation's treasure. We must keep a watchful eye downriver on tomorrow.