by Ellen Heyn, Communications Associate
The Grand Canyon is our nation's crown-jewel national park, and today we're celebrating its 97th birthday!
It took us a while to get it right, though. First a forest reserve and then a national monument, the Grand Canyon lacked the protection it needed to keep early 20th century profiteers from leaving lasting marks. From copper mines to private tourist camps, people looked to make a buck off the canyon. Thankfully Congress wised up when it did.
On February 26, 1919, the Grand Canyon finally secured its national park status. Its designation came nearly 50 years after Yellowstone's, and almost 30 years after Sequoia and Yosemite earned their rank. Hawaii Volcanoes and Haleakalā received national park designations prior to Hawaii even becoming a state.
Today, we're celebrating Grand Canyon National Park's 97th birthday by remembering what's at stake. These less-traveled trails into the big ditch were once ore-hauling routes and miners' camps—now they belong to the American people. Happy Birthday, Grand Canyon!
---
Private, luxury camp turned rugged backcountry route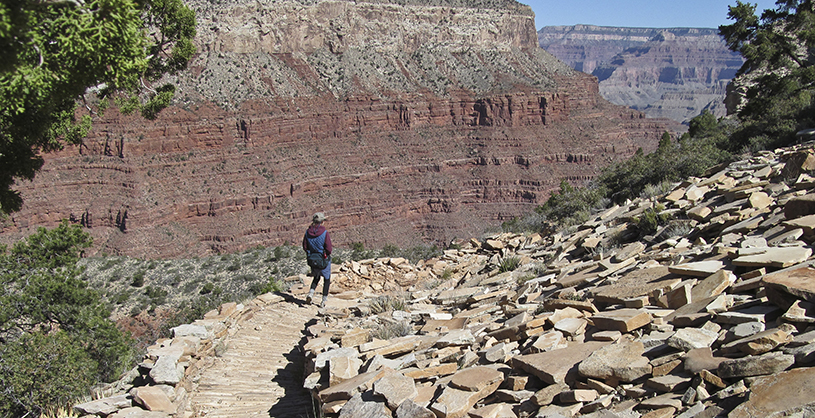 In 1911, the Santa Fe Railroad began aggressively developing the Hermit Basin as an alternative to the Bright Angel Trail, which was then operating as a toll road. In addition to building a tramway from the rim, the railroad company built the Hermit Trail as a state of the art rim-to-river route that serviced a luxury camp along Hermit Creek. Now in the hands of the Park Service, the Hermit Trail is accessible to all park-goers rather than a select few. Much of the Hermit Trail is rocky and eroded today, but a few sections of hand-fitted rock slabs hint at its former life. Hike details ›
---
From one prospector into the hands of many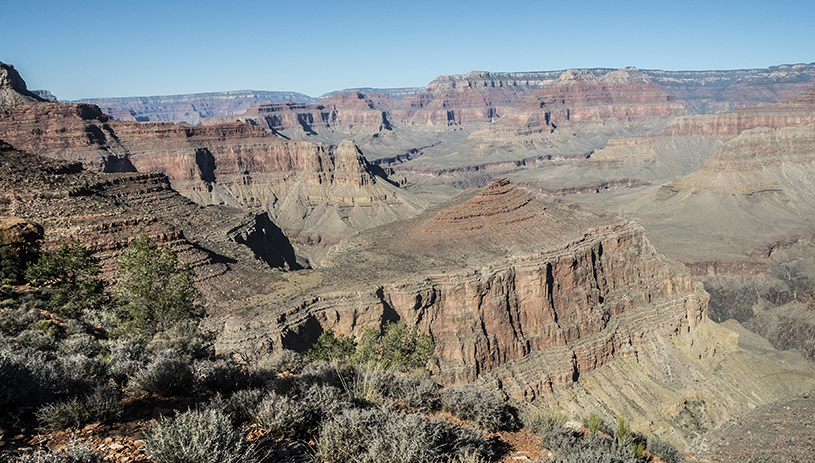 The "hermit" of Hermit Basin was Louis D. Boucher, an immigrant from Quebec, Canada who arrived at the Grand Canyon in the early 1890s in search of ore. The prospector started mining copper along what's now called Boucher Creek and lived below the rim at Boucher Creek and Dripping Springs for about 20 years. Today, this trail belongs to the American people and lives up to its reputation as one of—if not the—most difficult trails on the Grand Canyon's south rim. Stunning vistas and a bit of exposure make this classic canyon hike one for the books. Hike details ›
---
Mining legacy etched into the canyon walls
In 1892, a miner named Pete Berry blasted a trail from the rim to Last Chance Mine on Horseshoe Mesa. Mules, carrying 200 pounds of ore each, made at least one trip a day, carting copper out and supplies in to the canyon. The mine closed in 1907 when copper prices plummeted, but the Park Service didn't gain control of the area until 1940. Today, you can see evidence of Horseshoe Mesa's mining history in the blue and green flecked rocks scattered along the trail. Rusty pieces of equipment scattered around the old mine site stand as artifacts of the extractive era, and radiation signs warn hikers of danger from the tailings piles. Grandview Trail, as it's called today, offers a glimpse of mining's lasting effects on the canyon. Hike details ›
For maps, GPS tracks, and more Grand Canyon hikes, check out the Colorado Plateau Explorer ›