by Amber Reimondo, Energy Director
The Grand Canyon is more than a national park, but is it true that it's also home to a vast supply of uranium? How much uranium is there in the Grand Canyon region exactly?
If you've been lucky enough to visit the Grand Canyon, to stand at the rim and look out into the miles-wide abyss, then you know this natural wonder is a marvel of color and light, carved by water, wind, and time. Long before it was a national park, the Grand Canyon was the ancestral homeland of at least 11 Native American tribes whose people continue to live, work, and maintain strong cultural connections to the canyon, carrying on traditions passed down through the generations.
In short, the Grand Canyon is the last place you might expect to find a uranium mine. And yet the uranium industry and its cheerleaders would have you believe that the Grand Canyon region is the linchpin in the U.S. uranium supply. But is it really?
What might be significant to an individual mining company hoping to produce a couple million pounds of uranium is a drop in the bucket for the national supply chain. Let's break it down.
How much uranium is near the Grand Canyon?
Not very much. Giving an exact number is tricky because there are so many different ways to describe and quantify uranium, but no matter how you look at it, the bottom line remains: the region is far from a linchpin for domestic uranium supply.
Estimates of how much uranium there is and how pure it is are based on sampling, measurements, many assumptions, and educated guesses. And estimates of uranium in the Grand Canyon region vary wildly from known deposits that have been sampled and measured, to general areas where uranium is simply speculated to exist.
Let's look at 1 million acres of federal public lands surrounding Grand Canyon National Park, where an administrative mining ban has been put in place to temporarily protect the canyon and surrounding region from uranium interests.
The most generous answer here is 3.7 percent of U.S. uranium — that's if we're talking uranium reserves, plus what uranium buffs call "estimated additional resources," plus so-called "speculative resources." Reserves are known uranium deposits that are large enough, pure enough, and accessible enough to actually be mined using current technology under certain price conditions.
Reserve estimates near the Grand Canyon were made assuming uranium prices as high as $100 per pound. The actual market price is currently around $50 per pound. This means that not all of the reserve figures are actually accessible today. At least some portion would require the price of uranium to as much as double in order to be mineable.
Estimated additional resources, as the name suggests, are estimated amounts of uranium based on geological trends in the area. Speculative resources are the most unreliable as these estimates are based only on assumptions that uranium might be present, though no direct measurements have been taken.
If we narrow our analysis and look only at reserves (known deposits) near the Grand Canyon versus reserves in the rest of the country, the figure drops to 2.5 percent. And if we add back in "estimated additional resources" (unconfirmed resources that geological trends suggest are possible) near the Grand Canyon compared to the same figures nationally, the Grand Canyon region holds only 1.3 percent of U.S. uranium.
In all cases, for the reserve and resource estimates to be accurate, uranium would have to be selling for as much as $100 per pound. At the current price of around $50 per pound, all of these estimates are likely overly generous.
And lastly, if you look at uranium resource areas — which don't account for quantity, but rather represent areas speculated to contain valuable uranium deposits, only about 0.2 percent of U.S. uranium resource areas are actually located in this 1 million acres surrounding the Grand Canyon.
No matter how you slice it, the Grand Canyon region simply isn't sitting on the mother lode of U.S. uranium. Permanently protecting the Grand Canyon region uranium mining is not going to make a meaningful dent in the nation's uranium supply chain. But it will protect a sacred landscape and invaluable water resources at a time when climate change spells certain water crisis for the desert Southwest.
How many uranium mines are in the Grand Canyon?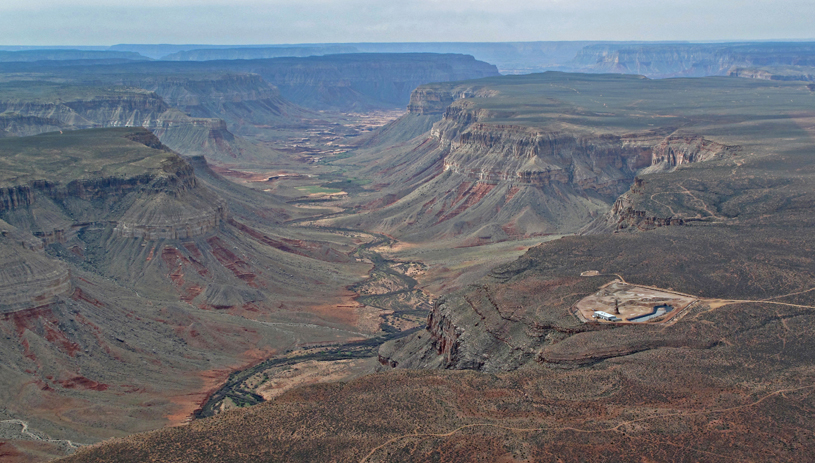 Kanab North uranium mine, north rim of the Grand Canyon, outside of Grand Canyon National Park.
BRUCE GORDON, ECOFLIGHT
So how many uranium mines are in the Grand Canyon exactly? That depends on how you define the Grand Canyon. If you're looking strictly at the national park, that answer appears to be one.
Just a short walk from Grand Canyon Village, just steps off the rim trail where unsuspecting visitors stroll along on the south rim of the canyon, sits the Orphan Mine, an abandoned uranium mine that, although it stopped operating in 1969, is still being cleaned up. So far, the mine has cost American taxpayers more than an estimated $15 million in cleanup expenses — and that's only the first phase.
However, if you zoom out just a little bit, more and more uranium mines appear. If you look at the Grand Canyon from the air, you notice an intricate system of veins: side canyons that funnel water into the main artery of the Colorado River. In this landscape of fractured rock, how water flows underground is complicated and poorly understood, but we know that lands around the national park are hydrologically connected to lands inside the park.
Knowing that, it's disconcerting to see the former Kanab North and Pinenut uranium mines on the north rim of the Grand Canyon — technically outside of the national park. As we've seen with Orphan Mine, past uranium mines cast long shadows. Problems may not become apparent for decades, and options for cleanup are limited, expensive, and sometimes entirely nonexistent.
Uranium mining and milling sites are notoriously costly and challenging to tidy up, since uranium ore exposed to air can contaminate water and wind can scatter radioactive dust.
Is uranium actually mined in the Grand Canyon?
While no uranium mines are currently operating inside Grand Canyon National Park, there is an active uranium mine on national forest land south of the park (on the ancestral lands of the Havasupai Tribe) — the Pinyon Plain Mine (formerly Canyon Mine) — that's gearing up to mine. The Havasupai Tribe, whose members live at the bottom of Havasu Canyon, a side canyon off the Grand Canyon, considers this mine a threat to its sole source of drinking water, and an existential threat to its people and their way of life.
Several more uranium mines are proposed or on standby on the north rim of the Grand Canyon, including the Arizona One, What, EZ1, and EZ2 mines.
So, is uranium mining banned in the Grand Canyon?
Kind of. There's no new uranium mining allowed inside Grand Canyon National Park, but what about on the federal public lands surrounding the park, lands that drain into the Grand Canyon or are connected to the Grand Canyon's groundwater, water that feeds Havasu Creek and the Colorado River?
Well, in 2012, the U.S. Department of the Interior temporarily banned new uranium mines on about 1 million acres of these lands. But this temporary ban isn't enough — it's temporary and it's continually a political target. And this temporary ban hasn't dissuaded uranium companies, who continue to hang onto hundreds of active mining claims in the mining ban area, waiting for the ban to expire, or be lifted.
In short, although there's not a lot of uranium here, uranium mining, past and present, remains a major threat to the Grand Canyon region and a permanent solution must be reached sooner rather than later.