by Chelsea Griffin, Justice, Equity, Diversity & Inclusion Manager
In southeast Utah, a few miles away from the only conventional uranium mill in the United States, a group of young people listened to two Ute Mountain Ute leaders speak about their long fight to protect their community. Tears slid down the students' faces as Yolanda Badback and Thelma Whiskers shared stories of burning eyes and throats and children who stopped playing outside to avoid exposure to the mill's toxins. The women asked the room for questions.
A student raised her hand and asked, "What can we do?"
Beyond the lay of the land
This past summer, a small group of high school and college students joined us for LeaderShift, a week-long leadership training course offered through the Grand Canyon Trust's Rising Leaders Program. We gathered to learn firsthand from communities experiencing impacts of uranium extraction and answer this vital question: what can we do?
---
Join us: Apply for LeaderShift 2020 ›
---
LeaderShift, a place-based and mobile workshop, followed the haul route of uranium ore from Canyon Mine, where it would be extracted miles from the Grand Canyon's south rim, to White Mesa Mill, where ore is processed adjacent to Ute Mountain Ute tribal lands. On our journey, students met with 14 speakers, including Coleen Kaska, a Havasupai councilwoman who advocates to keep her community's water safe from uranium contamination; Jason Nez, a Navajo archaeologist who speaks to the cultural and historical importance of sacred sites that are threatened by uranium mining and hauling; and Talia Boyd, a Diné woman who builds community awareness and momentum towards a just future on the Colorado Plateau.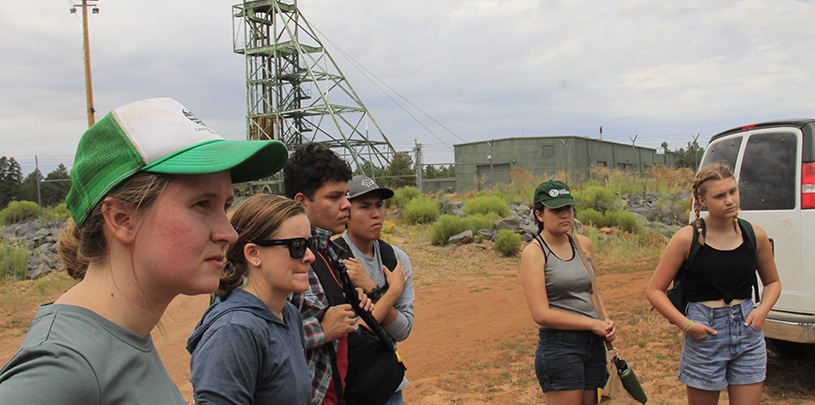 "It was eye opening and transformative being immersed in the communities we were learning about. It allowed me to feel connected to something beyond myself and drove me to a newfound passion in wanting to help however I can," said Bellicia Vaiza, a recent high school graduate and LeaderShift participant.
In addition to hearing voices from the frontlines of contamination, LeaderShift students explored how social, racial, and political factors have created injustice on the Colorado Plateau and why lasting change must tackle the root causes of energy exploitation on Indigenous lands. With hands-on sessions and workshops dedicated to strategic communication, art activism, political advocacy, and more, LeaderShift supported students in their development as changemakers and taught them how to contribute their skills and passions to the environmental justice movement.
Too Close for Comfort
Halfway through LeaderShift, we stopped in Monument Valley to meet Tommy Rock, Ph.D., an environmental scientist from the Navajo Nation who studied uranium contamination in sheep for his for his doctoral work. Rock has witnessed the effects of uranium exposure on his friends and family members, making his work personal. He took us to an abandoned mine site in Oljato, Utah, which is less than one mile from a Navajo community and less than five from the famous buttes in Monument Valley. A single sign marks the mine site, warning the public to "stay out." Shocked by the absence of a fence or more noticeable warning signs, students realized just how close to home exposure can be.
"Having the opportunity to speak directly with those who live near uranium mining and know the effects of mining and hauling was the greatest and hardest impact [for me]...I only took into consideration the environmental effects... not the effects it has on the communities... This trip taught me so much more than expected," one LeaderShift participant said of her experience.
Looking ahead
In the White Mesa Community Center, that fundamental question hovered in the air:
"What can we do?"
LeaderShift students looked intently at Badback and Whiskers. A sense of urgency filled the room.
The response was simple and impactful.
"You can tell people about what's happening here, and you can show up."
And that's exactly what LeaderShift taught students to do. After a week on the road, students grew into well-informed, thoughtful agents of change, ready to educate others, take action in their own communities, and respectfully advocate for others.
"The event was simply life changing," said Vaiza when reflecting on her experience during the program.
In the coming years the Rising Leaders Program plans to expand LeaderShift in length and depth of curriculum.