by Ellen Heyn, Communications Manager
After decades of serving on our board, Jim Enote has stepped into the role of board chair for the Grand Canyon Trust. His ties to the rivers, canyons, and desert lands that make up the Colorado Plateau are deep, and we are thrilled to have his leadership guide us into the next chapter of our work. Jim is the CEO of the Colorado Plateau Foundation, a Zuni tribal member, and a lifelong traditional farmer. He grew up in Zuni, New Mexico, where he still lives and farms today. Here, we talk with Jim about everything from his hopes for the Colorado Plateau to the internal almanac he keeps in his head.
Q: What do you love about the Colorado Plateau?
Jim: As a Native person, the Colorado Plateau is sacred to me. My Zuni language manifests the sounds, the tastes, the smells, and other natural phenomena of the plateau. The history of my culture on the plateau goes back at least 4,000 years. I'm not an archaeologist, but I reckon it's at least that long. So from the canyonlands of southeast Utah, to Mesa Verde, to Chaco Canyon, south to the Mogollon Rim — the peaks and the deep canyons and expanse of Colorado River watershed — I know I am of this place.
Q: What has your involvement in the Trust looked like over time?
Jim: I came on to the board over 20 years ago knowing I wanted to magnify Native America involvement in the Trust's good work. It took time, but I began to raise my hand during board meetings, mainly to ask how the Grand Canyon Trust will include Native American perspectives and involvement and how the Grand Canyon Trust will consider the political sovereignty of affected tribal nations. Because after all, as we know, one-third of the Colorado Plateau is tribal land. Eventually, it was like a collective epiphany — it wasn't only me raising my hand pressing for more Native American inclusion. After 20 years on the board, including serving on several committees, I was asked to serve as vice chair of the board, and now, chair of the board. It is an honor that I take it very seriously.
Q: What are you most excited about in your upcoming term as board chair?
Jim: Thanks to outstanding leadership by the previous board chair and our capable executive director and staff, I think the Grand Canyon Trust is not only stable, but flourishing. I am fortunate to step into this role because we have a long list of actions to address — to protect the plateau environment and work toward a just economic transition. With a first-rate, highly competent staff, it is very exciting.
Q: What do you see as the biggest challenges and opportunities on the Colorado Plateau right now?
Jim: Much of the Colorado Plateau is still ground zero for energy development that contaminates our lands and waters, and leaves tribal nations with short-term gains and irreparable damage to water and sacred places. I think we must also face the reality of climate change. And from the perspective of tribal nations, being climate refugees is not an option. We must start contributing to climate action at all scales and find solutions so that we will remain in this place for many generations to come.
I have a lot of hope. There are many sensible people of the plateau, and many of them live here. And there's a new generation here, right now, ready to tackle the most complex problems facing the plateau, with a really broad spectrum of talent and skills.
Q: Where do you find inspiration for your land and conservation work?
Jim: I am Zuni. I was born in Zuni, and I still live in Zuni. When I was young, my family grew sheep, and we grew alfalfa, and a whole variety of crops. So I am a practitioner of a culture of land use. When it comes to a livelihood that's based on working the land, to me, conservation is about being conservative with a finite resource. In some situations, I think some distinctive places need to be safeguarded because they are crucibles of nature and hope, and they are places of solace and healing. These special places along with water, lands, and the air we breathe, are part of making life worth living. I am a farmer first, and every time I put a shovel into the ground, every time I take water from the irrigation ditch, I remember that I have a contract with the land to take care of it so it will take care of my family and me.
Q: What have you learned in all of the years you've been farming?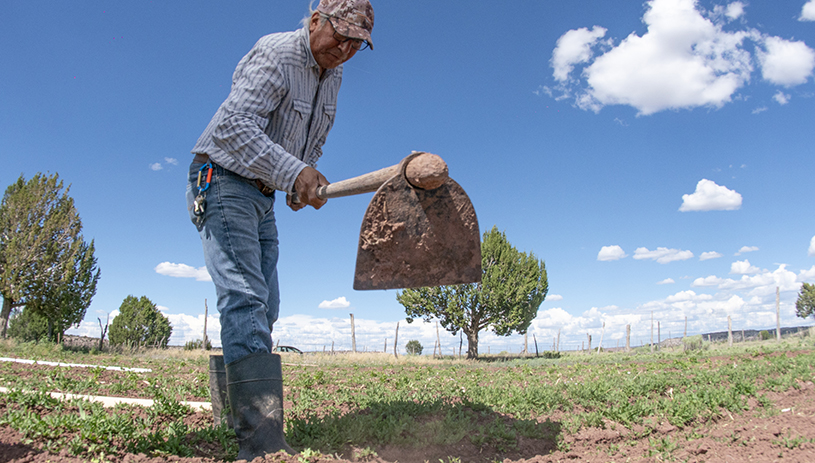 DEIDRA PEACHES
Jim: I have learned to keep an internal almanac. I keep track of the seasons closely, I feel them. I pray for the winter to change to spring, and for the days to get longer, and for the days to get warmer, so I can begin putting seeds back into the ground. To not only continue a cosmological process, but continue a practice that my family for many generations has done on the same piece of land. All of these patterns, in my internal almanac, in a way, become a pattern language for me. My conservation language is part of a pattern language of the land.
We look forward to Jim's leadership throughout the next several years!