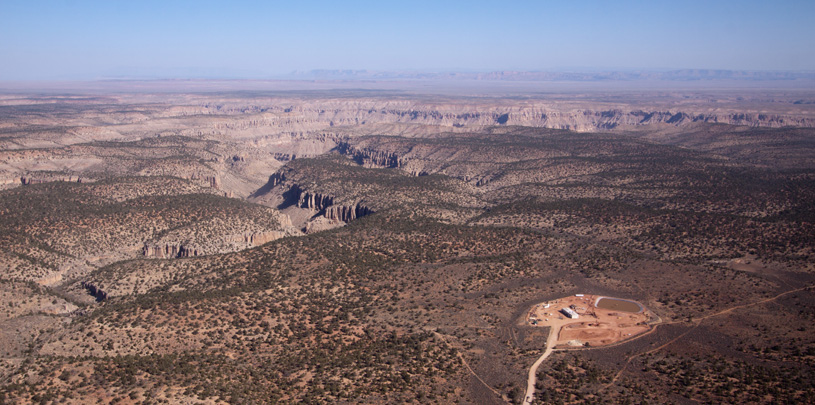 Pinenut uranium Mine. Photo: M. Tobin
Plans to stockpile high-grade uranium ore near Grand Canyon's north rim
Energy Fuels, Inc. recently announced plans to stockpile high-grade uranium ore indefinitely at Pinenut mine near Grand Canyon's north rim. The mine's previous owner walked away from uranium piled at the Kanab North mine site with disastrous results: "Mined waste rock, uranium ore, pond sludge, and local wind- and water-dispersed fine particles on the unreclaimed mine site (all of which contained high concentrations uranium and other trace element constituents such as arsenic) were exposed to the ambient environment for about 20 years at the partially mined site." These findings by the US Geological Survey included extensive evidence of radioactive soil dispersed more than 400 feet beyond from the mine's fenced perimeter and containment pond. Grand Canyon National Park scientists have documented irreparable risks to wildlife, water, and other park resources created by contamination from this and other uranium mines located within Grand Canyon's watersheds.
Concerns over radioactive dust
As reported in Grand Canyon News, the "mining company's plan to stockpile uranium ore at a mine north of the Grand Canyon has raised concern among environmentalists over radioactive dust being swept across the landscape." The Trust commented, "uncertainty over how long the uranium ore could sit at the site is unsettling….'This could be another indefinite situation … where once again, there is an increased risk of harm to public resources in terms of radioactive dust.'" In another story, aired on public radio, we noted: "…cumulative effects of uranium ore of contaminated water both on the surface and in the mine shaft … were not anticipated by the original federal environmental review, which really needs to be redone."
Pinenut is one of four zombie mines that remain active and in need of reclamation following the 2012 ban on new uranium claims on more than a million acres of public land watersheds that drain directly into the Grand Canyon.