by Heather Herold, Native America Associate
---
Update: On June 12, 2017, Secretary Zinke reopened the public comment period to accept comments until July 10, 2017. Submit your comments to the Department of the Interior online, or, if you're pressed for time, customize your message here and we can send your comments to Secretary Zinke.
---
On Friday, Secretary of the Interior Ryan Zinke launched a formal public comment period inviting the public to weigh in on the existence of 27 national monuments created by presidents Barack Obama, George W. Bush, and Bill Clinton, as part of a review ordered by President Trump. Here on the Colorado Plateau, Canyons of the Ancients, Vermilion Cliffs, Grand Staircase-Escalante, and Bears Ears national monuments are among those targeted for review. The public has only 15 days — until May 26, 2017 — to comment on Bears Ears National Monument, while Utah politicians are lobbying vociferously for shrinking or dismantling the monument. Comments on other national monuments included in the review are due in 60 days.
Although it's being touted as the "first ever" public comment period on national monuments, it's largely seen as an attempt by the Trump administration to reduce the size of or even eliminate some monuments. A Department of the Interior press release claimed that "Secretary of the Interior Ryan Zinke and President Trump both strongly believe that local input is a critical component of federal land management". Yet, if Secretary Zinke and President Trump believe in local input, they need to listen to the Native American tribes who have the strongest ties to the region, both past and present.
Cherry-picking voices
In early May, after repeated requests to meet with Secretary Zinke went unanswered, the Bears Ears Inter-Tribal Coalition, made up of the governments of the Hopi, Zuni, Ute Mountain Ute, Navajo Nation, and Ute Indian tribes, held a press conference in Washington, D.C., criticizing Secretary Zinke for failing to reach out to tribal governments or the coalition, and for "cherry-picking" Native American voices in San Juan County, Utah from a small, but vocal, minority. The coalition, which has been advocating for Bears Ears protections since 2015, is supported by 30 tribal governments, six of seven Navajo chapters in Utah, and the National Congress of American Indians.
"This is not just one tribe, it is a coalition of five tribes that have come together to protect our homelands. We stand here together today, united, with one voice to tell leadership at the federal level to recognize and to honor our position as sovereign nations."

– Navajo Nation Council Speaker LoRenzo Bates
"We're not being heard"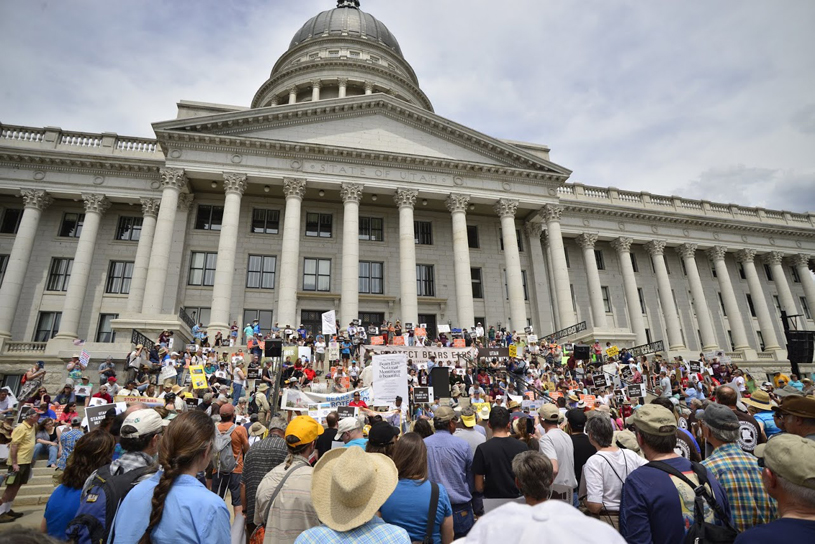 A few days later, tribal leaders and monument supporters rallied on the steps of the Utah State Capitol in Salt Lake City, drawing a crowd of more than a thousand in favor of keeping Bears Ears National Monument's boundaries intact.
"We are not being heard," he said. "Our rights are being swept aside. ... It needs to stop."

– Utah Tribal Leaders Association Chairman Virgil Johnson
Secretary Zinke finally met with tribal leaders briefly on Sunday, May 7. Tribal leaders reiterated their support for the monument and emphasized tribal ties to the land. Immediately after the meeting, as part of his four-day "listening tour," Zinke said of the leaders: "I think they're smart, capable, passionate, and have a deep sense of tie to their culture and want to preserve it." At the same time, he opined that "some of the monuments are, I don't want to say universally but certainly widely, supported and accepted. The Bears Ears is not widely supported or accepted in the state of Utah."
This is completely false, and shows that even after meeting with tribal leaders, Secretary Zinke still does not understand the importance of, and support behind, Bears Ears National Monument. Rescinding or altering the boundaries of Bears Ears National Monument would be an attack on public lands, public voices, and Native American sovereignty.
Secretary Zinke is expected to make a recommendation regarding Bears Ears by June 10, 2017.
How you can help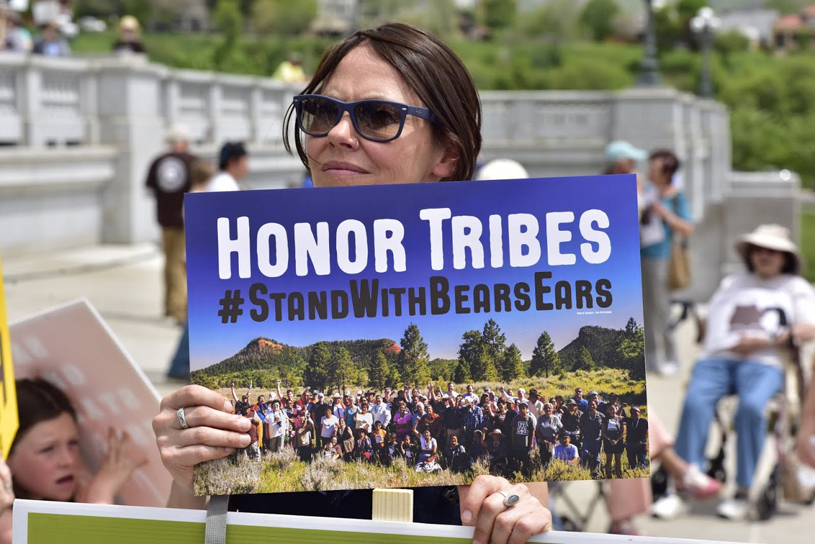 Your input matters. Before May 26, please ask your friends, colleagues, and neighbors to:
Email Secretary Zinke to urge him to recommend no change to Bears Ears National Monument.
Mail comments to Monument Review, MS-1530, U.S. Department of the Interior, 1849 C Street NW, Washington, DC 20240.
Tweet your support for Bears Ears to Interior Secretary Ryan Zinke @SecretaryZinke and let your members of Congress know you support keeping our national monuments intact.