by Lisa Winters, Research and Stewardship Volunteer Coordinator
Happy Earth Day! In the spirit of celebrating our natural world, we're highlighting some of our favorite critters that call the Colorado Plateau home. Keep an eye out for these animals as you explore our national parks and monuments this summer.
California condors - Grand Canyon National Park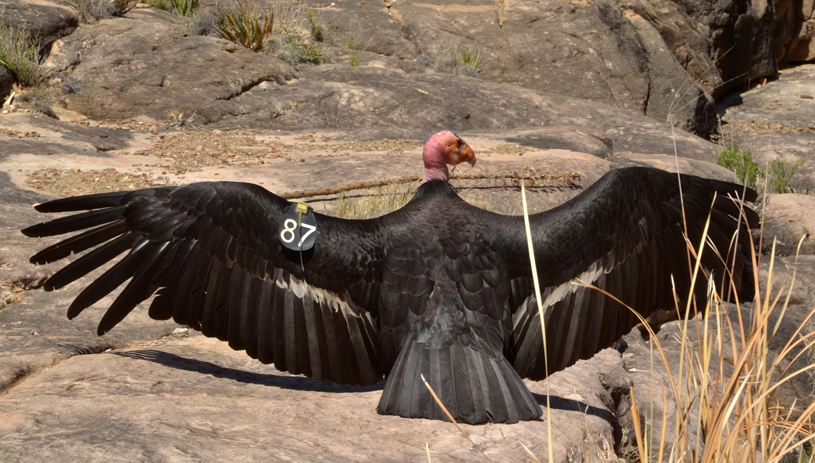 California Condor at the Grand Canyon. MICHAEL QUINN, NATIONAL PARK SERVICE
With wingspans of 9.5 feet, condors are the largest land bird in North America. They are also a success stories in species recovery. Historically ranging from western Canada to northern Mexico, the condor population dropped to a mere 23 birds in the early 1980s. All remaining wild condors were placed in a captive breeding program. Today, over 400 condors soar through the skies of California, Arizona, and Baja, Mexico, thanks to successful reintroductions.
The recovery program releases condors at Vermilion Cliffs National Monument, which means it's possible to spot resident birds flying in northern Arizona. Look for pink bald heads and necks, large black bodies, and white underwings perched on Navajo Bridge near Lees Ferry or soaring above the Grand Canyon at the South Rim. Take note of the identification number on its wing to learn about the specific individual.
Desert bighorn sheep - Zion National Park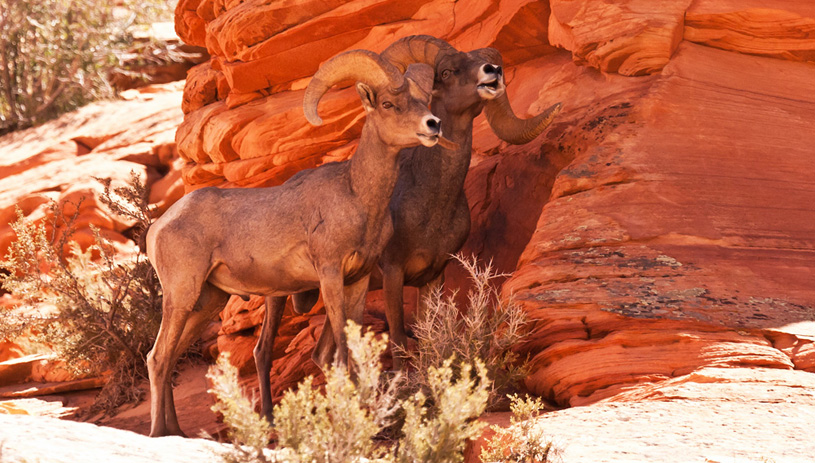 Desert Bighorn Sheep, Zion National Park. JAMES MARVIN PHELPS
Mule deer and rock squirrel sightings abound in Zion National Park. Look closely though, and you might see a desert bighorn sheep scampering across the steep, rocky cliffs. Highly adapted to their desert environment, desert bighorn sheep can go days without water and are smaller than their Rocky Mountain cousins. Both males and females have horns, which are permanent, unlike antlers. Their hooves are elastic and curved, which allows them to grip rock and live in extremely steep terrain, out of the reach of mountain lion predators.
---
Wildlife watching tip:
Always, view and photograph wildlife from a safe distance, and don't feed or pet wildlife even if it approaches you. Animals losing their natural fear of humans creates dangerous human-wildlife conflicts and can spread disease.
---
Utah prairie dogs - Bryce Canyon National Park
Utah prairie dog, Bryce Canyon National Park. JAMES MARVIN PHELPS
Drive into Bryce Canyon National Park, and you'll come across a surprising yellow sign — a prairie dog crossing! Prairie dogs are social animals. They live in large groups, called towns or colonies, where they can look out for danger and easily retreat to burrows. Utah prairie dogs are currently threatened by habitat destruction, disease, and predation by a variety of animals, including hawks, eagles, coyotes, weasels, and rattlesnakes. Unfortunately, humans were the biggest predators in the early 1900s, when they poisoned and decimated colonies. Today, Bryce Canyon National Park has the largest protected population of Utah prairie dogs, with nearly 200 animals.
Pronghorn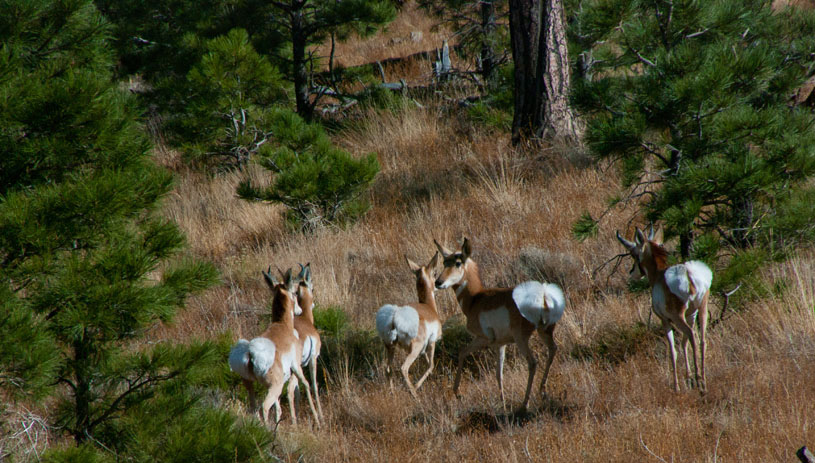 Pronghorn, Robinson Crater, Arizona. DEBORAH LEE SOLTESZ
Present for at least a million years, and numbering over 40 million during the 1800s, pronghorn are the fastest land mammal in North America. They can run up to 50 miles per hour to escape predators and have great wide-angle vision to see across vast grasslands. However, their numbers have declined dramatically (over 99 percent population loss) because of fences, highways, and habitat destruction. Pronghorn don't jump, and thus have trouble migrating to food, water, and seasonal habitats in fragmented, fenced landscapes. Learn how we're working to protect this iconic species ›
Native bees - Grand Staircase-Escalante National Monument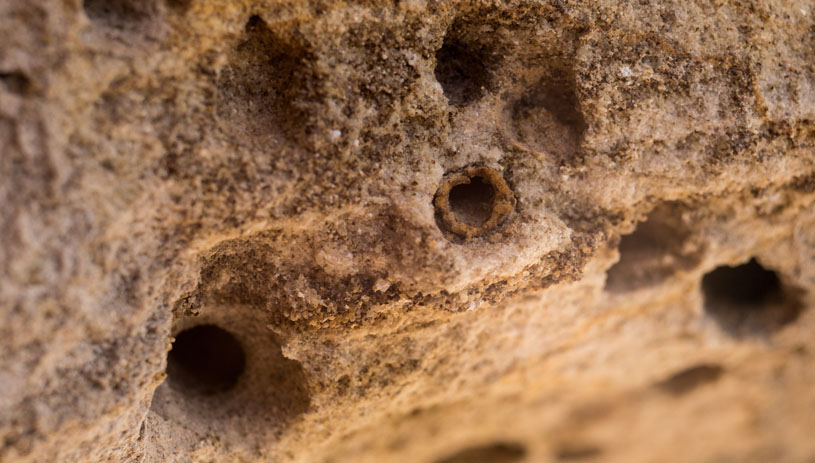 Plasterer bee tunnels in soft sandstone. JONATHAN BARTH
Come to Grand Staircase-Escalante National Monument for its sandstone canyons, sagebrush fields, and pinyon and juniper forests, but stay for the diversity of its desert wildflowers and accompanying pollinators. Grand Staircase is home to 660 species of bees. The entire eastern half of the United States doesn't have many more than that! The Utah monument has large bees, small bees, loud bees, quiet bees, and bees of every color of the rainbow. Mason bees get to work building their nests out of mud, whereas chimney bees create tiny towers poking up from the ground of dirt roads and trails. Sandstone nesting bees dig out tiny little holes across the walls of canyons near sources of water. But not to worry. These bees all prefer the pollen of their favorite flowers to humans. But beware, Grand Staircase is also known for its dinosaurs.
There are many other wildlife species in our parks and monuments — over 500 species of birds, mammals, fish, reptiles, and amphibians in Grand Canyon National Park alone! Abert's squirrels scamper around the forests of Sunset Crater Volcano National Monument, gathering their favorite cones and buds from ponderosa pine trees. Brightly colored western collared lizards warm themselves in the sun at Arches National Park.
This Earth Day, what are your favorite wildlife sightings?