by Talia Boyd, Cultural Landscapes Manager
---
This blog is distilled from the Native Perspectives virtual series held in partnership with Grand Staircase Escalante Partners in 2020. Hear from Native experts on a range of issues related to public lands and tribal preservation. Explore the recordings ›
---
The Wilderness Act defines wilderness as "where man himself is a visitor who does not remain." But to think that these natural spaces were, or are still, empty and uninhabited discounts thousands of years of Indigenous histories.
We are still here.
As Native peoples, our identities and lifeways are connected and interwoven with the landscape through our language and our ceremonies. Listen as three Native community leaders weigh in on what it means to honor, respect, and visit ancestral lands.
Greet the land and the people
Beata Tsosie-Peña, a Santa Clara Pueblo member and seed keeper at Tewa Women United, shares how we can visit ancestral lands with respect. She and her elders practice the "entryway ceremony" when visiting other Indigenous territories.
"You come in singing so that the people that hear you know that you're coming in a peaceful way. And you do your cleansing behind you so that you're not bringing any hardships or negative energy into those people's territories. And you come with gifts, and you come with asking of permission to enter."
Permission may be asked to the land, water, trees, animals, or to the human energies present. Tsosie-Peña adds that it's important to try to make a connection with the original Indigenous peoples of a place. These are landscapes shared and cherished by different peoples and it is important to respect their views.
Visit with intention
Roberto Nutlouis, a Diné environmental justice leader, says you should always have clear intentions when visiting ancestral lands.
He remembers medicine people and elders taking him to sacred sites, "guiding us how to talk with the elements, to the water, to the mountain, to the animals."
According to Nutlouis, there are different preparations required for different intentions.
"You have to go through a whole ritual if you're going to go to these places to harvest meat. If you're going to harvest plants, you're going to put your offerings down. There always has to be an intention. Why are you going to those places in the first place?" he asks.
Adesbah Foguth, a Diné park ranger for the Bureau of Land Management, says that all visitors, Native and non-Native, need to enter ancestral lands with respect.
"As Indigenous people, we see these places, these sites, these locations, these lands as something sacred to us." She adds, "You have to have a good reason. You can't just come because you want to exploit it."
Climbing on ancient buildings, camping in kivas, collecting pottery as souvenirs — this disrespect, Foguth says, is harmful to her and many Indigenous people. The desecration of landscapes impacts future generations.
"I would implore visitors who are not Indigenous to start thinking about how we move on the land, how we visit these places," she says. "Think of these sites as living."
These places are living spaces
Language — how we talk about and think about public lands and Native American ancestral sites — directly informs how we act on the land and how we treat it, Foguth says.
The words "abandoned" and "ruin," which you often see on trailside interpretive panels, bring up intense emotions for Foguth. From a Western perspective, she says, these words conjure empty, lifeless places.
These words do irreparable damage to Native communities and Native lands.
"I think the reason why these places [like Chaco Canyon] were excavated without permission is because they thought of these places as abandoned, uncared for, lifeless objects."
Foguth explains, "The reason why it looks abandoned to you, that it looks uncared for, that it's filled with sand is because we intentionally left it that way. It's a way of respect. We don't bother those things because we consider them as a living place, as a place that's still occupied by the spirits of our ancestors. It's a final resting place of many of our ancestors. And it is a sacred site."
---
Meet the panelists:
Adesbah Foguth, Diné, is an archaeologist, park ranger, and educator, who is devoted to creating interpretive talks and educational material on decolonizing Native history. A former teacher on Navajo Nation and interpretive ranger at Chaco Canyon, she currently works as a ranger for the Bureau of Land Management. Check out her work on Instagram: @native_power_rangers.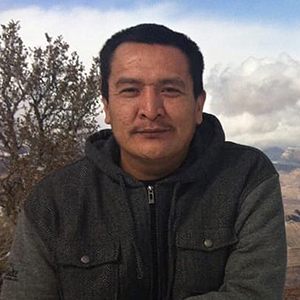 Roberto Nutlouis, Diné, is from Pinon, AZ. He is Bitterwater clan, born for Big Water clan. For years, Nutlouis has been organizing on environmental justice, food security, energy efficiency, housing, and youth leadership. In his spare time, he likes to work on food security issues and traditional knowledge in agriculture with Native youth, and he enjoys hiking, river rafting, camping, and reading.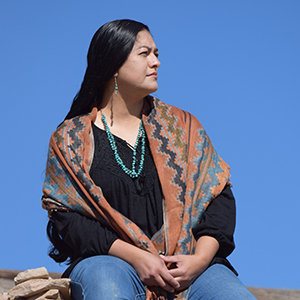 Beata Tsosie-Peña, Santa Clara Pueblo, is a mother, poet, and seed keeper, and has worked as the Environmental Health and Justice Coordinator for Tewa Women United for over a decade. She is a full-spectrum doula and has served on several local community boards. As part of her work, she manages the creation of the Española Healing Foods Seed Library.