by Tim Peterson, Cultural Landscapes Director
Last week, during the infamous "Friday news dump," the Bureau of Land Management (BLM) released a management plan for the unlawfully reduced Bears Ears National Monument. The plan was drafted in a relative hurry after the president unlawfully reduced the monument by 85 percent just a year and a half ago. For context, the well-researched and scientifically justified original management plan for Grand Staircase-Escalante National Monument took four years to develop.
The new plan for Bears Ears flips the idea of what national monuments are supposed to be on its head by "applying fewer land and resource use restrictions and allowing for more discretion for multiple uses" of monument lands.
Wait. What?!
That's right. Believe it or not, the plan actually proposes weaker protections for the majority of the 15 percent of what's left of Bears Ears National Monument than if no monument had been designated at all.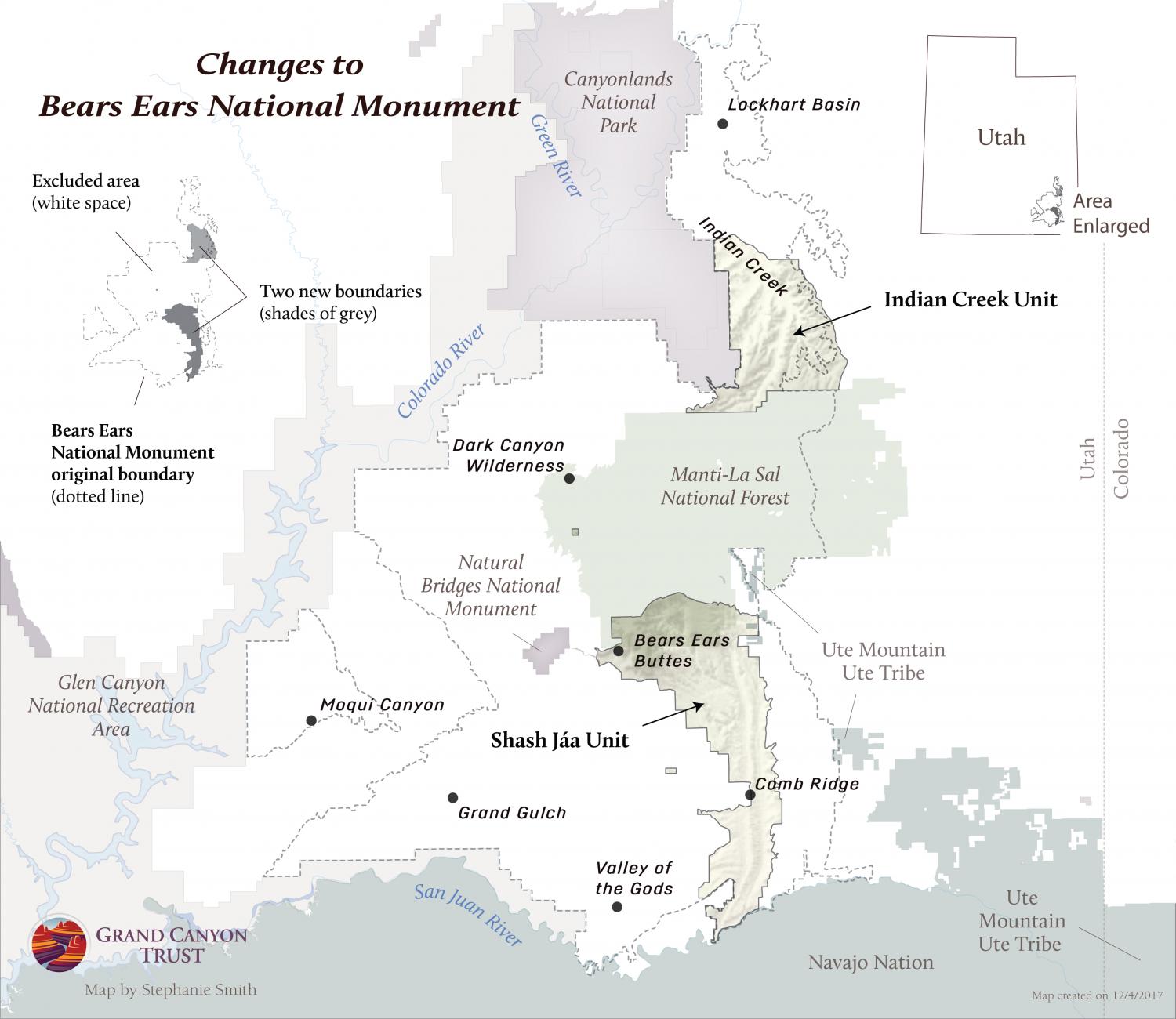 So what are national monuments about?
National monuments are supposed to provide elevated protections for the "historic landmarks, historic and prehistoric structures, and other objects of historic or scientific interest" for which they are designated. For Bears Ears, the list includes cliff dwellings, kivas, village sites, pilgrimage trails, petroglyphs and pictographs, geology, and fossils.
In this way, the proposed Bears Ears management plan is unlike any other yet — it does what it can to set a new paradigm where destructive activities like new off-road vehicle routes and pinyon and juniper deforestation projects take precedence over protection of monument objects and values. This isn't just wrong, it's contrary to policy and the law for monument management which states that "the conservation of natural values is of primary concern."
When does the mayhem begin?
The new plan isn't yet a done deal. Last Friday's release triggers a 30-day protest period and a 60-day governor's consistency review. After that, the BLM can issue a formal record of decision approving the plan, and the plan would then take effect. If you noticed that that's well before the next presidential election, you're not alone.
The 30-day protest period is one during which those who commented on specific issues earlier in the planning process can protest the proposed plan by detailing how their concerns haven't been alleviated by the proposed plan. The Grand Canyon Trust and our conservation partners intend to file a protest.
The governor's 60-day consistency review is a period during which the state of Utah can determine if the proposed plan aligns with the state's goals for Bears Ears. You can probably count on Utah's anti-public lands administration to try to make the proposed plan even worse.
What, specifically, is wrong with the plan?
Glad you asked. Here are a few of the most egregious elements of the proposed plan:
Fails to adequately plan for increased visitation of cultural sites;
Waits at least two years to implement a cultural resources management plan;
Fails to limit group sizes in much of the shrunken monument;
Allows recreational target shooting without adequate safeguards;
Manages "lands with wilderness character for multiple use," instead of preserving wilderness values;
Allows the development of new off-road vehicle routes in highly scenic and culturally important areas;
Calls for "increased" pinyon-and-juniper forest clearcutting, potentially threatening the exposure and destruction of undocumented cultural sites (the majority of the monument has not been surveyed for cultural resources);
Names a handful of cultural sites as "public sites" to promote and develop, at least two of which are now little-known, lightly visited, and wildly inappropriate to advertise for visitors; and
Was developed wholly without the input of the Bears Ears Inter-Tribal Coalition and without the benefit of the traditional knowledge and Indigenous science that represent the very foundation of the Bears Ears movement.
Oh, that's lousy
Yes, dear reader, it is. National monuments are meant to protect our shared history and heritage while leaving a legacy for future generations. The Trump administration not only defiled our shared history by unlawfully reducing Bears Ears, now it's showing contempt for our legacy by choosing at nearly every turn in the proposed plan to give protection short-shrift. The way in which the administration has added the insult of this detestable plan to the injury of slashing Bears Ears is deeply disturbing, and it cannot stand.
Ultimately, the courts or Congress will settle this issue. Litigation remains pending in federal court in Washington, D.C. In the words of Bears Ears Inter-Tribal Coalition Co-Chair and Ute Indian Tribe Business Committee Member Shaun Chapoose: "The BLM and Forest Service monument management plans are more of the same. Tribes weren't consulted during Trump's bogus review of the Bears Ears National Monument. We weren't consulted when Trump illegally revoked and replaced the monument. And, now the BLM and Forest Service rushed to complete these management plans. The truth is, the monument is in litigation. The administration is wasting tax dollars on these plans. This will be settled in the courts."
So, what can I do?
Urge your member of Congress to co-sponsor the BEARS Act (H.R. 871), which would restore and expand Bears Ears National Monument.