by Marc Coles-Ritchie, Utah Forests Associate
In 2013, the world's largest aspen grove looked more like a pile of pick-up sticks than a healthy forest. Dead fallen trunks littered the forest floor. Tall old trees, many of them diseased, stood their ground, but no young sprouts were filling in to replace the aging trees. The Pando aspen grove in central Utah was dying.
Now, seven years later, a small fenced portion of Pando is recovering — so, what gives?
Pando aspen grove restoration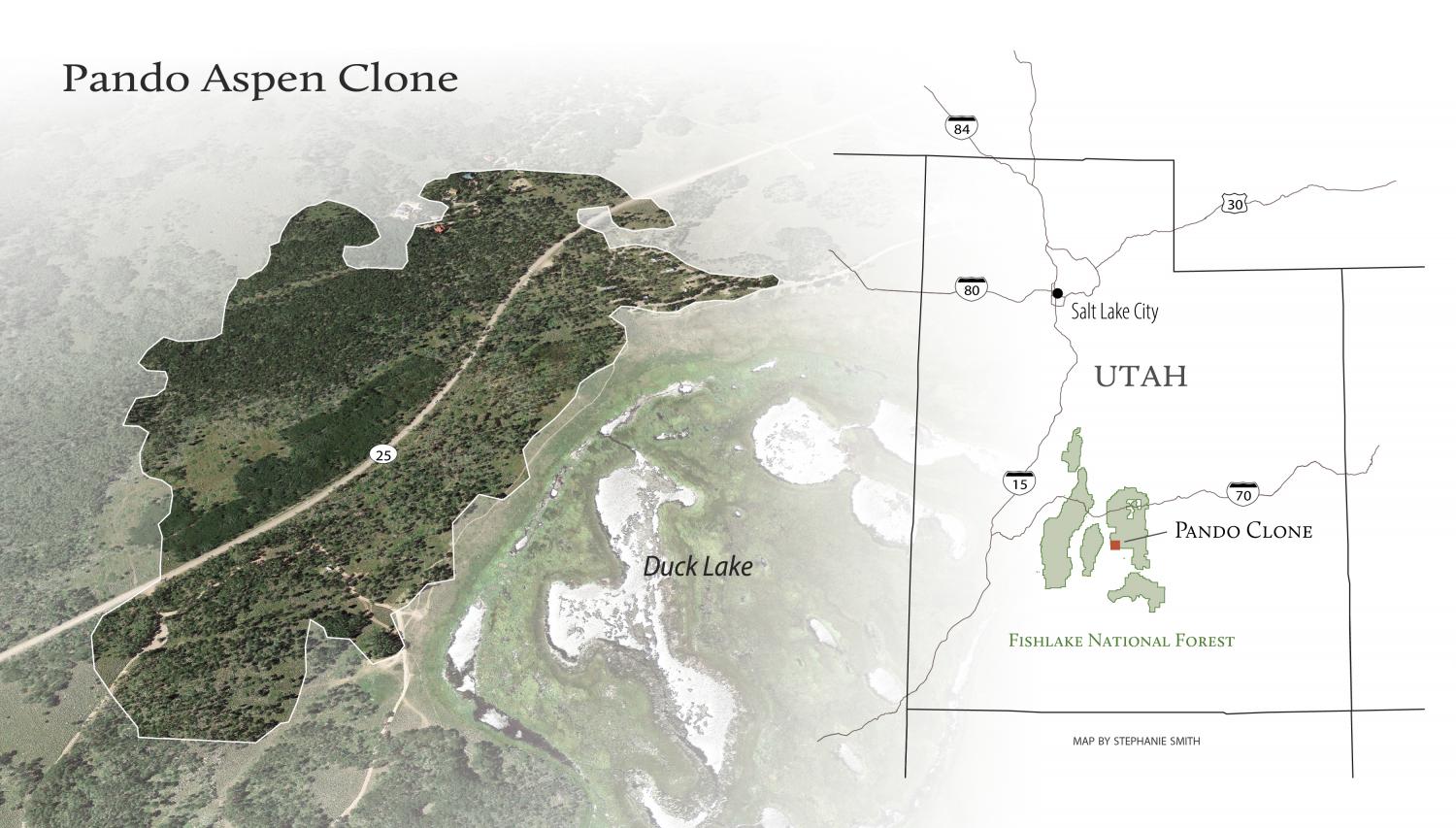 The one-tree forest is called Pando, meaning "I spread" in Latin, so named because aspen spread through underground stems, creating one large stand of connected trees (clone). Scientists say that Pando is the largest known aspen grove in the world, including approximately 47,000 stems. As old trees die, new shoots pop up and grow tall — at least that's how it should work.
But in the Pando, cattle and deer have been eating down the new sprouts for decades, leading to a gradual and steady decline of the clone.
In 2013, the Pando Working Group, which includes the Trust, funded the construction of an 8-foot-tall fence around 16 acres of the 106-acre Pando grove. The idea was that by keeping grazing animals out, we could give Pando a new lease on life. We hoped it wasn't too late for the old trees to send up sprouts, and that without hungry mouths to feed, the sprouts would be free to grow into the overstory.
And guess what? It worked!
Watch Marc and his family install a fence around part of Pando in September 2020 to study the impacts of grazing by cattle and deer. Film by JEFFERSON CHASE.
---
The next year, in 2014, Grand Canyon Trust staff and volunteers took photos at 30 randomly-selected points in order to document the results. Each year since, we have returned to these same 30 points and recorded dramatic recovery of aspen. Our report of this recovery presents side-by-side photos from different years, showing young aspen saplings crowding the understory and growing up toward the canopy, along with tall grasses and wildflowers.
A second portion of Pando, across the road, was fenced in 2014, but is experiencing less recovery because enterprising deer have found their way through or over the fence year after year. The group is working on efforts to secure that fence.
Aspen in peril across the West
Outside the fences though, there are still no young Pando aspen because the sprouts continue to be eaten by cattle and deer, and the overstory trees are gradually dying.
Pando's dilemma is repeated across the West, because cattle, sheep, elk, and deer are eating aspen sprouts and depriving the overstory of new shoots. We can't fence our way out of this problem. Livestock and large game animal numbers need to be reduced in places where too many aspen sprouts are being eaten and the stand lacks young trees growing into the canopy.
The Pando Working Group has done various treatments to see if prescribed burning, tree removal, or common juniper removal would help aspen recovery. A study at Pando by two members of the working group found that protection by fencing alone was enough to allow the aspen within the fenced area to fully recover, meaning that other treatments were not necessary.
What can you do?
In non-pandemic times, you can join us on a volunteer trip to continue our repeat photography as well as pull weeds in Pando. For now, you can contact your local Forest Service personnel wherever you see old aspen trees few and far between, and sprouts with their top branches eaten off. All these aspen stands need is some relief from too many grazing animals. Pando shows that the mature trees have enough life in them to take it from there.