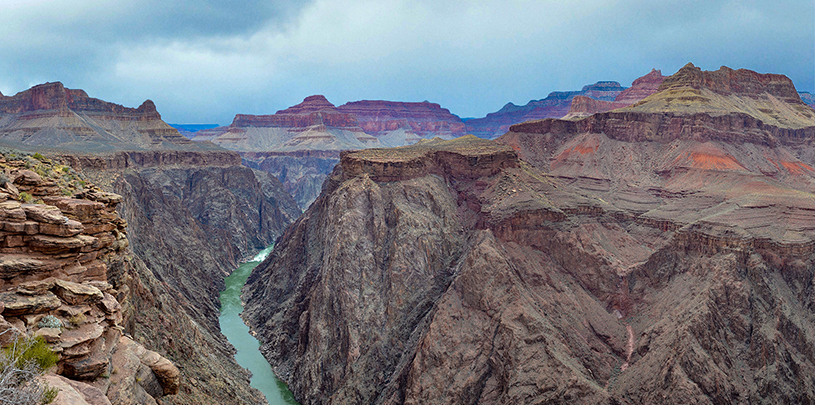 Michael Quinn, National Park Service

by Amber Reimondo, Energy Director
Late last year, the Grand Canyon Centennial Protection Act — a bill that would make permanent the current 20-year ban on uranium mining on 1 million acres of public lands adjacent to Grand Canyon National Park — passed the U.S. House of Representatives with bipartisan support. The companion to the bill was introduced by Senator Kyrsten Sinema, D-AZ, in December 2019, but more than six months later, the bill remains stalled and has not moved closer to a vote on the Senate floor.
New hope for banning uranium mining around the canyon, forever
However, this week, the Havasupai Tribe and the rest of the broad coalition of tribes, local governments, business owners, and conservation organizations that support banning new uranium mines on public lands around the Grand Canyon saw a flicker of new hope that a permanent mining ban may be possible during this Congress.
The National Defense Authorization Act (NDAA) is a bill that is considered annually by Congress and mostly has to do with the Department of Defense's budget and spending. However, bills that are related to actions by the defense department — uranium mining, for example — can sometimes also get tacked on as amendments. Because time limits the number of introduced bills that can actually be considered and voted on, the NDAA is a more sure path all the way through the legislative process given its higher level of priority. This year, the Grand Canyon Centennial Protection Act was added to the bill as an amendment. On Tuesday, July 21, 2020, that amendment passed and the House of Representatives passed its version of the NDAA.
Next steps
The Senate is expected to pass its own version of the NDAA this week as well. That version will not look the same as the House version, so to reconcile the two, select members of the House and Senate will need to confer and come up with a version that both chambers can agree upon before the bill can be sent to the president's desk for signature. This process may take several months and amendments that were included can still be struck down. However, this latest development is a heartening reminder that support for permanently banning new uranium mines on public lands around the Grand Canyon remains strong in the House.
Urge your senators to protect the Grand Canyon
In the meantime, the Grand Canyon Trust will continue to track both the Senate version of the Grand Canyon Centennial Protection Act and the progress of the NDAA. You can help by continuing to call and email your senators to express your support for the Grand Canyon Centennial Protection Act.