by Amber N. Benally, Rising Leaders Associate
If you've driven to the Four Corners of the United States, chances are you've passed multiple communities that weave together ancient farming techniques and modern technology. From the terraced fields on Hopi to the irrigated valleys on Navajo Nation, young people are reconnecting with ancient teachings.
Over the last four years, the Rising Leaders Program at the Grand Canyon Trust has led a food and farming initiative in Tuba City, Arizona to revitalize ancient farming traditions and support Indigenous economies. This year, for the first time, we recruited a dozen young Navajo farmers to work and learn alongside their elders while helping them prepare their fields for the upcoming growing season. This exchange of knowledge is vital to Indigenous communities, because, as technology advances, Indigenous people are striving every day to adapt. Yet some teachings can only be learned in the field, with hands in the soil and mind in connection with the Earth.
In the first of a three-part interview series, we talk with Darrell Yazzie, the youngest farmer in the group, about culture and farming.
Meet Darrell Yazzie, farmer with Tolani Lake Enterprises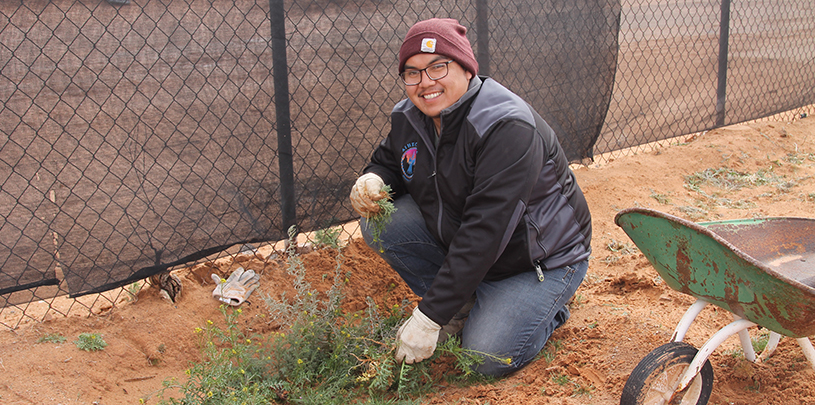 Darrell began farming as a child in Klagetoh, Arizona with his mother. While attending Diné College, he interned for two years with the land grant office, where he learned new farming techniques each semester. He now works full-time at Tolani Lake Enterprises in collaboration with the Diné College extension program.
---
How has farming shaped your identity?
I was inspired to farm by my mom, and she learned from her mother. I have learned a lot about patience. I now know that farming requires you to slow down and understand that it will not happen overnight. At Diné College, I learned about food sovereignty, and to me, it means growing your own food and helping out your own people.
In what ways has volunteering with the Tuba City project influenced you and your future as a farmer?
I was surprised that Tuba City is a farming town. From an outside perspective, it seems like there is no water there. But Rose [one of the elders] has inspired me. She and her husband are able to sustain a big field, and I hope to accomplish something like that one day. They also showed me that, as Navajos, we need to get back to helping each other. When we help someone, and they repay us with stories or life lessons, we are helping each other.
What can we learn about farming from our elders?
They teach us about patience and understanding — that with one step at a time, hard work will pay off. When you work on a farm, it's important to have that reminder.
What can we learn about farming from our youth?
Farming is hard, especially if you are doing it by yourself. When we go to help producers, they say to us, "You guys are so energized." The older people believe we have the strength to get the work done and get it done quickly. Young people can help us bring back the energy and strength needed for farming. 


Why do you feel it's important for young Indigenous people to revitalize farming practices?
Speaking personally, farming helped me ground myself. Farming depends on many things, like surrounding ecosystems, elevation, and the community. As Navajos, we have to adapt to our surroundings. By adapting, our farm will be more sustainable in the long run. Plants are important to us as Navajos — they are used for spiritual and medicinal purposes. Elders always have a different story about plants, and I think the more we find out about plants, the more we find out about our culture.
What would you say to a young person who is interested in farming but doesn't know where to start?
If you can grow with your family or someone who inspires you, it has a deeper meaning. I was taught by my mom, who learned from her mom. And starting with a family member benefits everyone involved.
Stay tuned for parts two and three of the series!