by Natasha K. Hale, Native America Manager
As 2016, the year of Bears Ears, comes to a close, tribes across the country are looking to a promising new framework for Native American engagement in public lands management. On October 21, 2016, U.S. Secretary of the Interior Sally Jewell announced a secretarial order that encourages cooperative management between Interior Department land and water management agencies and tribes. Agencies include the National Park Service, Bureau of Land Management, U.S. Fish and Wildlife Service, Bureau of Reclamation and Bureau of Ocean Energy Management. The order provides a framework for these agencies to identify and establish collaborative management partnerships with tribes and encourages increased consultation with tribes to better understand their interests. The order and these potential partnerships signal growing momentum toward greater tribal input and involvement in public lands that hold immense cultural and spiritual significance for Native Americans.
"This Secretarial Order reflects the Obama Administration's deep commitment to strengthen respect between the United States government and Native American and Alaska Native leaders and communities while boosting our efforts to increase tribal self-determination and self-governance. This kind of collaboration with tribal nations will help ensure that we're appropriate and genuinely integrating indigenous expertise, experience and perspectives into the management of public lands."

–Secretary of the Interior Sally Jewell
The secretarial order identifies various areas in which partnerships may be appropriate, including management of fish, wildlife, and other natural resources, delivery of specific programs and services, public education, and identification, protection, preservation and management of cultural sites. It also recognizes the unique historical, ecological, geographic, and cultural connections that tribes have to public lands, even noting that tribal traditional knowledge "enhances Federal management decision-making."
Shared governance: an important step for tribes
Willie Grayeyes, Chairman of Utah Diné Bikéyah, a Native American led non-profit based in Utah that supports the Bears Ears Inter-Tribal Coalition, said in an October 22, 2016 press release: "Collaborative management, as defined in this order, is now a tool available to all Tribes who trace cultural assets to what are now federal lands. In relation to the Bears Ears landscape, Utah Diné Bikéyah stands behind the Tribes' request for the strongest collaborative management for Bears Ears that is legally possible, and we are pleased to see important steps like this being taken nationwide."
Meanwhile, the Bears Ears movement continues to garner support across the country. In early October, the National Trust for Historic Preservation named Bears Ears as one of the "11 Most Endangered Historic Places" in the United States. Additionally, they state on their website that "The National Trust is joining Native American tribes, conservation groups and public officials in requesting that President Obama use his Antiquities Act authority to create a Bears Ears National Monument, to provide permanent protection to this unparalleled landscape." On October 15, 2016, Bears Ears received another encouraging endorsement, this time from the Los Angeles Time editorial board. While the Los Angeles Times mischaracterizes collaborative management in the Bears Ears proposal and the relationship between tribes and the federal government, the piece remains a positive endorsement. Rebecca Tsosie, regents' professor of law at the University of Arizona, offers clarification on collaborative management in her November 21, 2016 op-ed in the Arizona Republic, saying "…it is the first proposal for management that would involve authentically shared governance by affiliated tribes and by the three federal agencies that have jurisdiction over lands in the region but typically regulate those lands separately."
Positive momentum for Bears Ears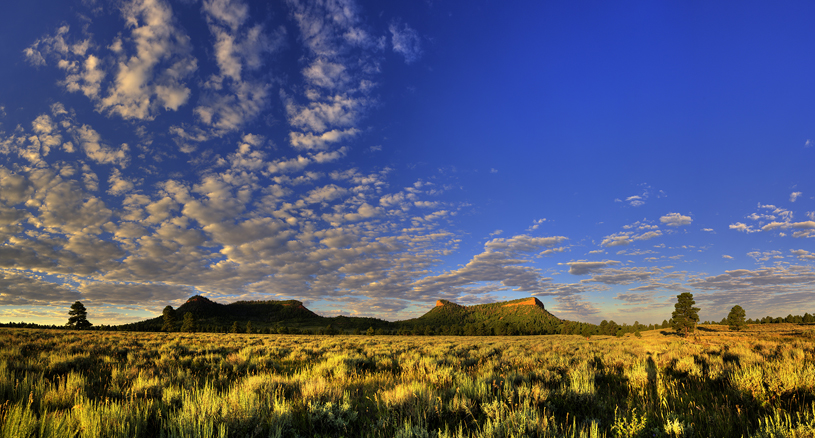 Bears Ears Buttes at Sunrise. TIM PETERSON
We hope that the dialogue around collaborative partnerships and management between tribes and federal agencies will elevate the momentum of the Bears Ears Inter-Tribal Coalition's efforts. In addition, conservation organizations, including the Grand Canyon Trust, should consider the possibilities outlined in the secretarial order and work toward establishing new partnerships and conversations with tribes. Conservation issues affect all Americans, particularly Native Americans who rely on public lands for spiritual, cultural, and physical sustenance. We are stronger working together in the movement to protect Bears Ears.