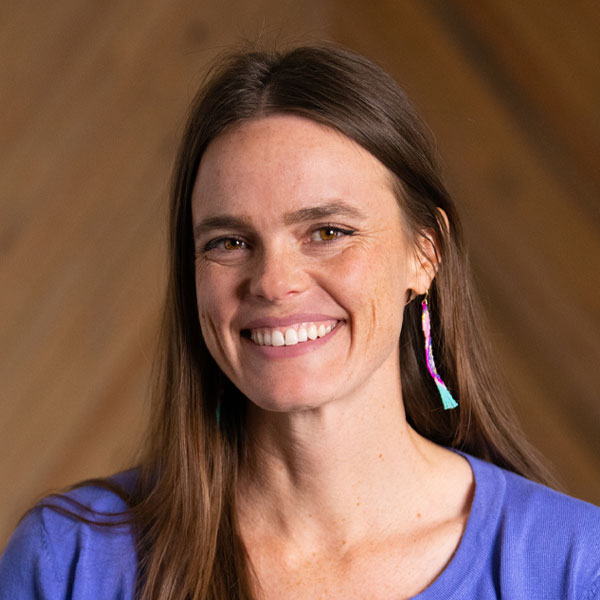 by Amber Reimondo, Energy Director
---
Update: President Biden designated Baaj Nwaavjo I'tah Kukveni Grand Canyon National Monument on August 8, 2023. Learn more ›
---
Red Butte, known as "Wii'i Gdwiisa" to the Havasupai Tribe, rises high above sagebrush flats about a dozen miles south of the Grand Canyon. This prominent peak is central to Havasupai identity and sits in the middle of the tribe's ancestral lands, which span the Grand Canyon and Colorado River to present-day Flagstaff, Williams, Ash Fork, and Seligman, Arizona.
The Havasupai Tribe is one of a dozen Native American tribes calling on President Biden to permanently protect about a million acres of their cultural homelands around Grand Canyon National Park as a new national monument. If designated, Baaj Nwavjo I'tah Kukveni Grand Canyon National Monument would protect federal public lands on the north and south rims of the Grand Canyon, including Red Butte.
"We've existed here since the birth of the world," says Dianna Sue White Dove Uqualla, a Havasupai Tribal Council member. "There are stories lying in this very place."
Winters at Red Butte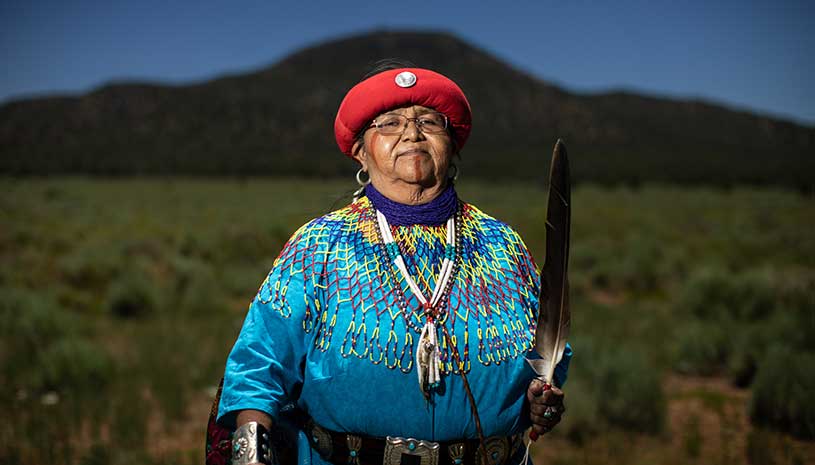 Dianna Sue White Dove Uqualla speaks on behalf of the animals and plants on her ancestral lands. RAYMOND CHEE.
Uqualla learned early on from her elders that every place the sun touched was Havasupai land.
In the summer, her people lived and planted crops deep in the Grand Canyon. Come winter, they migrated up to the forested plateau lands near Red Butte, where deer, elk, and rabbits were plentiful. They camped, hunted game, and gathered pinyon nuts, edible roots, and medicines.
Carletta Tilousi, a Havasupai tribal member who coordinates the Grand Canyon Tribal Coalition driving the national monument campaign, remembers her parents and grandparents hunting and gathering at Red Butte.
"I have deep connections to this area. There's also burial sites, and sweat lodges, and archaeological rock writings," she says.
Today, the Havasupai live in a tributary to the Grand Canyon known for its turquoise waterfalls that give the Havasupai, or the Havasu 'Baaja, "the people of the blue green waters," their name. It's a sliver of their ancestral territories, but the memories and stories of wintering at Red Butte are written across the landscape and live on in Tilousi, Uqualla, and the Havasupai Tribe today.
"We always come back. Through these stories and connections that we have, we identify ourselves as Havasupai," Tilousi says.
Red Butte, a place of origin
Red Butte holds immense religious and cultural significance to the Havasupai, but there are limits to what is shared outside the culture, Uqualla explains. Some stories are "kept to the people."
Uqualla asks that all listening have respect when they hear what she has to say:
"This place is Wii'i Gdwiisa. This is the birthplace of our people. The people that came were very powerful medicine people. They were real, and they lived here."
Nearby, animals would gather, says Tilousi. She explains there was a time in Havasupai history that humans and animals could talk to each other.
"Then Coyote, as the trickster, was part of our creation stories…He did something where we can't talk to the animals anymore like we used to. But we still do believe they understand us."
It's through stories like these, passed down through generations since the beginning of time, that the Havasupai trace their identity to Red Butte. Their connection to this place is foundational to their worldview and part of what makes them who they are.
Protections for Red Butte
Red Butte is federally recognized as a traditional cultural property, yet fewer than five miles from Red Butte, a uranium mine threatens the Havasupai Tribe's sacred mountain and water inside the Grand Canyon. The tribe has ardently opposed the mine since the 1980s, on the ground and in court.
Like countless generations who have protected Red Butte before her, Uqualla speaks on behalf of her ancestors, Red Butte, and the animals and trees that cannot speak today.
"I always talk to the mountain and say, 'I'm still here, and I'm still fighting for you. I'm still speaking on your behalf."
Tilousi and Uqualla emphasize their responsibilities to keep watch over Red Butte and their ancestral lands.
"That's a very big responsibility for the Havasupai. So that's why we're coming together and reaching out to the other tribes to protect this beautiful area," says Tilousi.
Many tribes across the Grand Canyon region, including the Hopi Tribe, Hualapai Tribe, Kaibab Band of Paiute Indians, Las Vegas Tribe of Paiutes, Moapa Band of Paiute Indians, Paiute Indian Tribe of Utah, Navajo Nation, San Juan Southern Paiute Tribe, Shivwits Band of Paiutes, Yavapai-Apache Nation, Zuni Tribe, and the Colorado River Indian Tribes, have joined the Havasupai in the intertribal proposal for Baaj Nwaavjo I'tah Kukveni Grand Canyon National Monument.
"A monument designation would mean that our animals will be protected. And also our ancient trails, and our ancient burial sites," says Tilousi. "Once it's declared by the Biden administration, it'll be a historic moment, not only for the Havasupai, but for all the tribes that live in this region."