Guest Blog by Grand Canyon Trust Volunteer Jenna Herzog
Our group of 16 hikes the short, steep trail down into the ravine. As soon as we step onto the rich wetland soil, everyone sets off in a different direction to explore. We crouch down to feel the grasses, overturn stones to search for tiny signs of life, marvel at the vibrant willows growing beside the creek, listen for birdsongs.
No, we aren't a troop of hardcore nature scientists. Rather, we're an eclectic group of volunteers and organizers gathered in southern Utah's Dixie National Forest for the first training workshop for the Grand Canyon Trust's newest project: Where Cows Don't Graze.
We're former park rangers, outdoor education guides, lawyers, and engineers, plus a few young outdoor enthusiasts starting careers in environmental science, writing, and non-profits, coming together from all corners of the West. What we share is a common goal to promote a better balance in terms of public lands that are or are not grazed by livestock.
Getting the full picture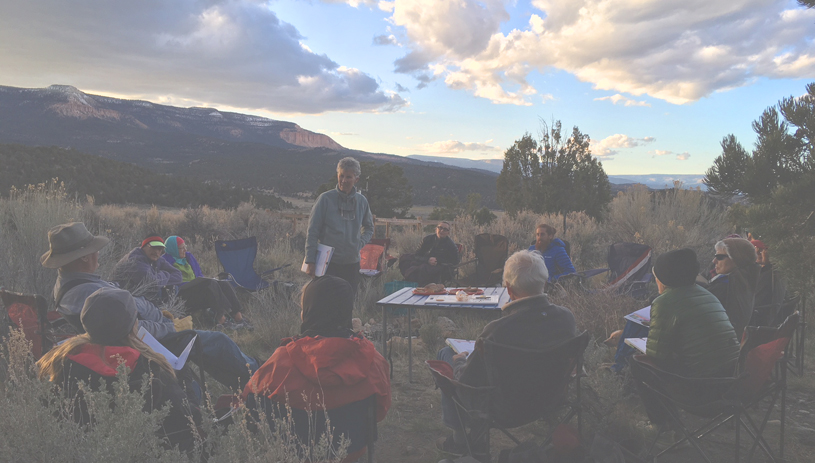 Our group gathered in the evenings to talk and compare notes.
DENISE AYERS
---
Like many of us, I had a romanticized image of public lands in my mind: wide open spaces bursting with pristine forests, rivers, deserts, and mountains, all meticulously preserved for their value to nature, aesthetic beauty, and outdoor recreation. But this isn't the full picture. While public lands are for everyone, they also allow certain private, commercial uses — livestock grazing being the most widespread. For instance, 97 percent of the three national forests in southern and central Utah are open to livestock grazing.
With the help of field volunteers, Where Cows Don't Graze aims to map all the public lands formally closed to livestock throughout the Colorado Plateau in hopes of answering two key questions: (1) Where are these areas, and (2) how do these areas differ from those grazed by livestock? By combining the available science with photos and field observations from volunteers, the project is taking a major step toward improved public lands management.
A crash course in ecology and land management
A grass heart on parched land the group visited.
DENISE AYERS
---
Our two days out in the field — one spent in a livestock-free area, one spent on grazed land — are filled with learning, teaching, and exploring. One moment we're huddled around a patch of grasses learning how to identify native varieties and distinguish them from non-native, the next we're discussing the telltale signs of heavy grazing near streams and wetlands.
Everyone in the group brings something unique to the table. Mimi knows the grasses of southern Utah like the back of her hand. Denise inspires us through her stunning photographs and shares her ideas on how to capture the overall feel of the places we visit. Sandy can spot a bird, an animal bone, or a coyote track around every bend. I'm full of questions: How can we collaborate with ranchers, environmentalists, and the public land agencies to find a sustainable path? How do we get the public to care about these issues?
Mornings and evenings we gather around the campfire, where thoughtful questions fly around the circle like sparks from the flame. The goal is for all of us to walk away from the weekend feeling confident enough to go out into the field independently to collect our own photos and reports on areas closed to livestock (and nearby grazed land) that we can contribute to the project. The excitement amongst us is palpable — we're not only prepared to go out into the field, we're downright thrilled to help turn this vision into a reality.
How to get involved
To catalogue as many plots of land as possible, the Trust is working to expand the network of field volunteers. Anyone able to contribute at least one field report over the next two years can apply for the second round of volunteer training for Where Cows Don't Graze. Taking place August 2 through August 5 in northern Arizona, the training provides the perfect starting point for anyone who wants to become a part of this groundbreaking project and learn more about the differences between grazed and livestock-free land.
I, for one, came to the training weekend knowing close to nothing about the effects of grazing, native plants on the Colorado Plateau, or how to recognize a healthy streamside. I walked away with a whole new way of looking at the natural world around me, and a feeling that the work I contribute will help keep our public lands beautiful and strong.
Grand Canyon Trust Volunteer Jenna Herzog is a freelance writer based in California with a passion for storytelling about travel and the outdoors.