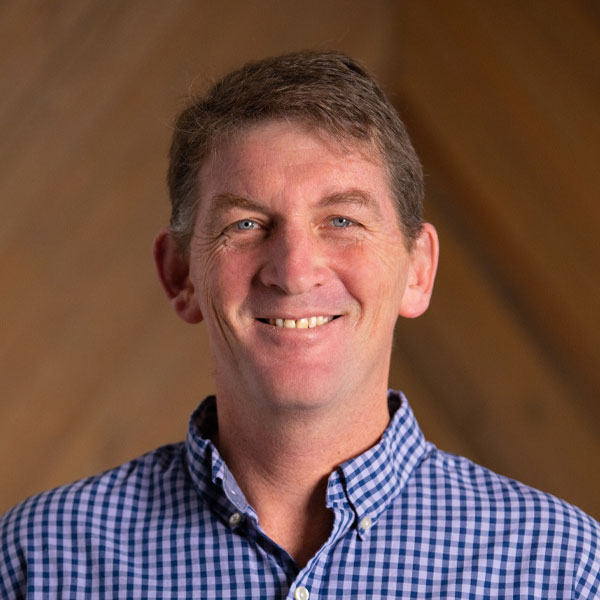 by Ethan Aumack, Executive Director
---
Update: President Biden designated Baaj Nwaavjo I'tah Kukveni Grand Canyon National Monument on August 8, 2023. Learn more ›
---
Federal officials traveled to the Grand Canyon state this week to hear public opinion on the tribally proposed Baaj Nwaavjo I'tah Kukveni Grand Canyon National Monument at a packed listening session in Flagstaff.
Public meetings like this one have become prerequisites for any proposed national monument being seriously considered for designation.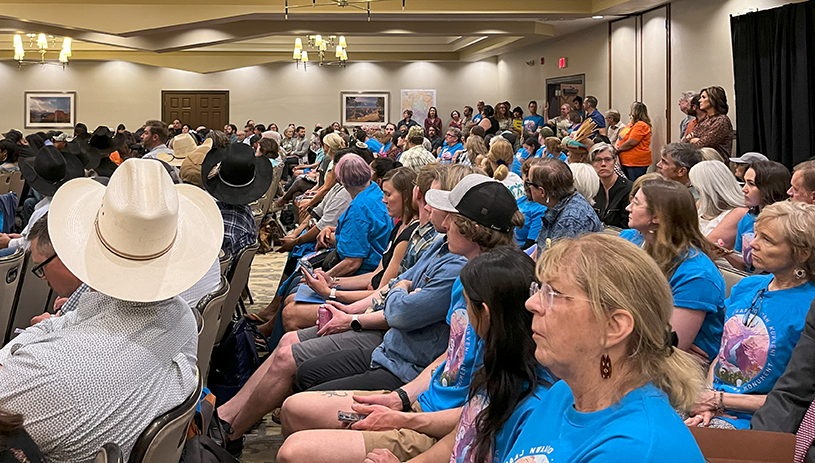 Inside the public meeting in Flagstaff on July 18, 2023.
Officials from the U.S. Department of Interior and the U.S. Department of Agriculture, including Dr. Homer Wilkes, under secretary for natural resources and environment, who oversees the Forest Service, and Tracy Stone-Manning, director of the Bureau of Land Management, listened for hours as tribal leaders, state and local elected officials, local business owners, sportsmen, faith leaders, ranchers, and others came to the mic to voice their opinions on the proposed monument.
Support for the proposed monument, which would protect about 1 million acres of tribal homelands immediately outside Grand Canyon National Park — all already federal public lands — was overwhelming. In total, about 300 people attended the meeting, with the vast majority supporting the monument. Representatives from the Grand Canyon Tribal Coalition, which proposed the monument, spoke first.
Tribal leaders speak in support of Baaj Nwaavjo I'tah Kukveni
"The Grand Canyon is where we came from and when the Creator calls us, it is where we will go home," Corrina Bow, chairwoman of the Paiute Indian Tribe of Utah explained. "This land must be preserved and our sacred areas protected. I want to believe that you hear and listen to the voices of your Indigenous people, and you will help us preserve and protect the lands that need to be protected," Bow told the officials.
"For Hopi, it's our place of emergence, a place that we still hold pilgrimages and offerings," Timothy Nuvangyaoma, chairman of the Hopi Tribe, told officials. "It's what we consider the heartbeat. Much like a human being, the waterways are arteries and veins carrying that lifeblood, not only to Arizona, but the entire world. It keeps life going. And if we poison that blood, life dies," Nuvangyaoma explained.
Of the 66 individuals who came to the mic during the public comment section of the hearing that followed, 57 spoke in favor of the monument; only nine spoke in opposition.
Monument would protect clean water, outdoor economy, and wildlife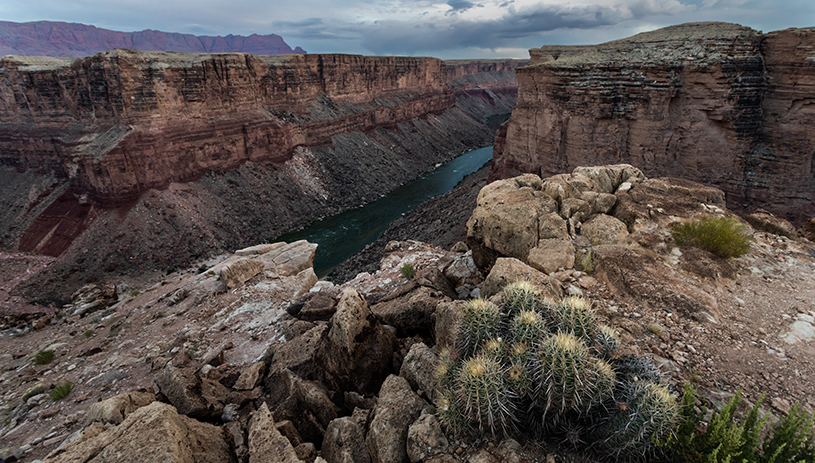 The view of the Colorado River from the east parcel of the proposed Baaj Nwaavjo I'tah Kukveni Grand Canyon National Monument. AMY S. MARTIN
Many public commenters focused on the monument's potential to protect critical water resources that flow into the Colorado River from threats like uranium mining and climate change.
"Our state is very dry and has few forests and water," observed ecologist Hernan Castro of the Chiricahua Apache Nation. "Whatever little we have left is special to everybody and must be protected."
"Protecting as much of Grand Canyon's watershed as possible is the very least we should be doing to try and stabilize our water resources," said geologist Christa Sadler.
"Coconino County has long advocated for a permanent solution to ensure that the Colorado River watershed in the Grand Canyon are protected from the harms of toxic uranium mining," said Coconino County Supervisor Matt Ryan.
Another theme was the importance of outdoor recreation to northern Arizona's tourism economy.
"Protecting this area makes great economic sense," said Patrice Horstman, chair of the Coconino County Board of Supervisors. "A national monument extends our outdoor recreation focus and further enhances the tourism economy."
Stacey Briscoe, store manager at REI Flagstaff, told officials, "REI is proud to support the designation of the Baaj Nwaavjo I'tah Kukveni Grand Canyon National Monument…For us, hundreds of other companies, and our customer base, protecting the Grand Canyon region is vitally important."
Hunters and anglers emphasized the importance of protecting key wildlife habitat on the proposed monument lands.
"The hunting and fishing opportunities...are exactly what we'd like to take care of and pass on to future generations," said Michael Cravens of the Arizona Wildlife Federation.
Next steps
In the south parcel of the proposed Baaj Nwaavjo I'tah Kukveni Grand Canyon National Monument.
AMY S. MARTIN

After more than two decades in conservation, I found it to be one of the most powerful listening sessions I've ever attended. Overall, the tone remained respectful before, during, and after the meeting. It felt like an honorable and thoughtful space, even when views diverged. I came away inspired by the tribes' solidarity, collective commitment, and tremendous leadership in requesting the designation of Baaj Nwaavjo I'tah Kukveni Grand Canyon National Monument, and by the support conveyed by so many in the community.
Hope Silvas, chairwoman of the Shivwits Band of Paiutes, summed up the importance of the monument proposal by saying, "From birth, as Native people, we are taught to respect, protect, and manage the land...The Grand Canyon is the traditional homelands of the Southern Paiute people. It's a place our people harvested food, fish, and conducted ceremonies and they still do today. So you see why it's important for us to protect and preserve this area as it is our history, our people. It is us."
Federal officials will now take what they heard back to Washington. Northern Arizona has sent a strong message, urging President Biden to use his authority under the Antiquities Act to designate Baaj Nwaavjo I'tah Kukveni Grand Canyon National Monument.