by Roger Clark, Grand Canyon Director
---
Update: The Federal Energy Regulatory Commission issued a preliminary permit for this project in May 2020. Read the order ›
---
In a double whammy that would forever alter the Little Colorado River, the same Phoenix-based company that applied for a preliminary permit for a proposed hydroelectric project and two dams on the Little Colorado River less than five miles from Grand Canyon National Park has a second similar application on the table, according to a notice in the Federal Register. And, if it's possible, this one looks even worse than the first.
Located downstream of the first project, this second proposal would sit less than half a mile from the boundary of Grand Canyon National Park. Based on maps provided in the company's application, it appears the project's lower dam would be located only a few miles upstream of the confluence where the turquoise-blue waters of the Little Colorado join the main stem of the Colorado River inside the Grand Canyon. The reservoir behind the lower dam would flood a Hopi sacred site — the place where the Hopi believe their people emerged into this world. The Federal Energy Regulatory Commission has opened a 60-day comment period on the project.
Like the first one, this second hydroelectric project also includes two dams. According to the application submitted to the Federal Energy Regulatory Commission, a 3,200-foot-long, 200-foot-high rockfill dam north of the Little Colorado River would create a 220-acre reservoir, while a 1,000-foot-long, 150-foot-high concrete dam across the Little Colorado River, less than half a mile from the national park, would create a 250-acre reservoir.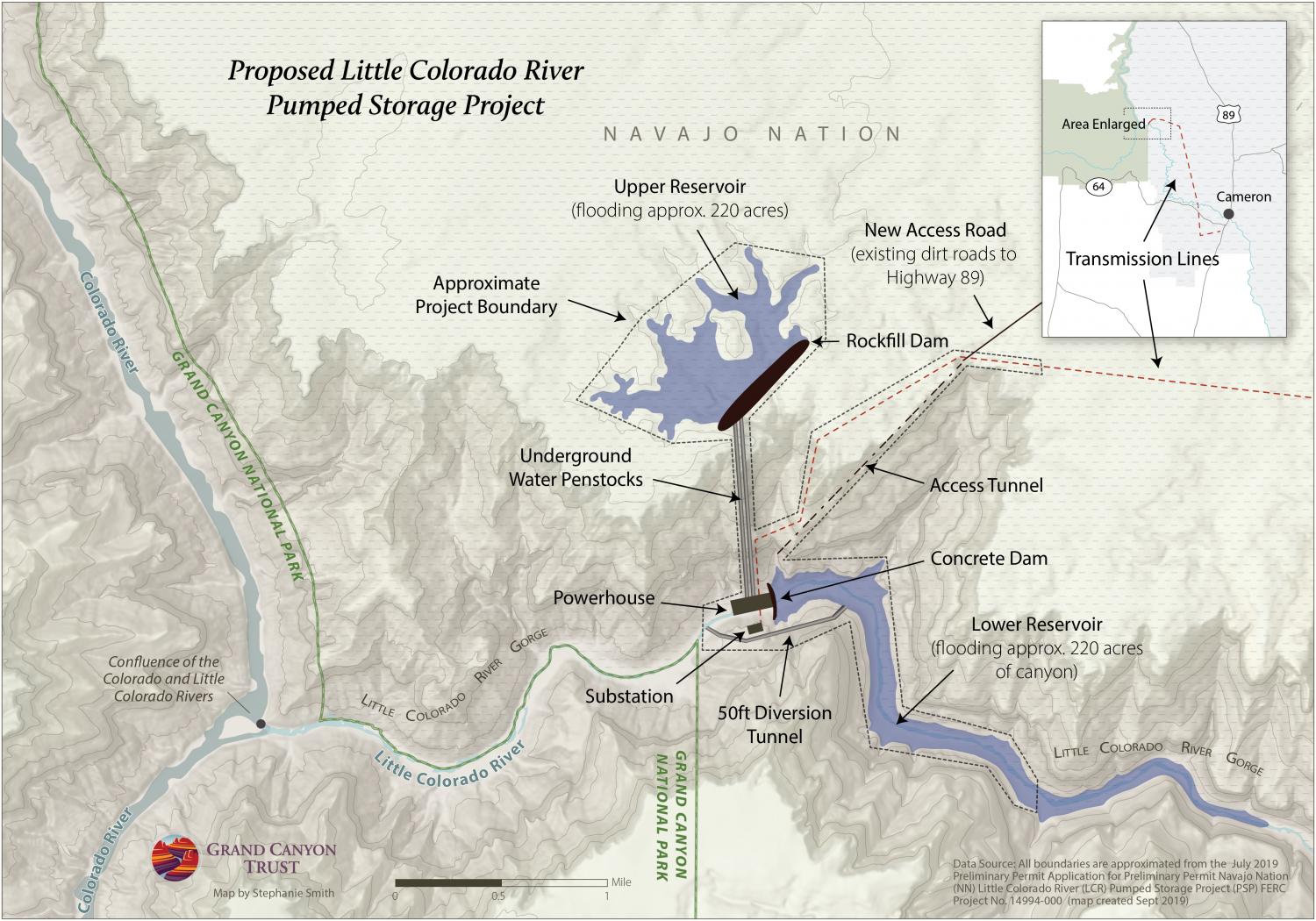 The application claims the project would bring approximately $5 billion in investment to create jobs and stimulate the Navajo and Arizona economies and repeats many of the benefits listed in the application for its first project, including an access tunnel to the Little Colorado River that could be used for tourism.
In addition to flooding a site of pilgrimage sacred to the Hopi people and vital to their practice of the Hopi religion, this project, if built, would devastate the Little Colorado River. The Little Colorado's milky turquoise-blue color comes from Blue Springs, miles upstream of this proposal. A dam would collect sediment and muddy those iconic waters, putting an end to the arresting visual contrast where the Little Colorado joins the Colorado River at the confluence. But the potential impact goes much deeper than the aesthetic. The confluence itself is sacred to many Native peoples of the region, peoples who have called the canyon home since time immemorial. The project would also imperil the survival of the endangered humpback chub that live in the Little Colorado River's warm waters.
For all these reasons, this is the wrong place to put dams.