by Mike Chizhov, Volunteer Associate

We pull our convoy of vehicles onto the side of the farm plot, our truck bed full of shovels, gloves, and water. "Today, we dig ditch," Alicia, one of the Arizona FoodCorps members working in Tuba City, Arizona, explains as she lays out the workday. Classic rock blares from a small portable speaker, and we get to digging.
The sun beats down on us as we slowly but diligently dig three feet deep along the 300 feet of irrigation ditch, moving over 10,000 pounds of sand and soil in the process. Many farmers only irrigate twice per year, so it is essential that these ditches are clear when they do. Last year, this ditch alone took one committed farmer over two months to clear out.
Conserving communities and landscapes
This isn't your average spring break trip, and these aren't your average students. This March, volunteers from Fort Lewis College and Western State Colorado University spent their spring break away from beach umbrellas and volleyball games, and instead dedicated their time to restoring springs on the Vermilion Cliffs, supporting sustainable businesses and energy development on tribal lands, and preserving traditional farming methods.
---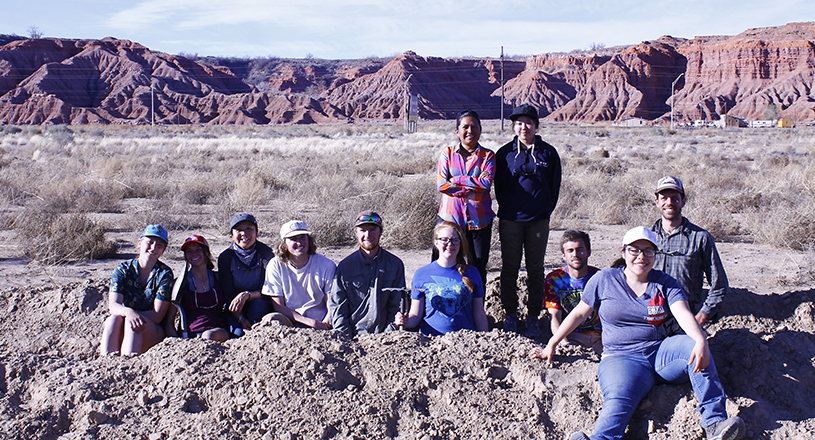 Above: Students from Fort Lewis College in Durango, CO spent their spring break installing solar panels on a home in Hopi and helped support traditional farming methods around Tuba City, Arizona.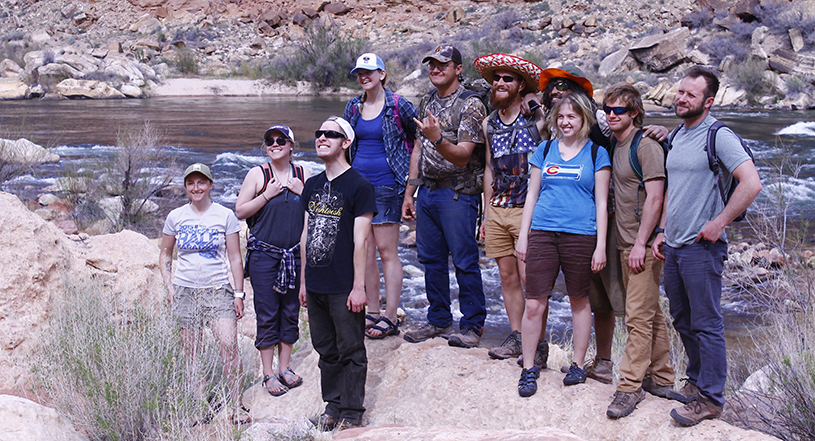 Above: Students from Western State Colorado University in Gunnison, CO worked on restoring springs, removing invasive species, and transplanting native plants in the Vermilion Cliffs National Monument.
---
Each year, young people contribute over 10,000 hours of volunteer work at the Trust on projects that have significant impacts on the social and ecological landscapes of the Colorado Plateau. Students contribute to research, support communities most affected by climate change, and help address the varied legacies of unsustainable development that linger on the plateau.
Learning through service and action
After we finish digging the ditch, we meet up with Leonard Selestewa just downhill of Tuba City, to clear his fields of last year's corn stalks. Leonard is a traditional Hopi farmer living in Moencopi village, and as we leave his mother's house, he jokes, "Don't forget to turn off the light on your way out." The house has never had electricity. He is doubtful that it ever will.
After we finish helping prepare his plots for planting, Leonard takes us around the property, talking about the variable flows in Moencopi Wash as a result of Peabody Coal drawing down the aquifer to slurry coal--coal that provides electricity to Southwestern cities outside of tribal lands. During one violent flood, the lower half of his mother's property was covered with silt and water. The pick-up truck sticking out of the ground and the water marks six feet up the shed walls stand as proof of the event.
Peabody Coal has recently declared bankruptcy. So we ask, what will the legacy of coal be on the landscapes and people it has impacted? How can we act now to support those most affected by unsustainable energy production? How can we work towards a future where wildlife can migrate, flourish, and support the vital ecosystems which in turn support us?
If we are to respect the fierce urgency that these issues demand of us, these questions cannot be rhetorical.
One project, huge impact
To the 19 students that joined us on the farms, near the springs, in the washes and mesas of the Colorado Plateau, these questions are founded in real experience and knowledge of consequences. They have learned how watersheds unite us. They have seen how water pumped to slurry coal through the Navajo Nation may dry up vital springs and severely limit the water supply of dry-land farmers, like Leonard, downstream.
Audre Lorde said, "There is no such thing as a single-issue struggle because we do not live single-issue lives."
Our amazing volunteers contributed to one project, but their impact reaches much further than a single farmer who can now plant in time for the rains or the antelope that can now continue migrating because of water in the springs. By helping to sustain ecosystems and cultures, these atypical springbreakers participated in a movement that deeply needs and appreciates their contributions.
Join us!
Join us on a volunteer trip and help us protect and restore the Colorado Plateau! We still have space available for trips this summer and fall. If you are interested in organizing a group trip with us, please apply! Applications are being accepted through September 30, 2016 for the 2017 season.