A guest blog by Grand Canyon Trust volunteer Stacey Pilcher
Did you know that if you cuddle up with a mature ponderosa pine and put your nose deep between the bark cracks you'll find the luscious smell of vanilla, and sometimes even butterscotch? Yup, it's true. Arizona is home to the largest contiguous ponderosa pine forest in the entire world and we were smack dab in the middle of it, smelling the butterscotch in the Kaibab National Forest, on the north rim of the Grand Canyon.
Our job? To help protect springs — important watering holes on arid land. Water is a precious resource here. And while Arizona is one of the driest states in the nation, it's also home to some of the highest densities of springs in the country. Animals like bobcats, hawks, and bighorn sheep depend on these springs to survive.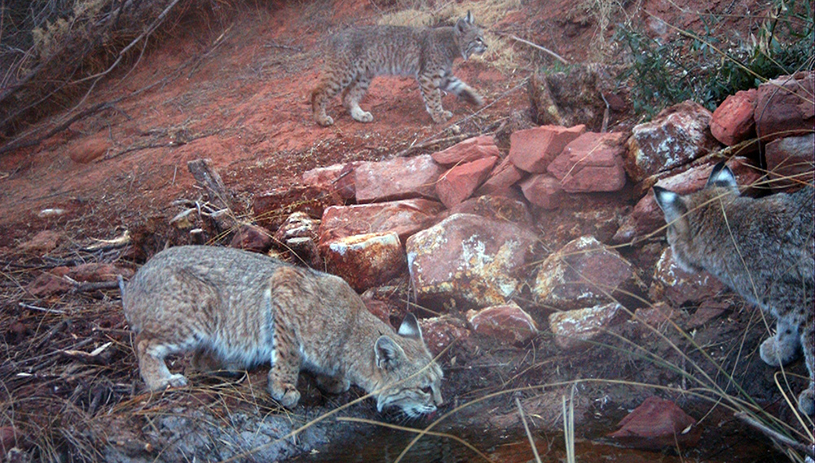 Thirsty buffalo, use the trough!
Our first order of business? Tearing down old rotten wood fences and building 300 feet of new fencing around Parissawampitts Spring (try pronouncing that one 10 times fast) to protect 4,000 square feet of wetland habitat. The fencing keeps cattle, elk, and buffalo from trampling the spring. For those large, thirsty critters, water flows into a trough outside the fence, making sure they can get a drink without destroying the source.
We were quite a group. A bunch of fun-loving, hardworking 50 to 70-somethings and two amazing young trip leaders, Cerissa and Emily. Among the volunteers were scientists, professors, business owners, and entrepreneurs who love the outdoors and desire to make a difference, using big shovels, rocks bars, strong backs, and a lot of sweat. We had expert help from the Forest Service: Kaibab National Forest Ranch and Botany Program Manager Leigh, Range Conservationist Geoffory, and a trusty intern named Trevor. A dozen of us in all (plus two seasoned outdoor dogs, Frida and Buddy) worked tirelessly to remove the old fence and build a new one. Not an easy task in three days.
Extra hands, extra brains
What did it take to get it done? Grunting, determination, and sheer grit. Lisa, 100 pounds soaking wet, but strong as an ox, enjoyed the post-holer. Shirl drilled 10-inch screws into cedar logs and smiled the whole time. Suez always had someone's back — she and I dug out a huge rock and howled like coyotes to celebrate its removal. Then there was Mike, patient and methodical in his approach to post-hole engineering. After all, he is a rocket scientist. Diane, a mathematician, helped with calculations while hefting 40-pound logs. She had a knack for problem-solving, go figure. Doug took on every challenge with a "we own this rock" and a "let's getter done" approach. Then there was me: pounding the life out of unmovable objects with a rock bar. Our Forest Service team ran the heavy equipment and pitched in when we needed extra hands and brains.
Working up an appetite, together
All that work and this crew needed to eat! Cerissa and Emily worked side-by-side with the crew all day, had strong cowboy coffee ready at 6am every morning, and when we got back to camp in the evening, these Energizer Bunnies created a delicious hot meal to close our day.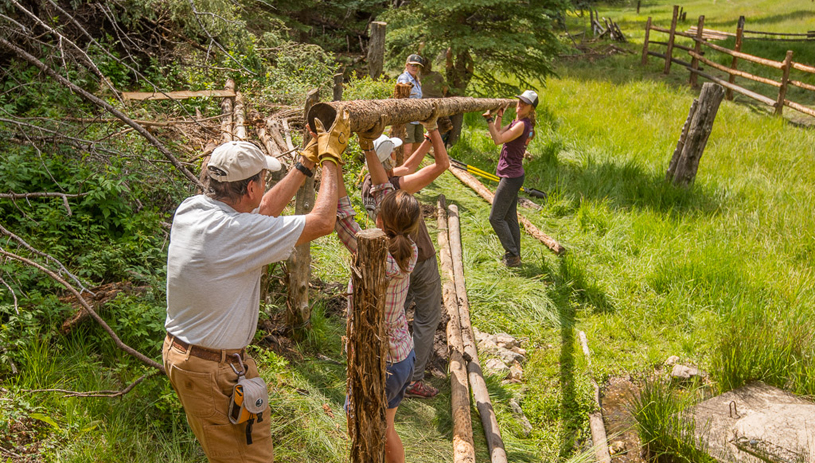 Our project in butterscotch country, powered by volunteers and made possible by a grant from the clothing and outdoor gear company Patagonia, gave us a chance to see how the Grand Canyon Trust works alongside the Kaibab National Forest, the Bureau of Land Management, and north rim ranchers to protect and restore springs. There is something about being with a great group of folks from all different backgrounds, backed by a non-profit with a mission, the generosity of a company like Patagonia, local ranchers who have been on the land for generations and experienced National Park employees — all working towards one common goal. It's collaboration at its best.
To quote Margaret Mead, "Never doubt that a small group of thoughtful, committed citizens can change the world; indeed, it's the only thing that ever has."
Learn more about Grand Canyon springs and how you can step up to help protect them:
---
Stacey Pilcher is the CEO of brand consulting firm Pilcher Et Al.