by Amber Reimondo, Energy Director
In late February, the U.S. Geological Survey updated its list of critical minerals that are essential to the economic and national security of the country — things like lithium for batteries, manganese for steel, indium for LCD screens, and many other elements. Thankfully, uranium is no longer on the list.
The Trump administration had incorrectly classified uranium as a critical mineral in 2018. During a public comment period for this year's list, the government received more than 1,000 comments. Over 90 percent of them requested that uranium be removed.
The 2022 critical minerals list comes as a relief to many on the Colorado Plateau, where past, current, and future uranium contamination threaten the health of communities and the land. While the U.S. Geologic Survey's revision is positive news, uranium may soon be found on another federal priority list.
The Department of Energy may develop its own critical minerals list
To reduce the country's greenhouse gas emissions, the Department of Energy recently outlined a strategy to transition away from fossil fuels and toward clean, renewable energy sources like wind and solar.
The agency says it plans to develop its own list of minerals it views as "critical for the clean energy transition," using different criteria than the U.S. Geologic Survey's critical minerals list.
The administration has so far included investment in additional nuclear power as part of the government's plan to shift away from fossil fuels, though at the Trust, we have a more nuanced view of nuclear power. The strategy identifies uranium as a "material of concern" for nuclear energy.
Why does critical mineral status matter?
Designation on a critical minerals list gives priority to the minerals that are on it and gives those who extract, process, and sell the stuff another tool to ask regulators and decision-makers for preferential treatment. For instance, in 2019, when uranium was considered a critical mineral, the federal critical minerals strategy called for a review and revision of mining bans, which block access to critical minerals. This would have included the current 20-year mining ban around the Grand Canyon.
In a system that already affords too much preferential treatment for hard rock mining — a category of mining to which uranium belongs — such a status can be dangerous for the environment, and especially for those who live next door to the places where these minerals are mined and processed.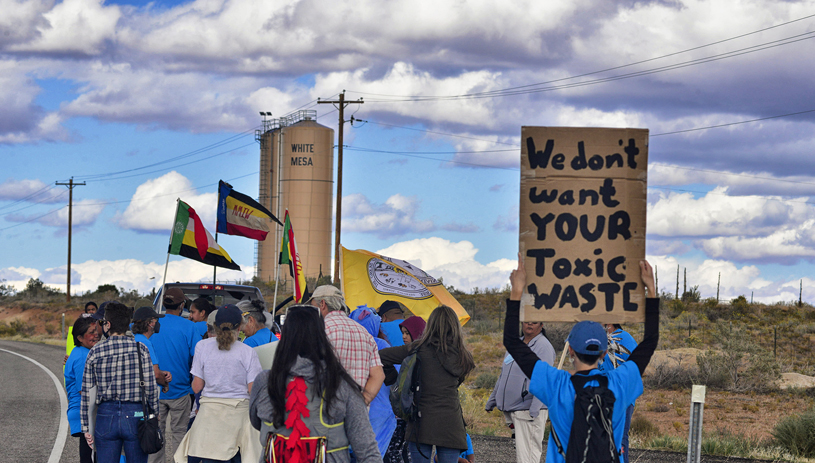 Concerned members of the White Mesa community lead a spiritual walk to protest the White Mesa uranium mill. TIM PETERSON
We must take pains to ensure that a "clean energy" future doesn't just put another label on the same forms of damage and injustices that past mineral extraction, processing, and disposal have inflicted upon communities on the front lines of these operations.
A broader problem with our country's mining law
Hard rock mining in America is governed first and foremost by the 1872 Mining Law, which turns 150 years old in May. When it was passed, women, people of color, and Native Americans were not welcome at the polls. Despite innumerable advancements in environmental and social conduct since the late 1800s, the law has never seen substantial reform.
Because of the 1872 Mining Law, hard rock mining is considered "the highest and best use of the land." Communities can't even suggest that a certain landscape is better suited for cultural practices, hunting, recreation, or other land uses. Hard rock mining claims on federal lands take precedent over other uses unless the government goes to great lengths to establish a national monument or national park or approves a permanent mining ban before someone stakes a valid claim.
---
LEARN about the decades-long effort to secure a permanent Grand Canyon mining ban ›
---
What's the solution?
Thankfully, there is a path forward to reduce greenhouse gas emissions and move toward a clean energy future. But like anything worth doing, it won't be easy. The Biden administration is on a good trajectory, and we see an awareness of possible solutions in the Department of Energy's strategy. But the devil will be in the details.
We need to, at long last, reform the 1872 Mining Law so that hard rock mining doesn't have such unbending priority above human health, cultural health, and the environment. And since critical minerals are the building blocks of solar panels, batteries, and other renewable energy technologies, we need to figure out how to properly reuse and recycle materials that have already been taken out of the ground instead of solely relying on mining for more.
And most importantly, we need to recognize that even a well-planned transition to clean energy has the potential to cause serious harm. We must center social and environmental justice, especially for Indigenous communities, which on the Colorado Plateau, have already borne too much of America's mining pollution burden. Going forward, policy makers must directly and meaningfully involve and address the needs and concerns of these communities.