by Daryn Akei Melvin, Grand Canyon Manager – Little Colorado River

Grand Canyon National Park is an economic powerhouse in northern Arizona. In 2021 alone, the park welcomed 4.5 million visitors and funneled $945 million into gateway economies.
But very little of the park's tourism dollars trickle down to neighboring tribes.
In 2018, the Intertribal Centennial Conversations Group, a grassroots advisory body that works to place Native voices at the forefront of education, stewardship, and economic opportunities in Grand Canyon National Park, posed a question: How can the region's tribal communities establish direct, lucrative partnerships with Grand Canyon National Park?
Building a more inclusive and equitable economy
To answer and generate discussion around this question, the idea for an intertribal economic summit was born. And in August 2022, with support from the Grand Canyon Trust, Grand Canyon National Park, the Grand Canyon Conservancy, and others, the inaugural Emergence Intertribal Economic Summit took place on the south rim of Grand Canyon National Park.
The four-day mix of panels, brainstorming sessions, and field tours brought together approximately 75 Native entrepreneurs, artists, community leaders, governmental support staff, and National Park Service employees to discuss arts and crafts markets, concessionaire contracts, infrastructure needs, cultural demonstration opportunities, and more.
Hear from Emergence attendees, in their own words, about what an inclusive and equitable Grand Canyon economy looks like.
Mae Franklin, Diné
"I've really enjoyed the gathering at Emergence, learning about the agencies and what they can do for tribal members to access economic development. With that new knowledge, it seems like we can go forward and start doing the infrastructure work in our communities.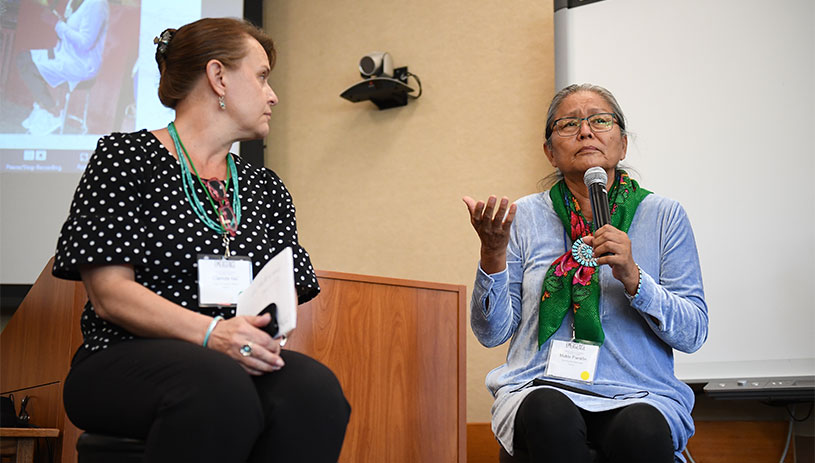 Mae Franklin (right) speaks on a panel at Emergence 2022. JAMIE ARVISO
For so long, we've just been able to sit along the side of the road and sell our wares. But being able to connect with people coming into the park would open up a lot of opportunities for tribes.
The younger generation has the know-how and language to make things happen. And that's all for the better, and all for creating these opportunities for all of us to come back to our home."
---
Richard Graymountain Jr., San Juan Southern Paiute
"I believe economic stability is having all the tribes included. Not just in the conversation, but with the building of venues or vendor spaces. We need to include all the tribes that call Grand Canyon home so we can collectively move forward, not only at the South Rim, but at the North Rim as well.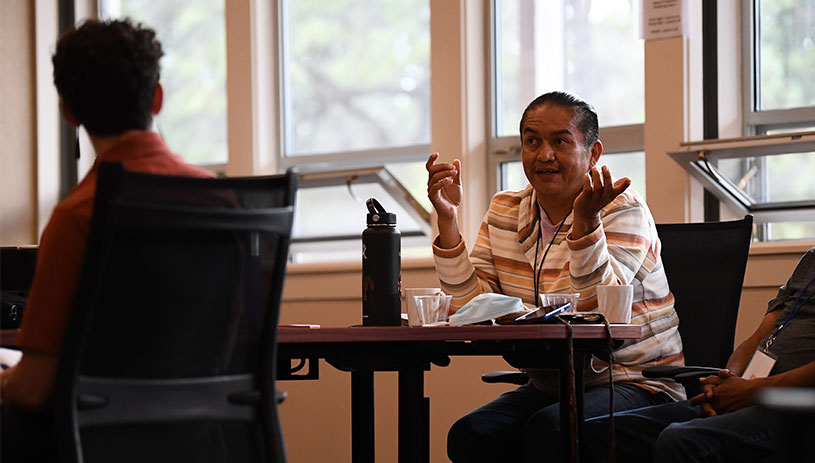 Richard Graymountain Jr. speaks during a session at Emergence 2022. JAMIE ARVISO
Our economies were with us back in the days. That's part of the tribes' heritage or culture or knowledge. So we have to regenerate and figure out how to develop stable economies that evolve in economic thought at the Grand Canyon. And as my elderlies would say, we have to help each other. We cannot say, 'you're a different tribe.' We all come from one place."
---
Dorothy Denetsosie Gishie, Diné
"For the past 33 years, I've worked for Native Americans for Community Action. I oversee a vending program, which allows Native Americans to sell their arts and crafts. We have over 200 vendors and a vending site at the top of Oak Creek Canyon. We do this in partnership with Coconino National Forest under a special use permit.
We need to create partnerships and be given more. If the park service is able to give us more selling locations, I think that would really benefit the economic resiliency and survival of our people. The majority of my vendors are single parents. They always say being able to sell is the only way to keep off the welfare rolls.
Dorothy Denetsosie Gishie presents her work for NACA at Emergence 2022. JAMIE ARVISO
The idea of being given an opportunity to have selling spaces is music to our ears. We don't want to be pushed to the back. We want to be pushed to the front. My vision is to have retail stores, where our people can set up and rotate out on a consistent basis, and to include our elders and our youth. It's so neat to see talent being passed down to our younger people. I'm seeing the fourth generation beginning to sell. I think this idea of being businesspeople or being entrepreneurs is a new concept for them, even though they've done it their whole lives.
So I'm always looking for secure spaces to vend, to give our people opportunities for economic development."
---
Colton McClellan, Diné
"I've done hoop dancing and grass dancing most of my life. I used to do performances with my grandfather, James Peshlakai, in Tusayan every weekend in the summers for about 12 years.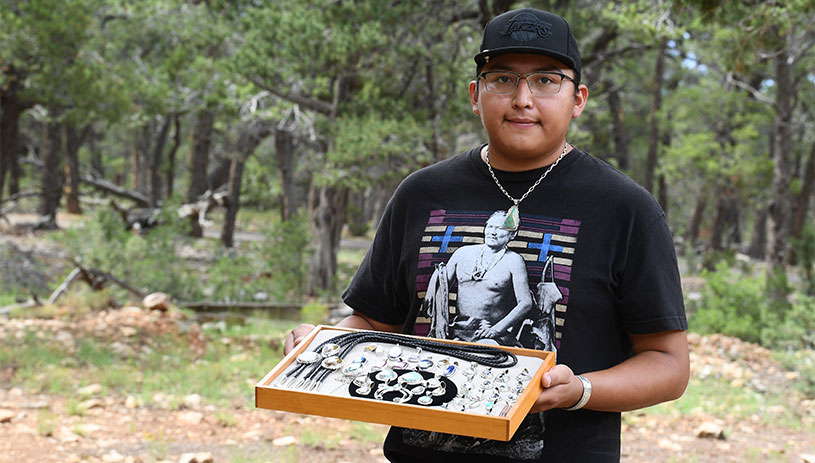 Colton displays some of his silversmith work at Emergence 2022. JAMIE ARVISO
I picked up silverwork when I was 10, taught by my father, and I sell through our family business. We go to different locations to sell — Sedona, the Tusayan Museum here in Grand Canyon, and the Oak Creek Canyon Overlook. During the fall, there's outdoor markets and powwows in the metropolitan areas. So, we're constantly going to different places to show and teach about our arts.
The designs in our jewelry, like our different styles of dancing, all have different meanings. I want to pass down the cultural teachings I've been taught when I have kids of my own. That's how we can keep our culture and traditions alive."
---
Monica Nuvamsa, Hopi
"As we're looking at building a regional economy around the Grand Canyon, we have to think about how we create equity for tribal entrepreneurs. We must examine what the environmental and geographical challenges are and the barriers that tribes are facing in their own backyards to physically engage with our regional economy at the Grand Canyon. Based on these factors, I believe there will remain a lot of equity building that's needed for us to have true engagement and relationships with economic partners like Grand Canyon National Park.
I think tribes are often timid or reluctant to come to the table only because we've often been in situations where the relationship wasn't what we thought it was going to be, or the intentions of the partnership change to benefit someone other than tribes. There's a long history of distrust, so in trying to build partnerships, we automatically come with that sense of, 'ok, when's the other shoe going to fall?'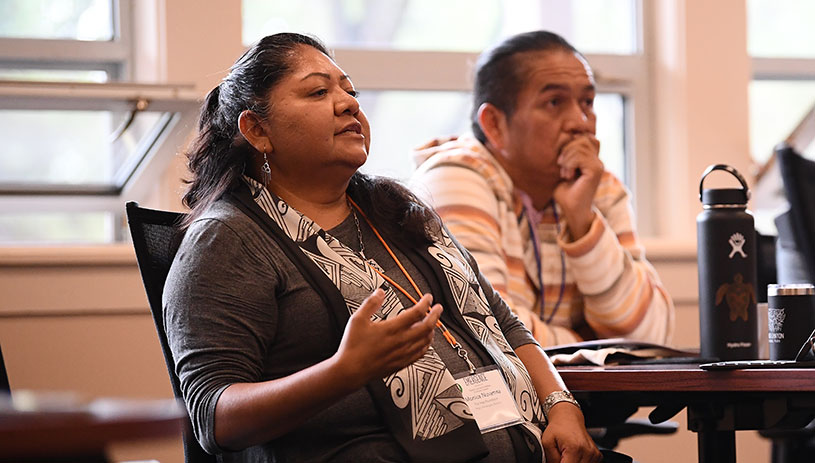 Monica Nuvamsa contributes to the discussion at Emergence 2022. JAMIE ARVISO
I think it becomes a game changer when we ask for what we want, and most importantly, what we need. Because we've always given over to somebody else's power. And that's never worked toward giving equal partnership to tribes and tribal business owners.
If the parks and the nation want to see this place sustainable, they should invest in tribes to do that — so that we incorporate not just the economic picture, but help lead stewardship and protect spiritual values of the tribes that consider it a space of great meaning and heritage. When tribal leadership, perspective, history, and spirituality are absent from that picture, the canyon becomes just a very big hole in the ground or simply a playground for recreationists.
I appreciate the commitment I'm hearing from the national park service to begin going down this path, and I feel there will be a genuine commitment toward meaningful partnerships with tribes and tribal entrepreneurs. I'm really happy to be alive in this time where we're having a conversation like this under the new leadership of Chuck Sams, National Park Service director and tribal member of the Umatilla Tribe of Oregon."
---
The Emergence Intertribal Economic Summit looks at new ways of doing business at Grand Canyon National Park, with the goal of building a regional economy guided by Indigenous cultural values.